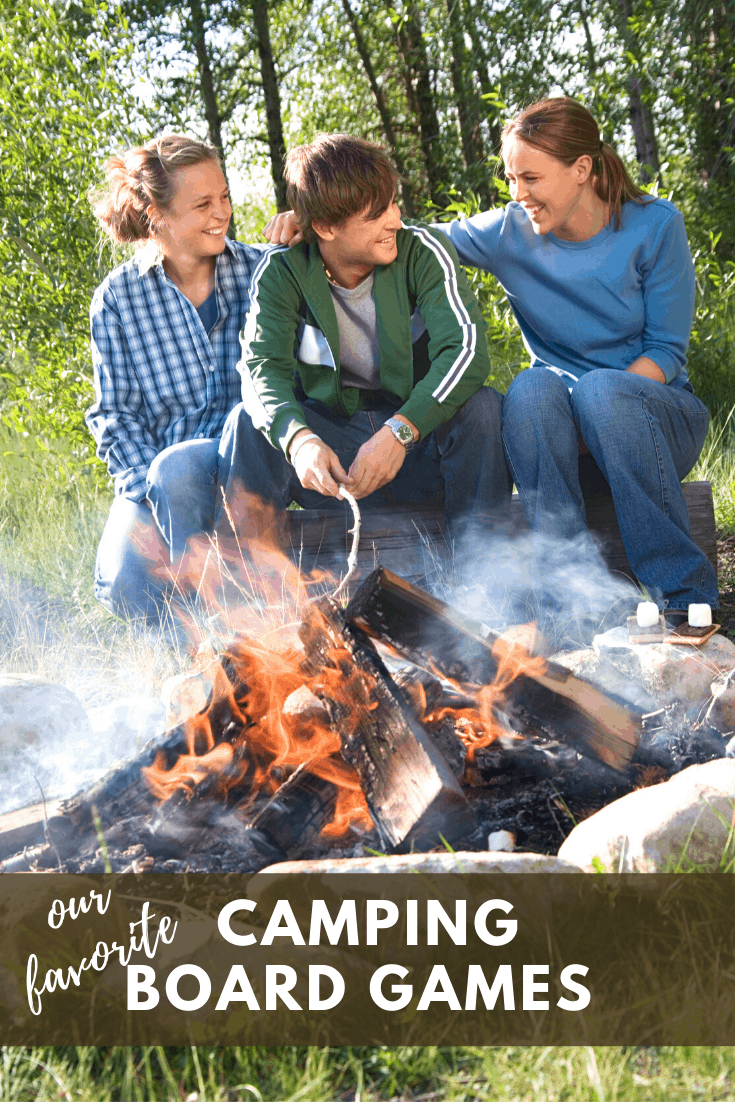 We love to play board games whenever we are camping so today I have rounded up some of our favorite camping board games. These are perfect for the family to enjoy around the campfire or at home!
Whether it's on a camping trip or in the backyard, there's not much that represents summer better than a night spent around the campfire. We love to roast marshmallows and hot dogs all season long! However, for an absolutely perfect experience, we love to play a game or two.
This post contains affiliate links.
Our Favorite Camping Board Games:
We take this board game everywhere. Seriously, it's been to Mexico and the tops of mountains while backpacking. If there is one board game that you should get for camping, it's this one! It's great for adults and school aged children and is based on the popular game of Cribbage. Only it's played using a board and wooden tiles, you are guaranteed to love it!
This game is full of strategy best accomplished as a group working together. We love the cooperative aspect of this game and the kids love the various difficulties. There are also a number of different versions like Forbidden Dessert as well.
The Struggle for Catan is the perfect game to take camping because it doesn't require a lot of parts and pieces to set up. It's simply a deck of cards that are used to play a version of Catan. This is perfect for those who may already love the Settlers of Catan series.
This board game is new to us this year but we already love it! It's a complex game that involves learning about birds and building habitats with multiple strategies. There are a lot of small pieces involved in this game so it would be best played at home or on a large surface without slats/holes where pieces may get lost.
Gamble on your skills with the help of single challenges, battle royals, buddy ups and contests. This game has a variety of challenges that the kids love to use to test out their skills. I love how wacky some of them get!
More great games:
Don't Be Meme is a very funny game for families, children, tweens and everyone in between. Players have to couple caption cards with images. Each round, a player picks the preferred caption and crowns a winner. It's super fun to play with friends and family.
This card game comes with packs of camping food cards and is kind of played like Slamwich. It's great for packing to take camping because it's so small. The game is packed in travel-friendly box, making it easily transportable for your next trip!
We love playing all kinds of giant yard games. This domino set is a favorite and totally fun to use in the backyard or to take camping if space allows. It comes in a cloth storage carry bag.
This is a great set to have for camping! It is lightweight and sturdy, perfect for traveling. The game set consists of fifty-two waterproof playing guards, six dice, a pencil, score pad, as well as dice and game guidelines.
This is a hilarious story telling style game that young children love. It makes a great boredom buster to play while sitting around the campfire!
If you have other camping games that we should try, please share! We are always looking for awesome board games to add to our summer.
If you liked our favorite camping board games post, please help me share it on Facebook and Pinterest!