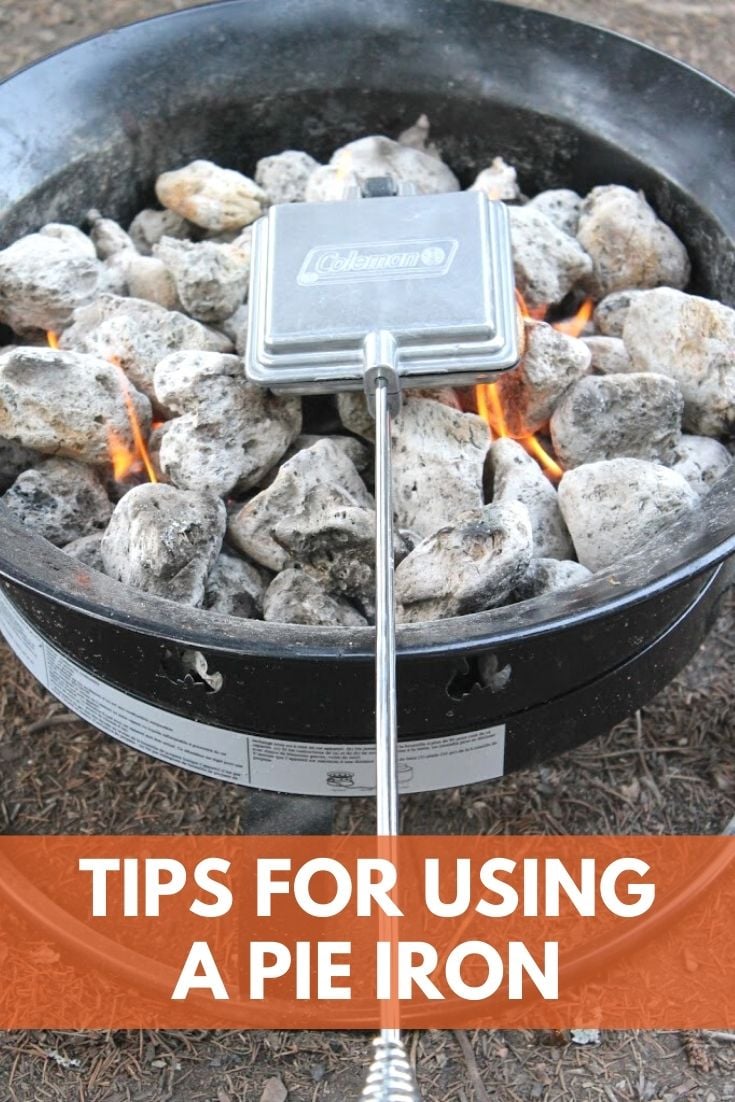 These tips for using a pie iron will have you using this camp tool to its full potential in no time.  We seriously love to use a pie iron to make all kinds of yummy recipes when we are camping. 
A pie iron (also called camp cooker) is a small, hinged, cast iron camp cooking tool with long handles.  It's used to grill and bake food right over the campfire.  It's a super easy way to make breakfast, lunch and dinner recipes while camping.
Preparing this cast iron cooking tool:
Start by seasoning the cast iron plates of the pie iron.
Use hot water and dish soap to thoroughly wash the iron before using.  This is the only time soap should be used to clean the camp cooker.
Completely dry the iron.
Next coat the entire pie iron with vegetable oil.
Heat the iron over the campfire or grill for 15 minutes.
Allow the iron to cool completely before wiping the excess oil off with a paper towel.
Repeat the oiling and heating process whenever the plates become sticky.
Cooking with the pie iron:
When cooking with a camp cooker, begin by applying non stick cooking spray to the inside of both iron plates.  Alternately you can butter both sides of whichever bread you decide to use for your recipe.    This step is important so that your delicious meal doesn't stick to the iron and burn.
Place your recipe ingredients into the iron before closing and latching it.
Cook the recipe over an open fire.  Most recipes take five to ten minutes to cook but times can vary widely depending on how hot the fire is.  I recommend placing the iron over the fire for two minutes before unlatching, checking for doneness and flipping the iron over to cook the other side.
Use caution when handling both the metal latch and handles as they can become hot while cooking.
This post contains affiliate links.
Where to find this awesome camp cooking tool:
We love this square pie iron because of its larger dimensions and long handles.
This double pie iron is perfect for when you are cooking for a hungry crowd.
You can also find these camp cookers at most outdoor specialty stores.  Just be sure to purchase one that is made from cast iron as they weather better and last longer than others.
What can you cook with a pie iron?
We have all kinds of camp cooker recipes on the blog.  These are a few of our favorites:
How to clean your pie iron:
Simply rinse the iron with warm water and wash out with a cloth.
Dry completely with paper towel, apply more oil if needed and store it in a secure location.
If you love these camping tips, please help me share them on Facebook and Pinterest!