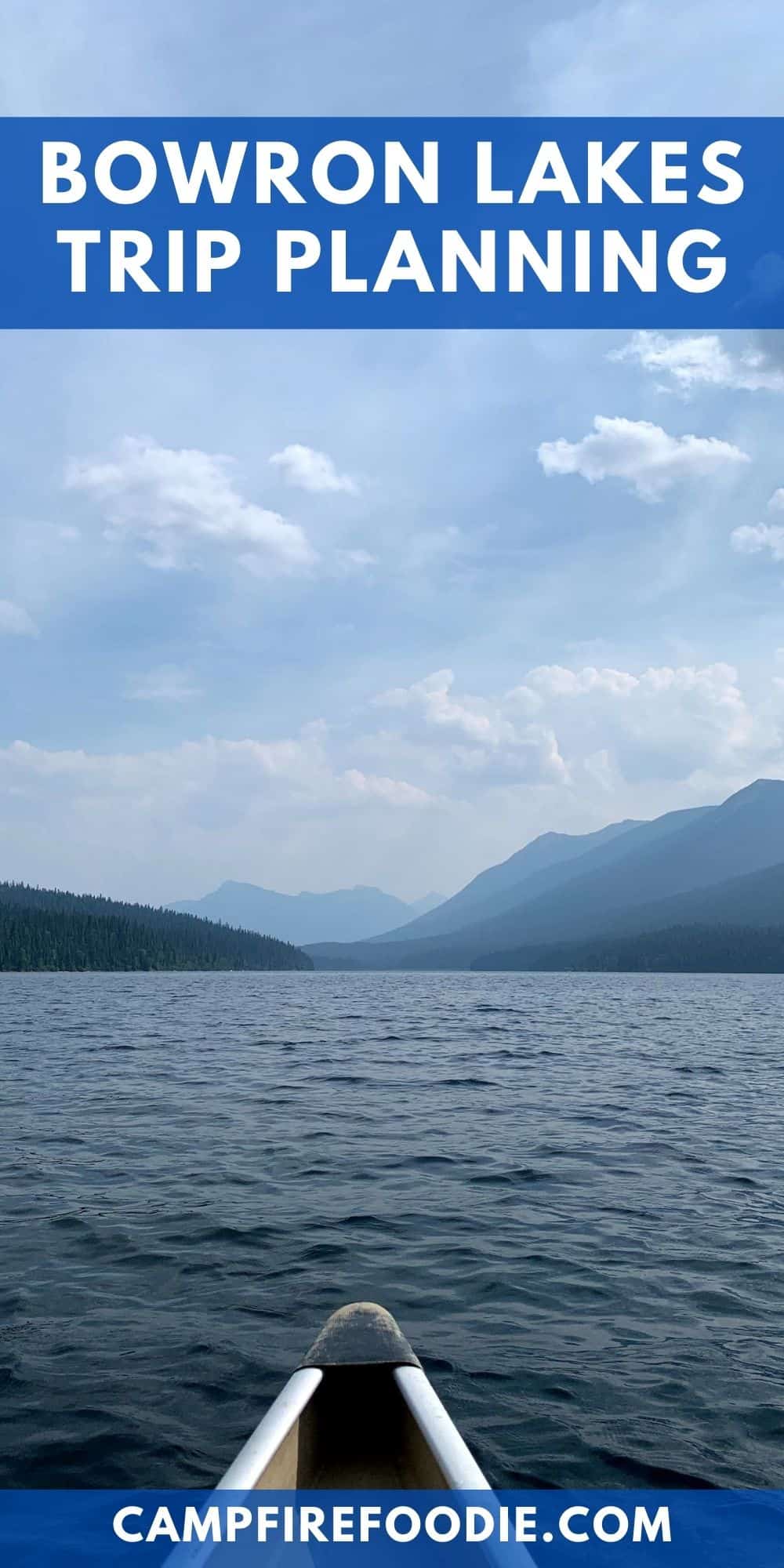 The Bowron Lakes canoe circuit is one of those bucket list trips that is well worth all of the planning and preparation. Here's our Bowron Lakes trip planning report, full of tips and photos from our adventure.
Too busy to check this out right away? Pin it for later! Pin this post to your favorite board on Pinterest and it will be there when you're ready.
Bowron Lakes Canoe Circuit
The Bowron Lakes canoe circuit is a 116km backcountry trip that includes a chain of lakes, waterways and portages.
The ten lakes and seven portages traverse through the gorgeous Cariboo highlands and can be completed by canoe or kayak in 6-10 days.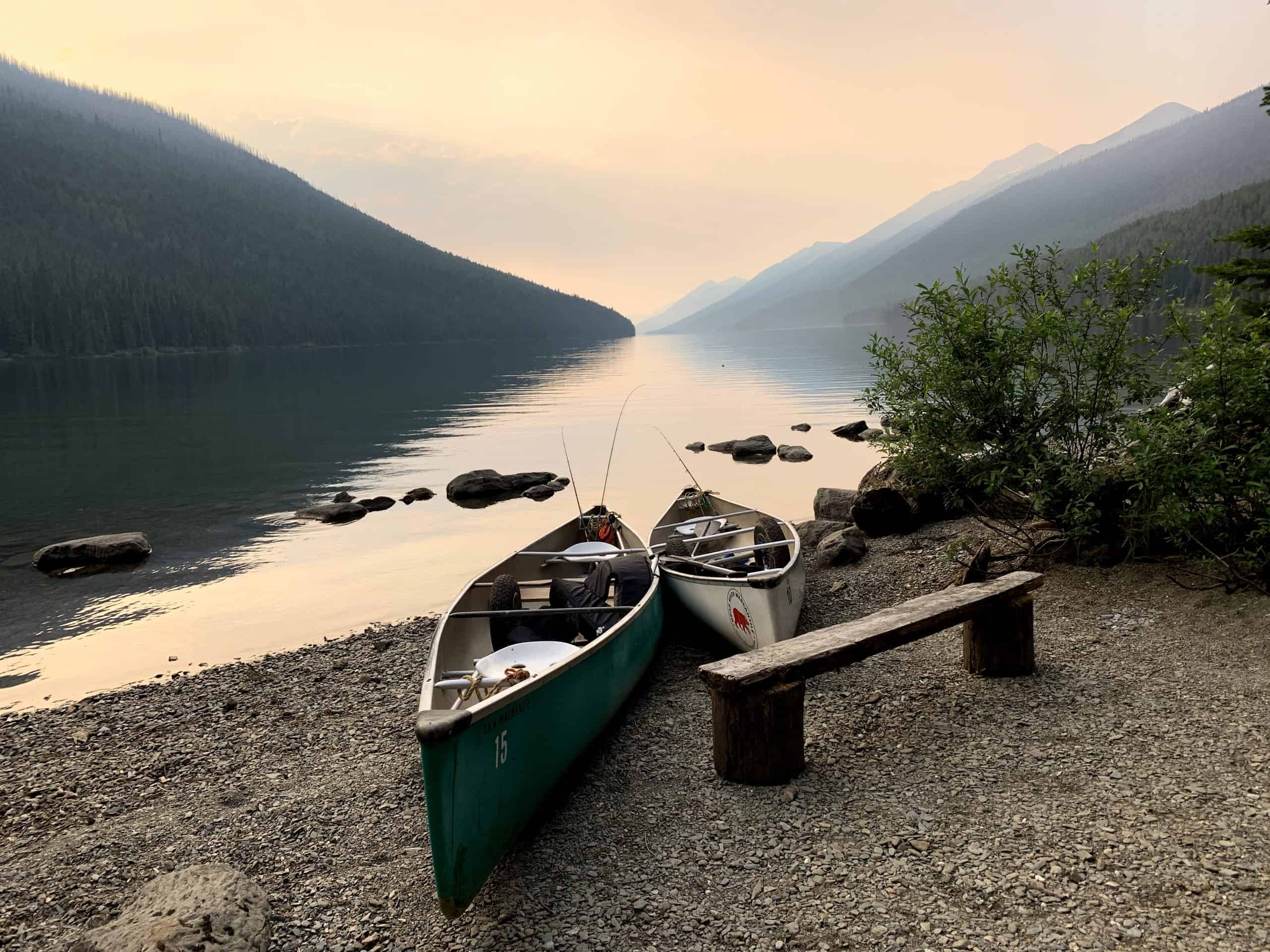 After taking the boys on a kayaking trip to Murtle Lake last year, we knew that they would be ready to canoe the circuit.
The question was, would they want to? This week-long excursion would be full of long days of paddling, sleeping on the ground and experiencing all of the elements of the backcountry.
Surprisingly, they all said yes! After all, Murtle was a memorable but difficult trip so I was thrilled that they agreed to another epic adventure.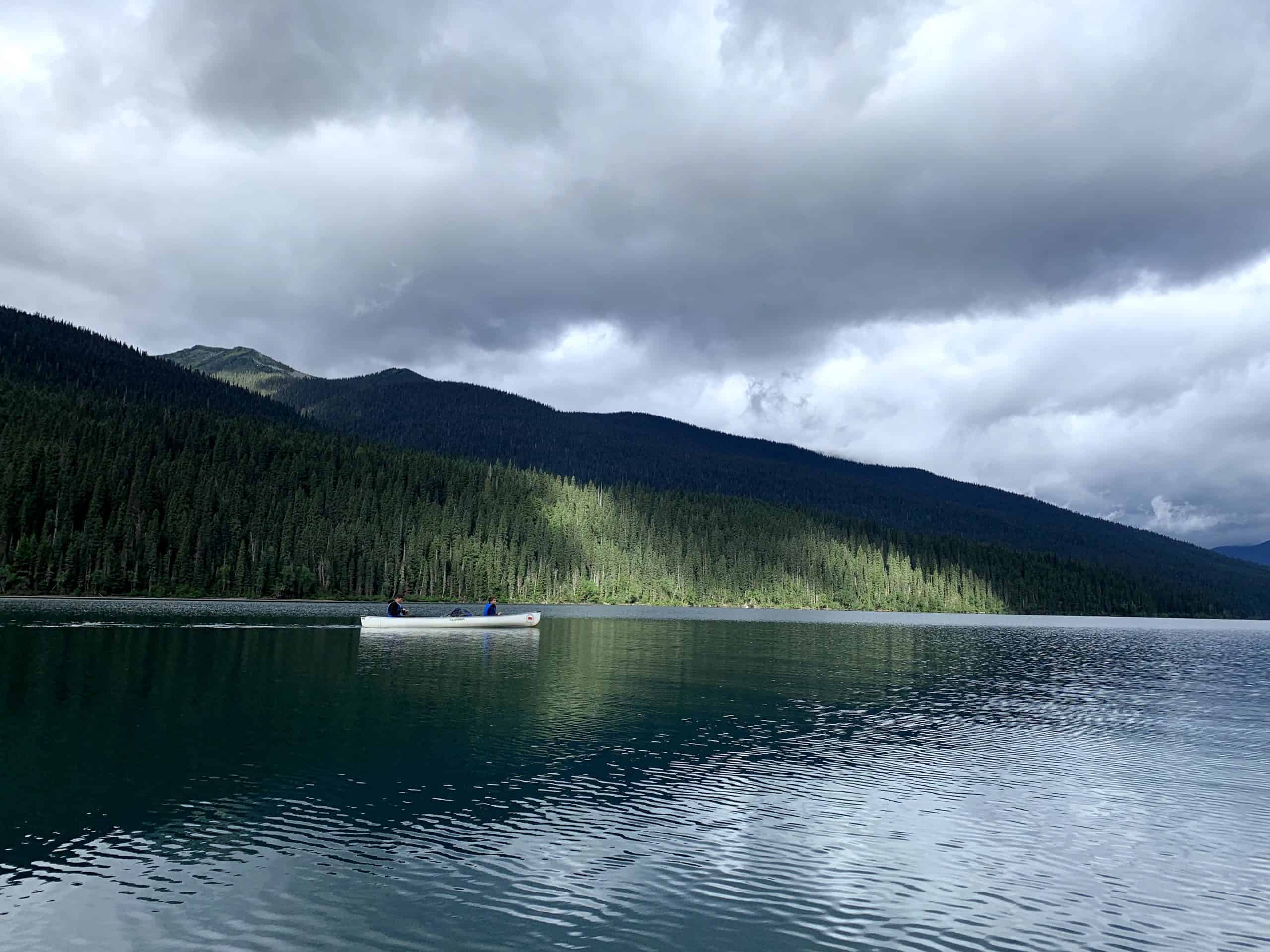 Bowron Lakes Trip Planning:
Trip planning begins months before our planned excursion. This canoe circuit is highly popular and must be reserved in advance. We booked our dates for mid July hoping for the best weather, flood conditions and fewest bugs.
Although we have kayaks, we rented two canoes for this trip as our kayaks are not rated for this kind of journey. We planned for each person to carry their own camping supplies and personal gear in backpacks, while storing food and cooking supplies in large dry bags.
Packing light was key in making this trip more enjoyable for us. We only added about 20lbs of gear to each of the canoes, making portages much more manageable. We've learned that a classic, rookie mistake is packing too much weight on these kinds of trips.
Over the years we have slowly invested in better, more durable light weight gear. Packing light also made paddling our canoes easier and more manageable for our three teenage boys.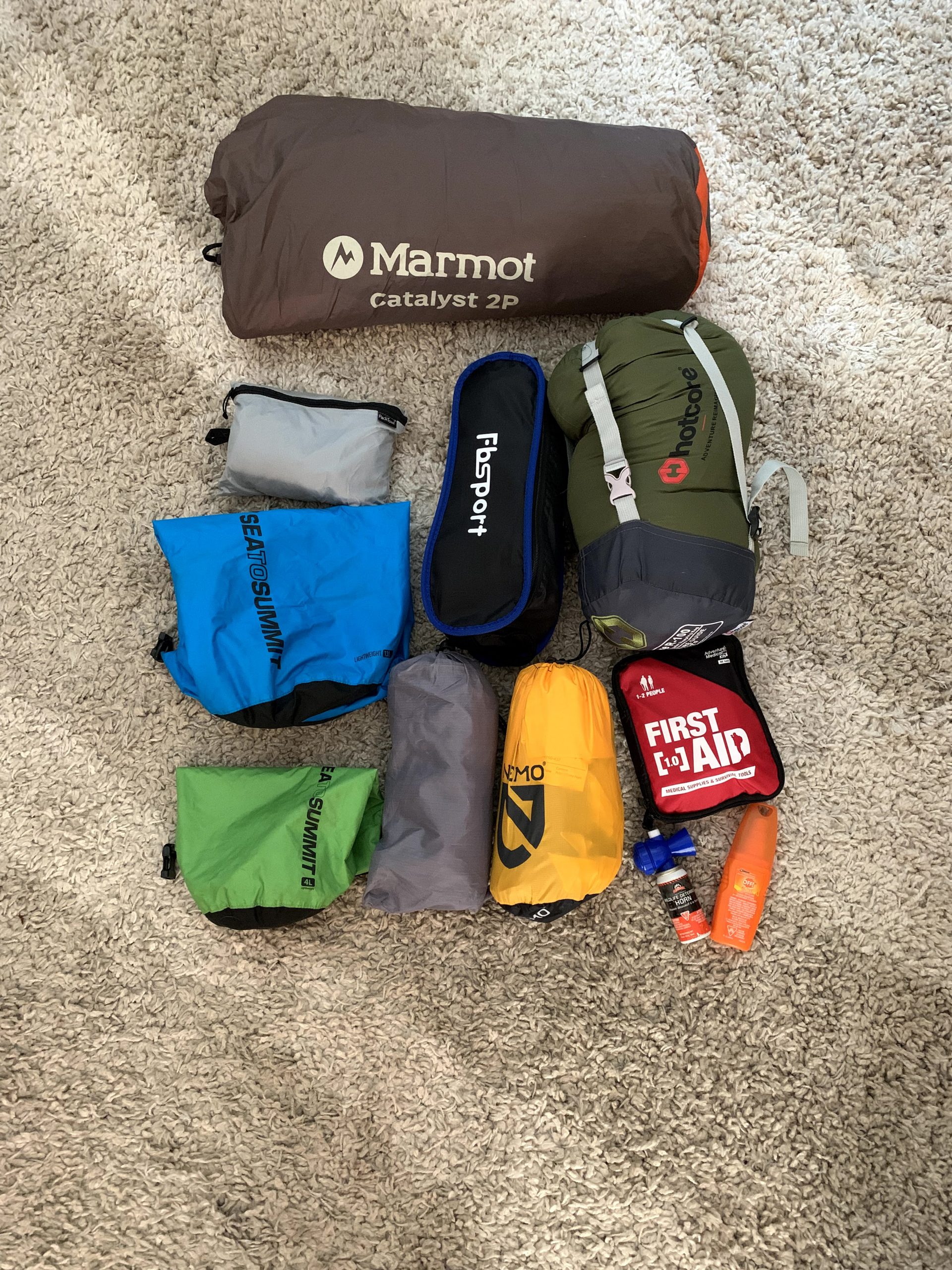 I've shared this post "how to pack for five nights of backpacking" before and this list is very similar. This is the gear that we packed into our backpacking bags.
This post contains affiliate links.
Camping gear:
Hot Core sleeping bag
Pillow
Clothing
Toiletries
Towel
First aid kit
Bear deterrent
Bug spray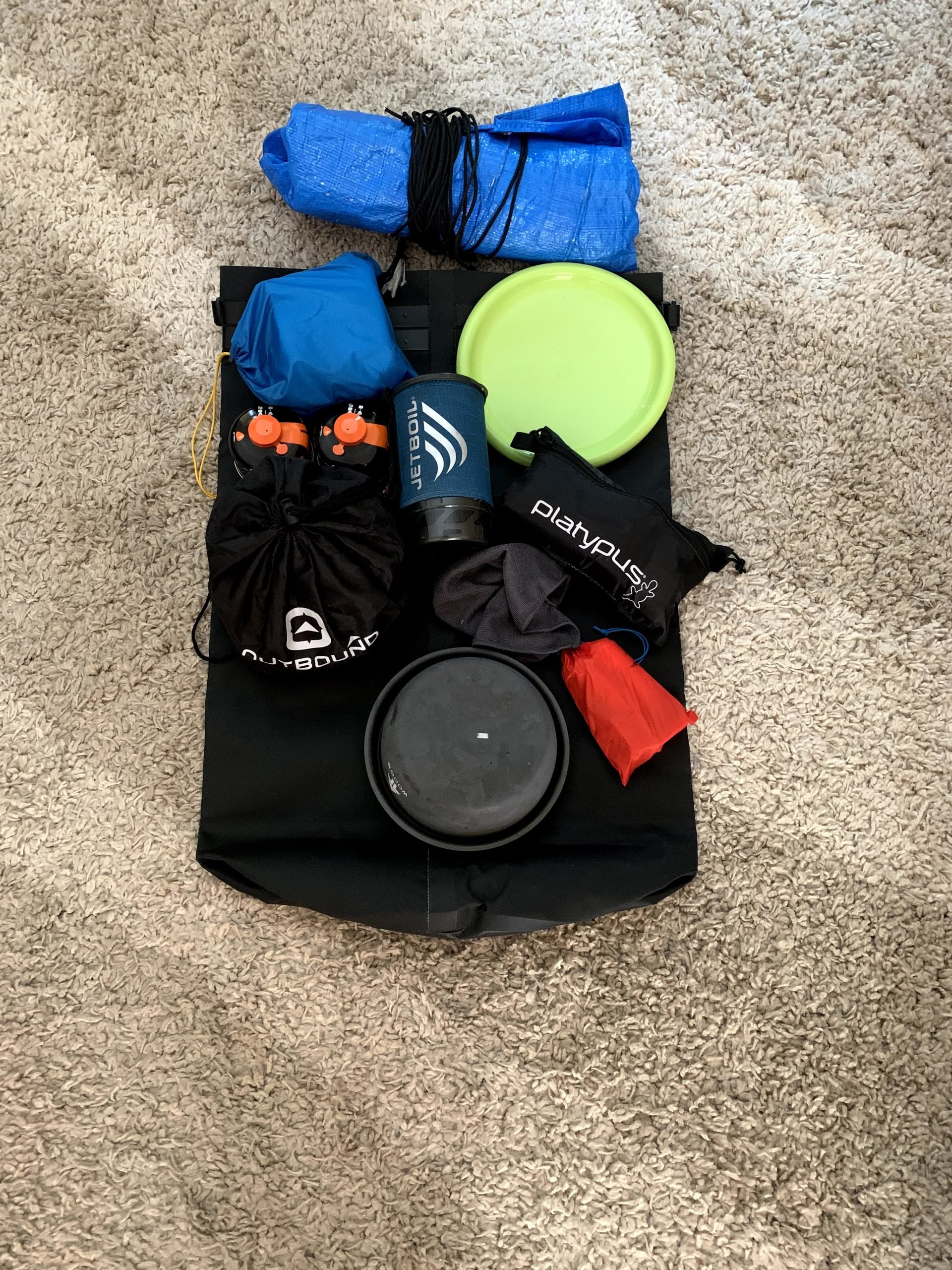 Dry bags:
Camp dishes
Fuel
Firestarter
Tarps
Rope
Toilette paper
We had three dry bags for shared camping gear ; 40 litre, 30 litre and 20 litre. The camp/cooking equipment went into the largest one while the food (organized into 10 litre dry bags by meal type) went into the smaller ones.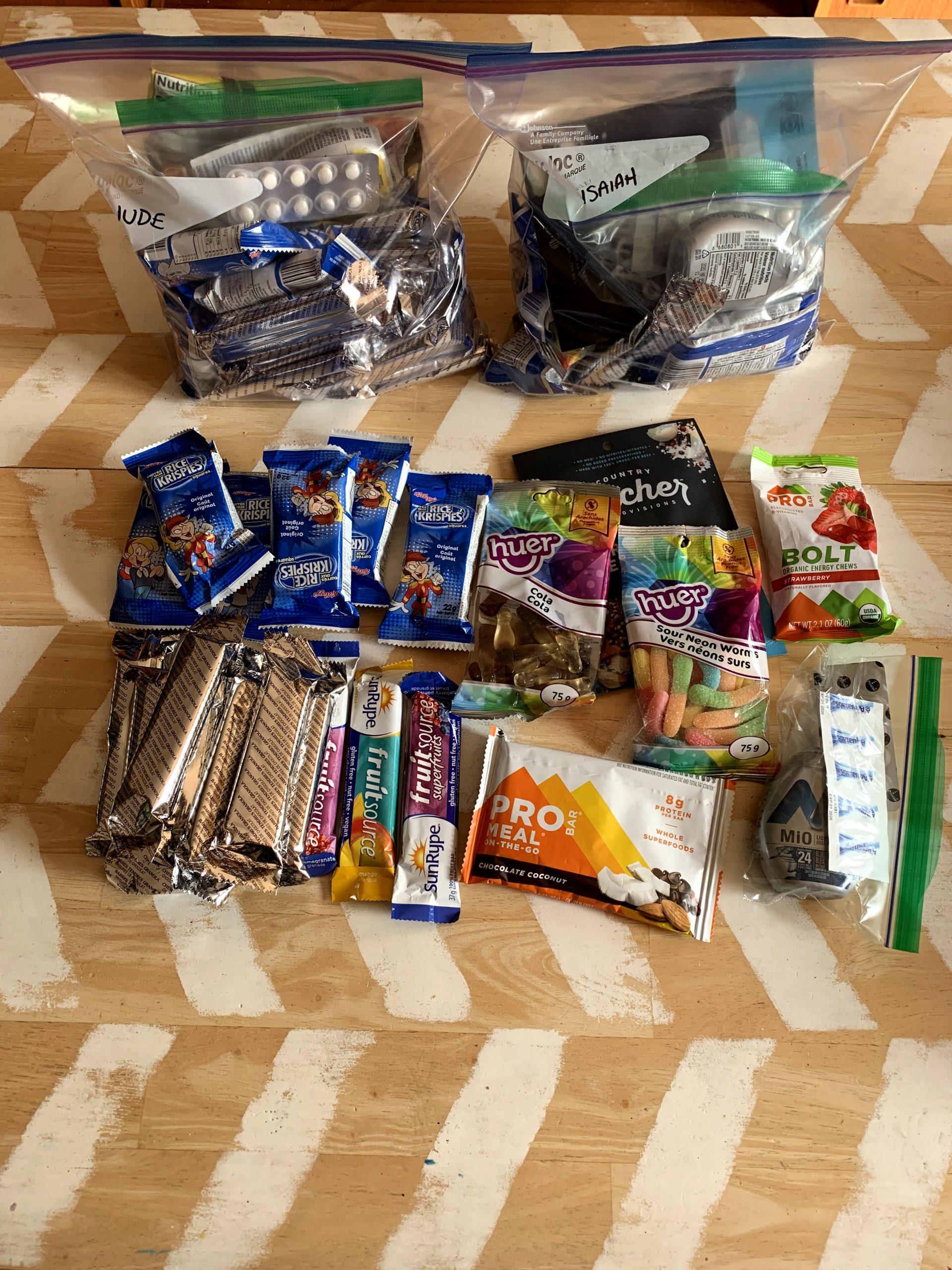 Food packing:
Each person carried their own snack bag for the duration of the trip. This is what each of the kids had for six days. Enough for two or three snacks a day.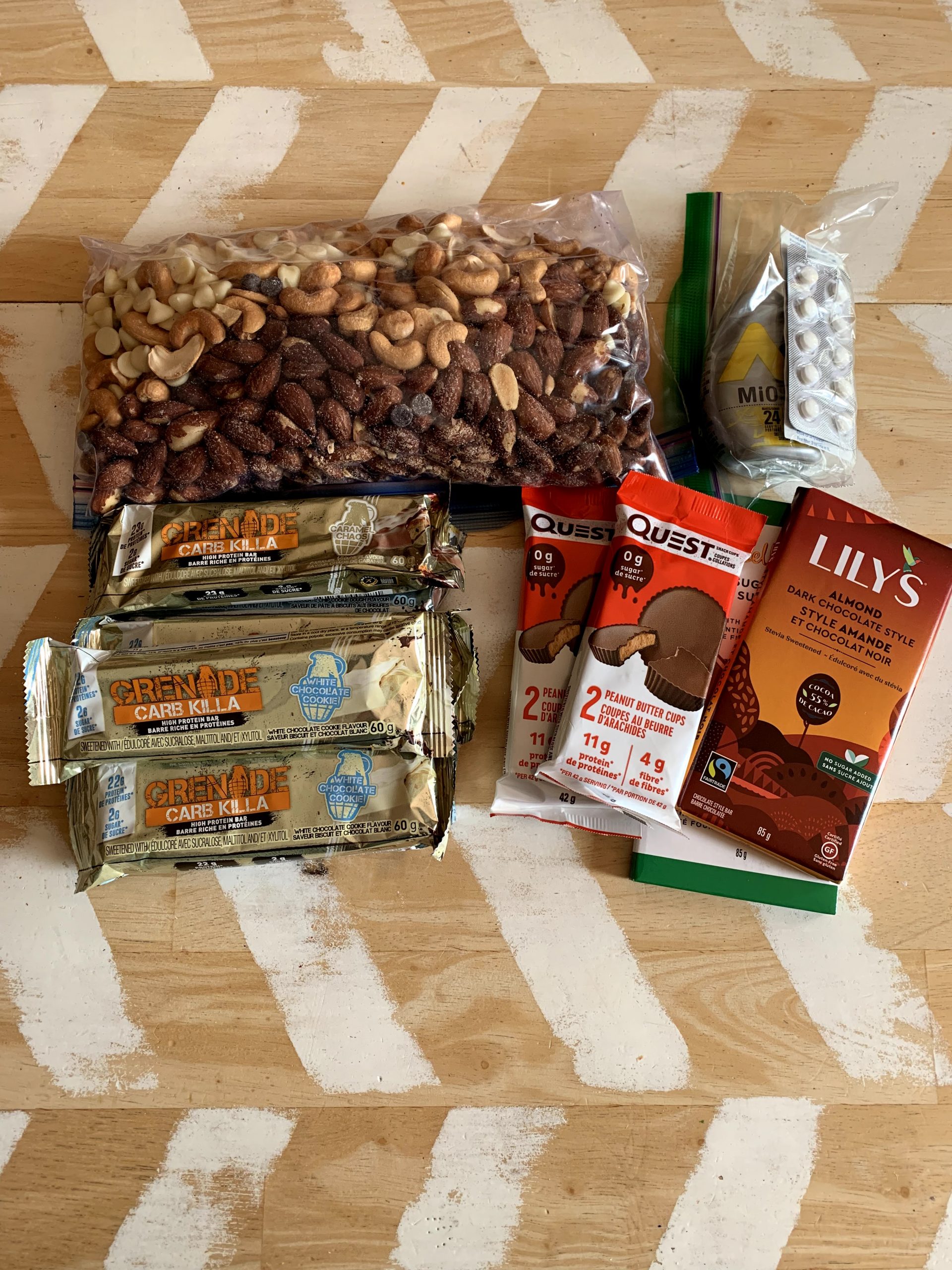 These were my low carb, keto friendly snacks. Nuts, low carb protein bars and dark chocolate. Be sure to check out my Keto Backpacking food list for more low carb ideas!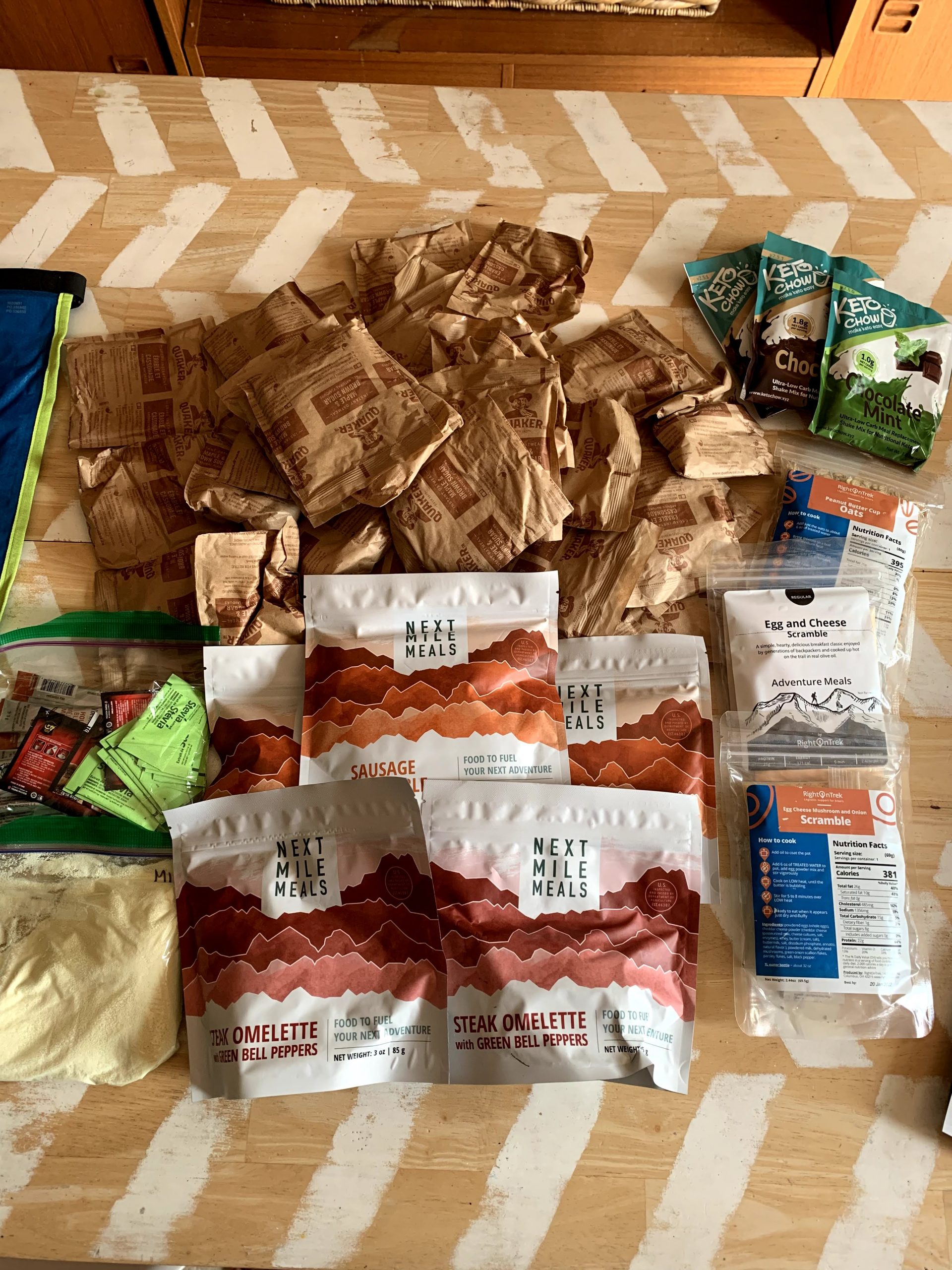 Backpacking breakfast:
Instant oatmeal for the kids, Next Mile meals for the adults, coffee, powdered milk and sweetener. We also packed a few extra dehydrated breakfasts and protein shakes in case they were needed.
Backpacking lunch:
We planned to eat most lunch on the go and packed things that typically did not require cooking. Beef jerky, pepperoni, hard cheese and a variety of dehydrated fruit. Instant chicken noodle soup was great for rainy days.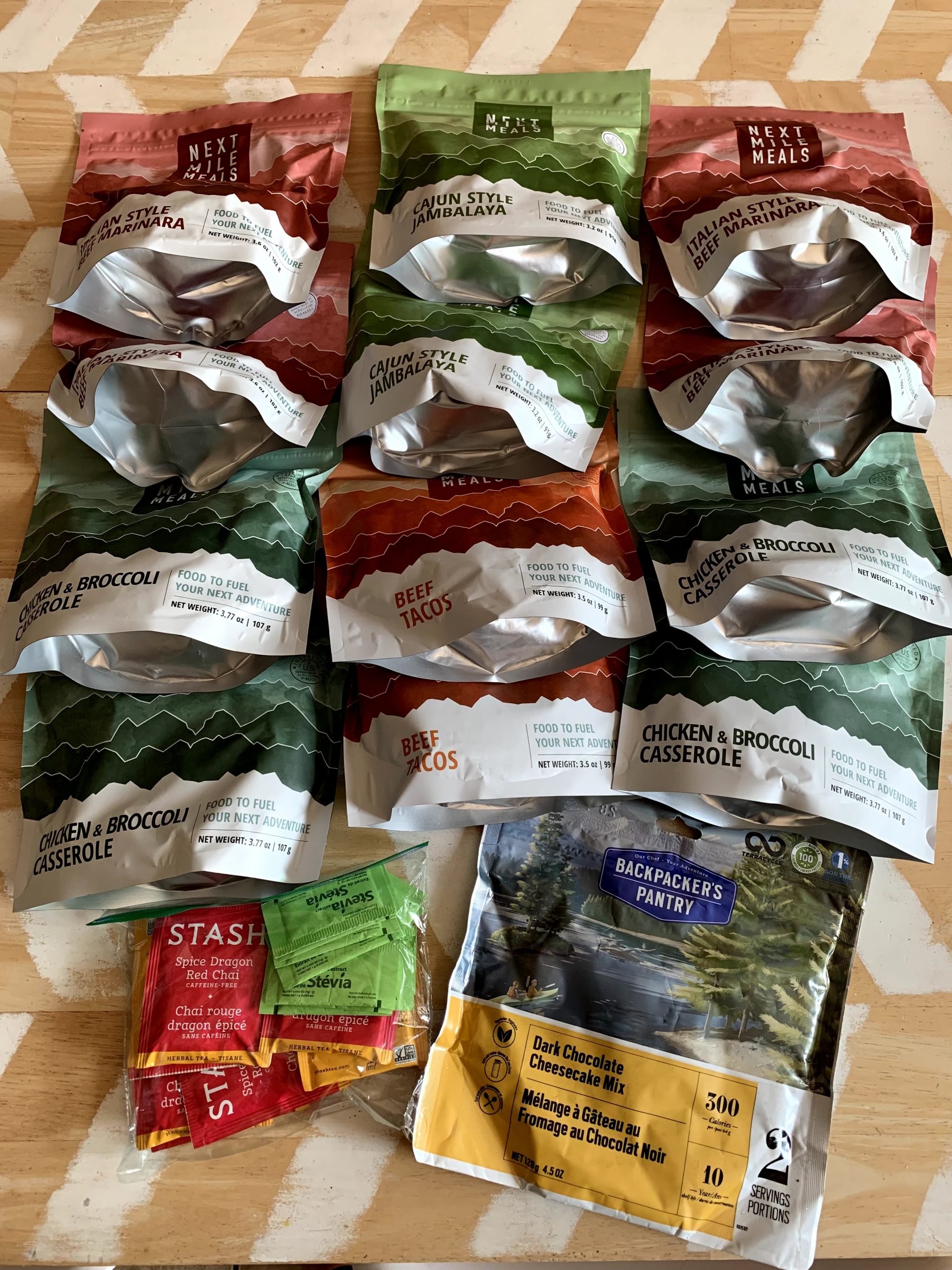 Backpacking dinners:
These Next Mile meals are our favorite low carb trail dinner. We also packed tea and sweetener for chilly evenings.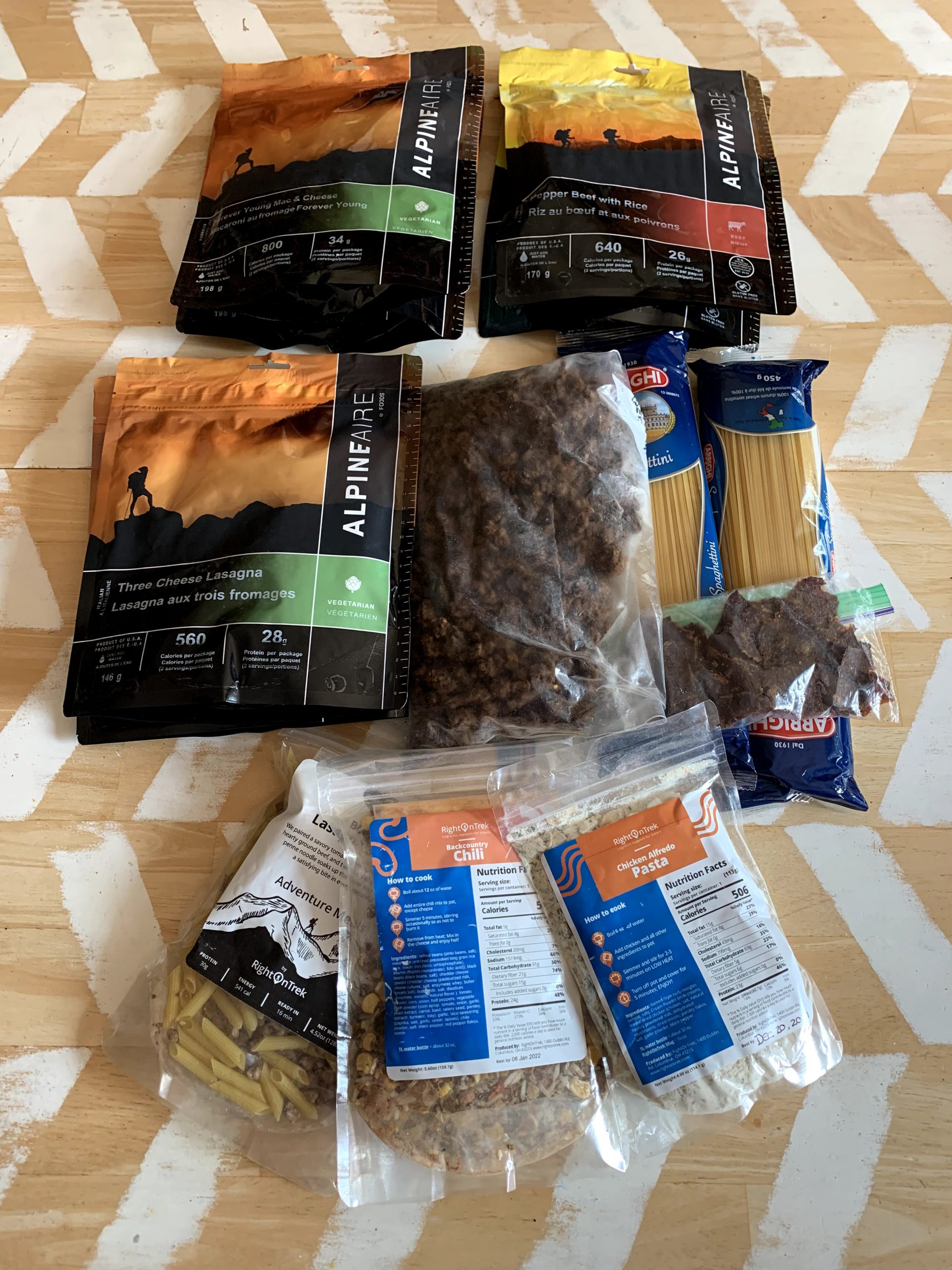 The kids had homemade dehydrated backpacking spaghetti and a variety of dehydrated meals for dinner. We also caught fresh fish on the lake and made camp stove fried fish a few nights.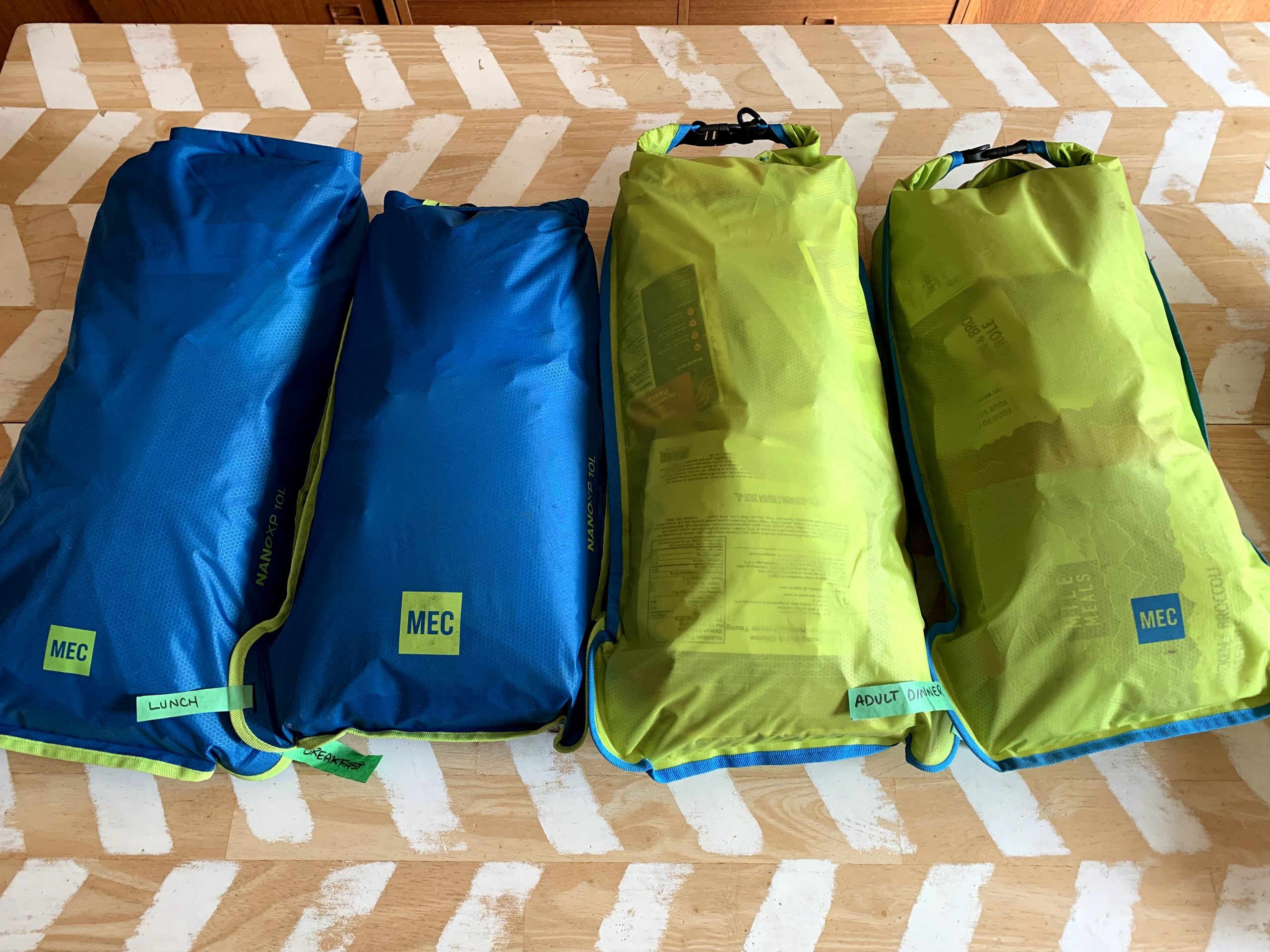 All of our food was then organized into dry bags labelled with the meal and placed into two large 20 & 30 litre dry bags. We stored our food in secure bear caches whenever we were not using it.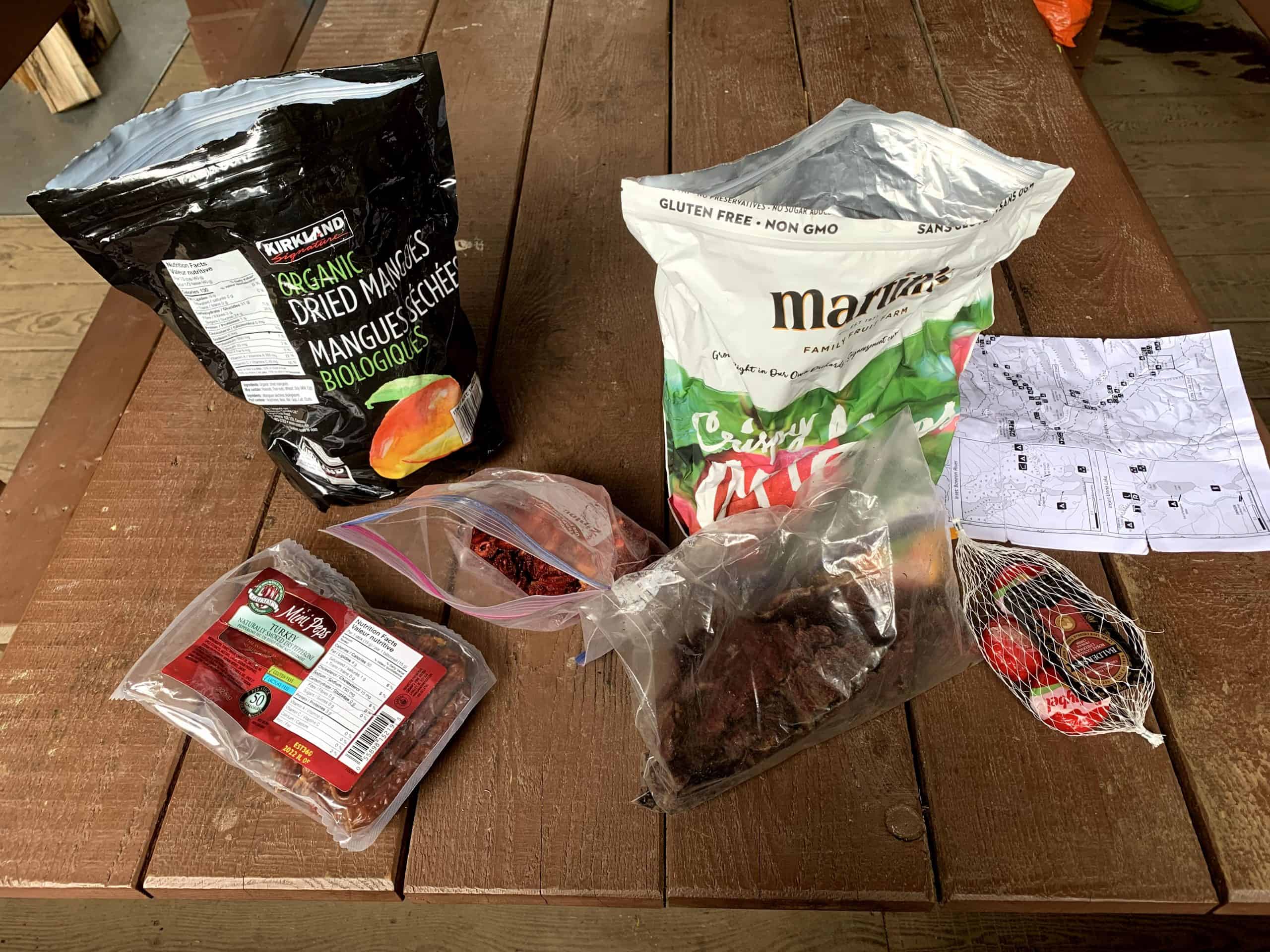 We packed a variety of homemade and prepackaged foods. The hard cheese is a yummy treat and lasts for days without refrigeration. The homemade beef jerky was a hit with everyone too!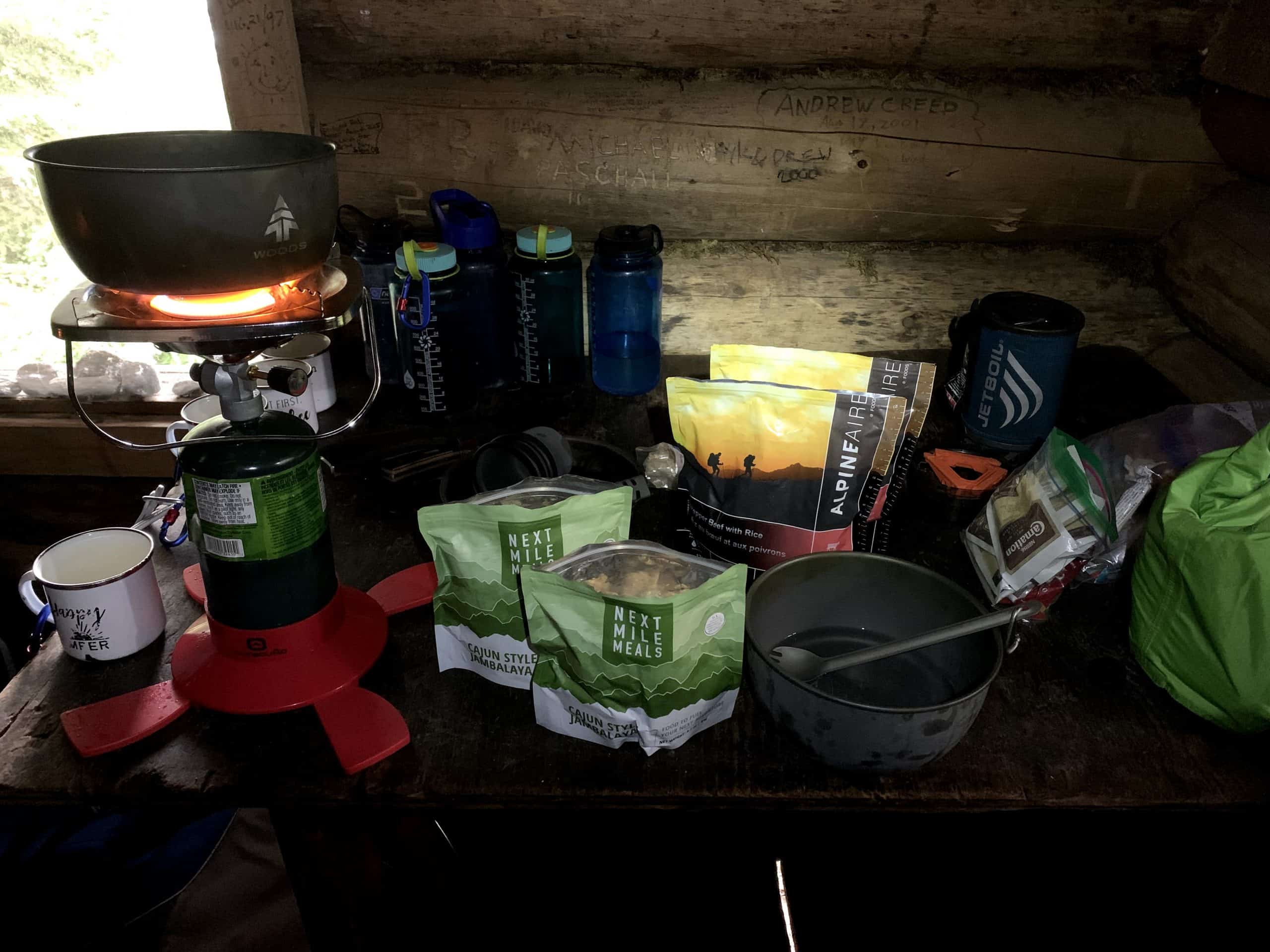 Our camp kitchen was set up in a rustic cabin during a storm one night but typically we ate around the camp fire or in shared use cooking shelters.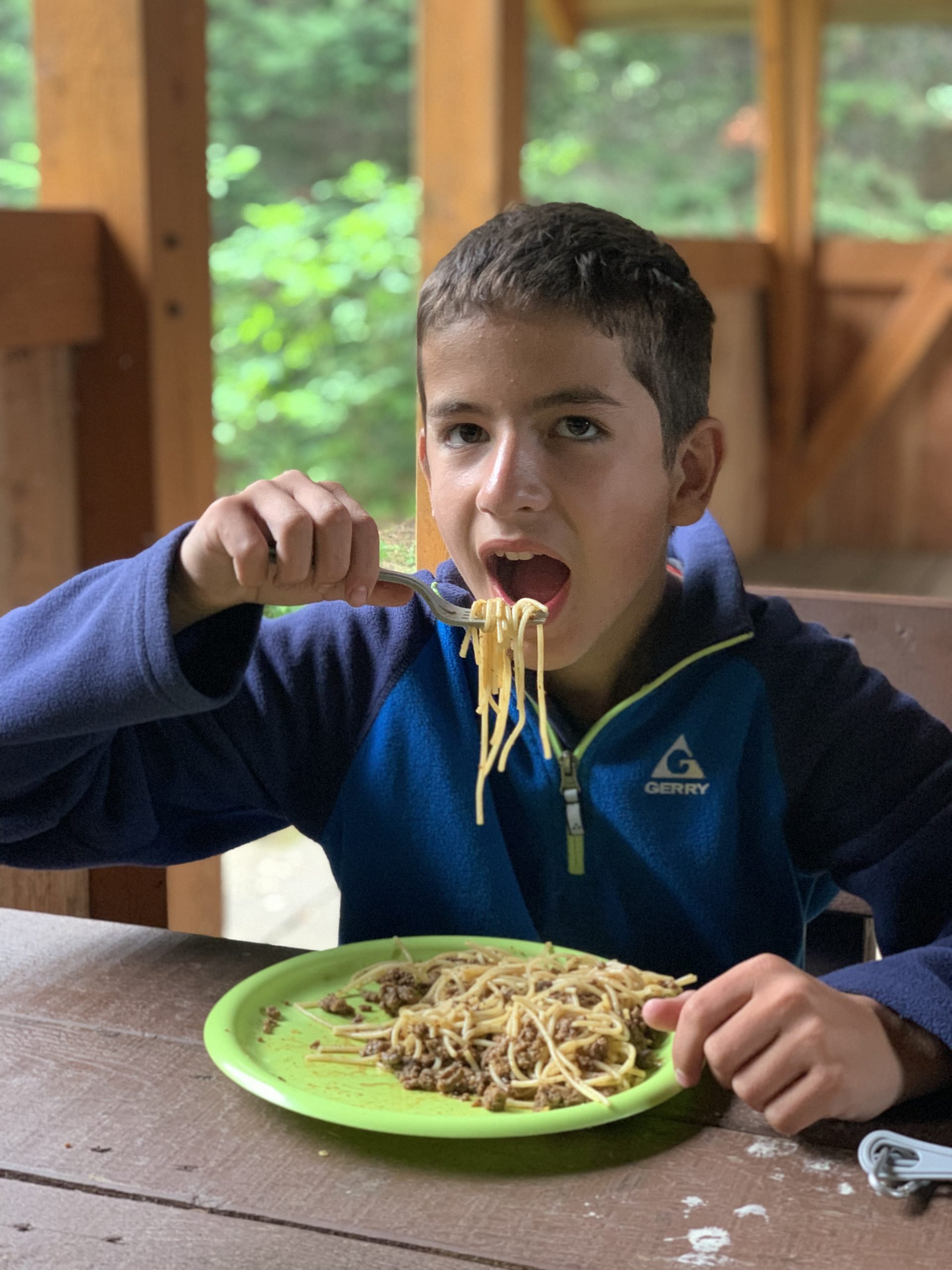 Canoe trip highlights:
The crowd favorite was definitely the dehydrated spaghetti!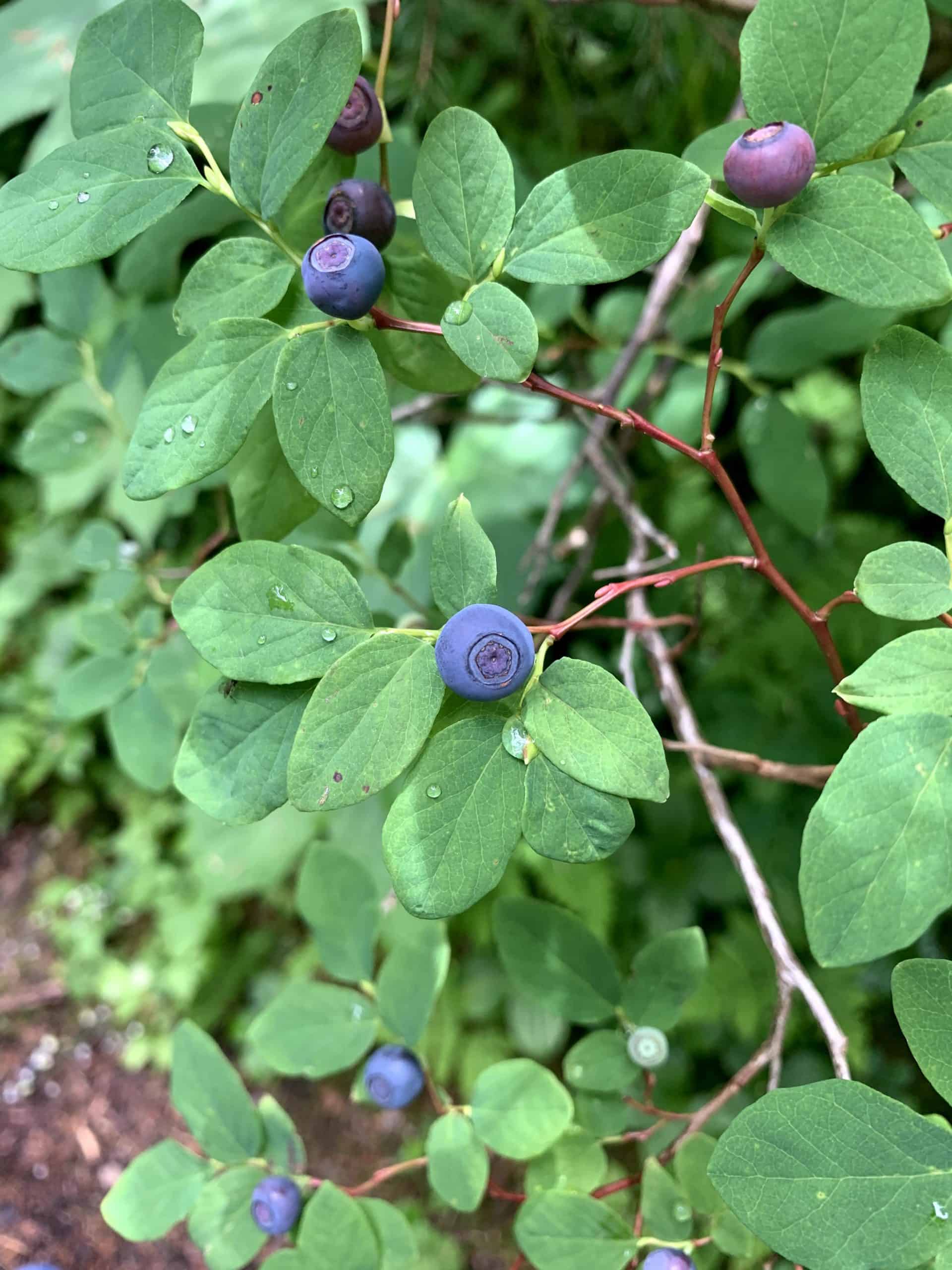 We found a variety of wild berries on the trip, these blueberries were a welcome treat!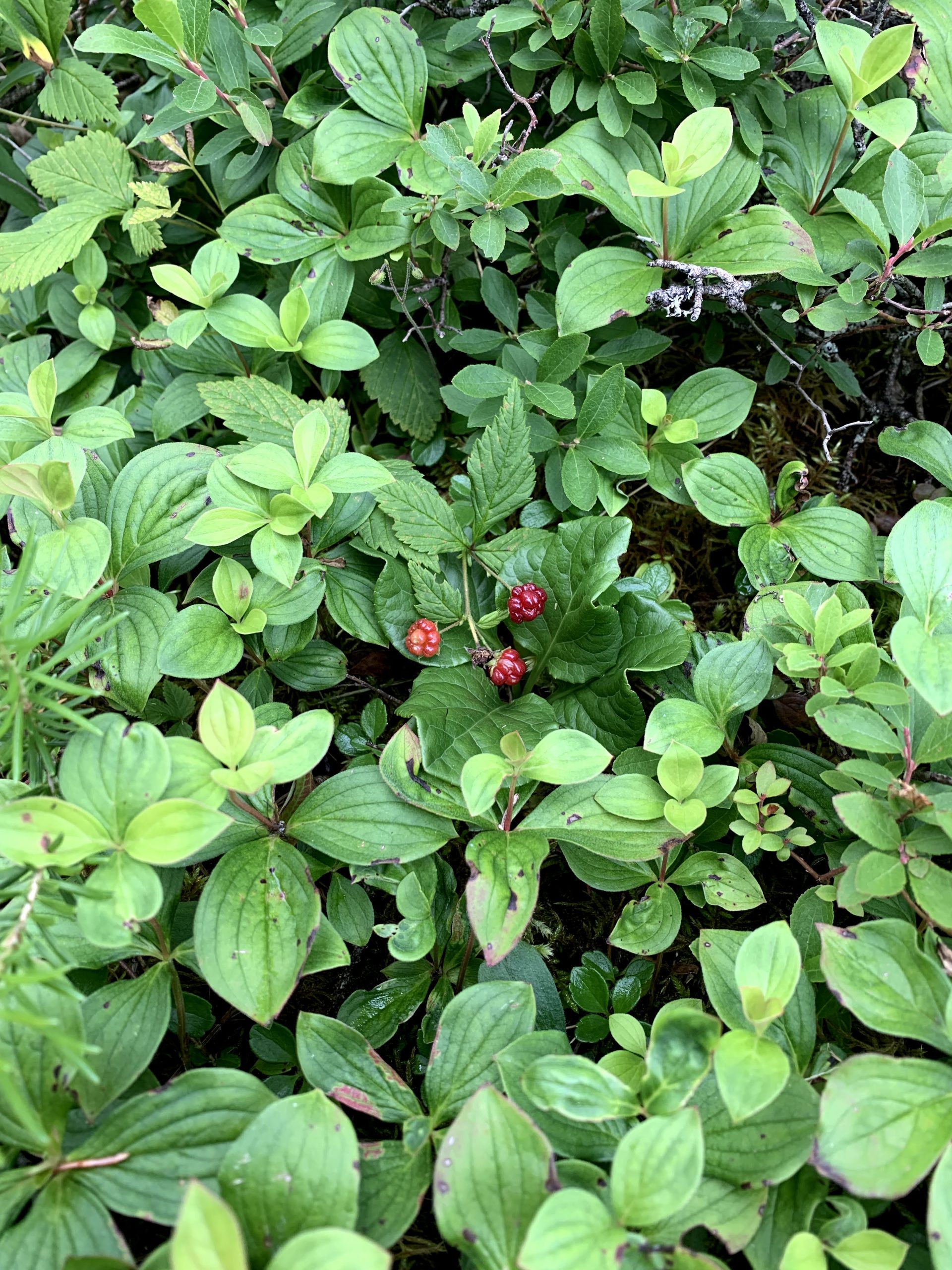 We also found a giant patch of five leaved bramble that was ripe and ready to eat.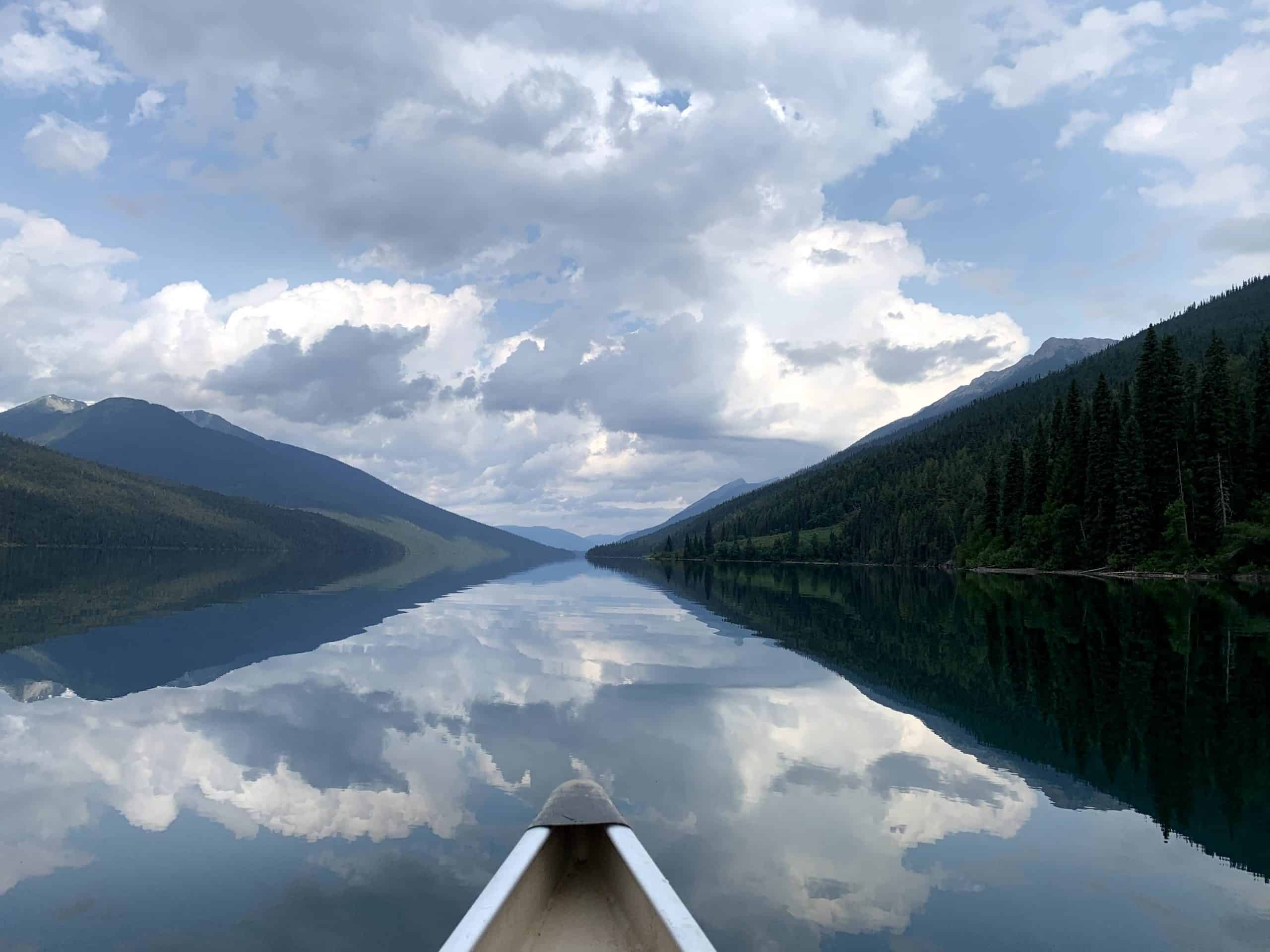 The park ended up being closed at the half way point due to wildfires burning in the area. So we paddled and portaged to the end of Isaac Lake and back rather than complete the entire circular route.
Doubling back, we paddled the same distance as the entire circuit but we missed some of the smaller lakes and waterways that we would have loved to see. We hope to go back again when the entire canoe route is open again.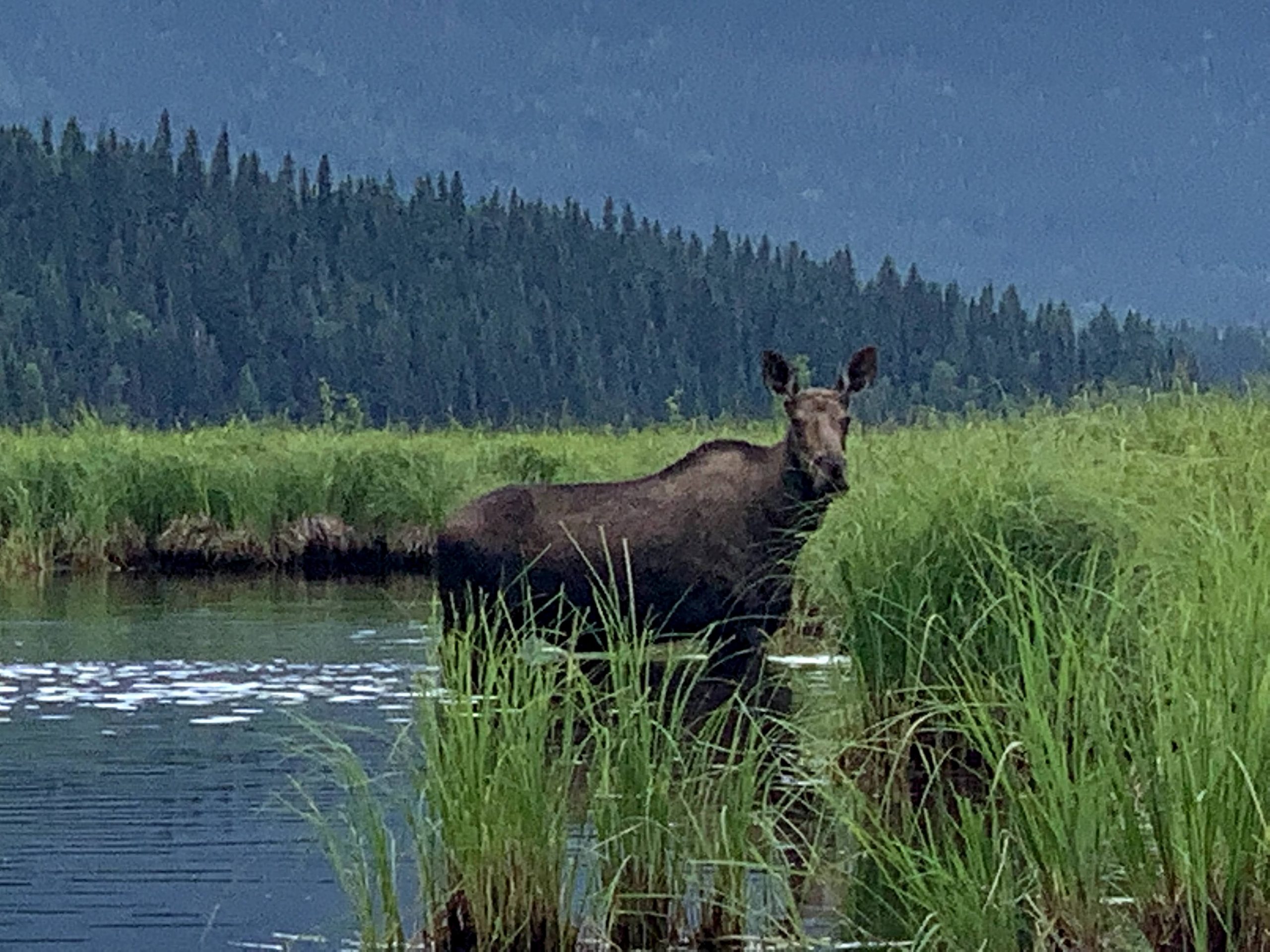 We traversed through marshlands where we witnessed a cow moose eating aquatic plants from feet away.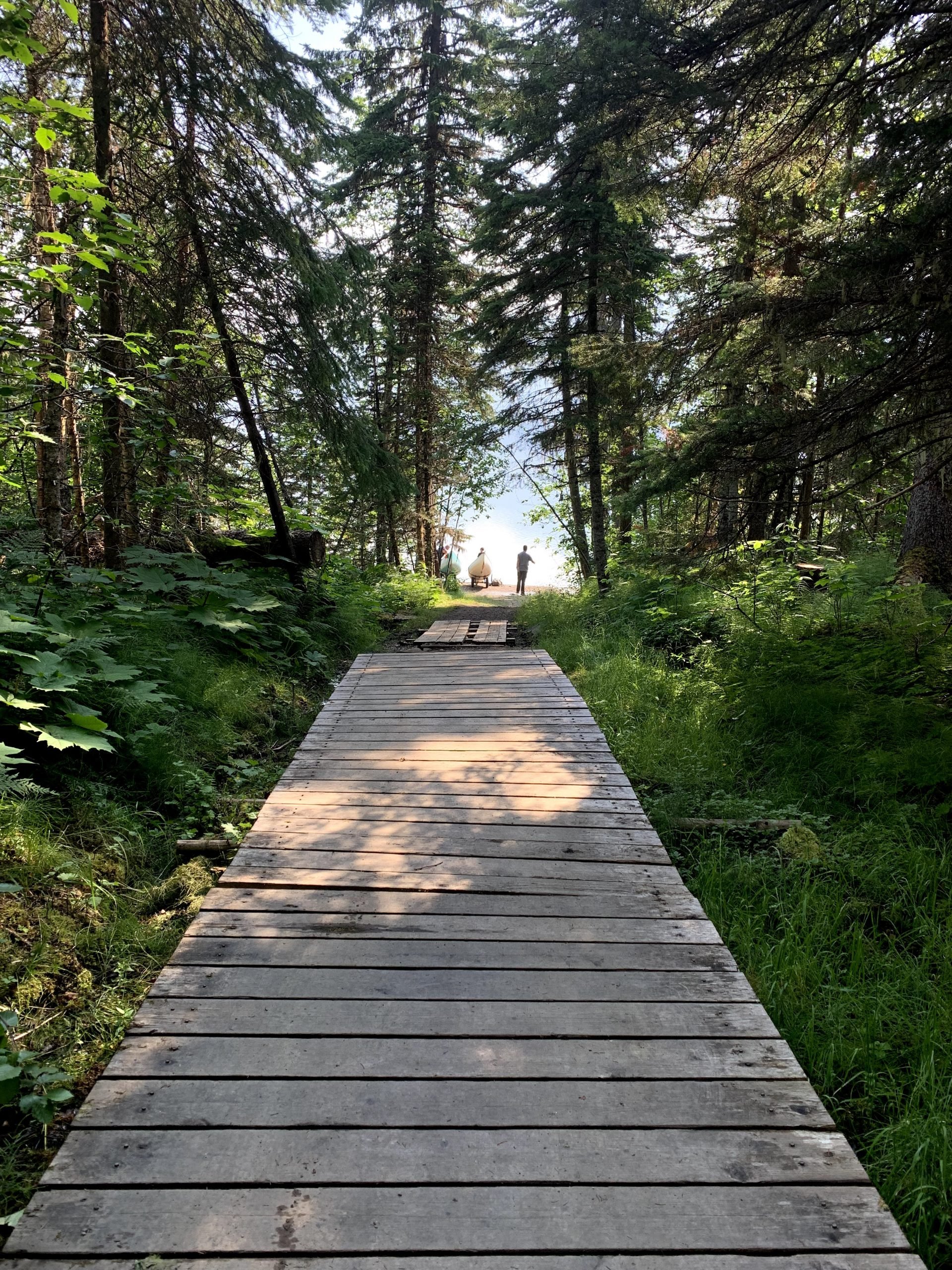 The portages were truly not that difficult, we did the longest three (a total of 6km) twice. The key was packing light, carrying our backpacking packs on our backs and putting only our light dry bags into the canoes.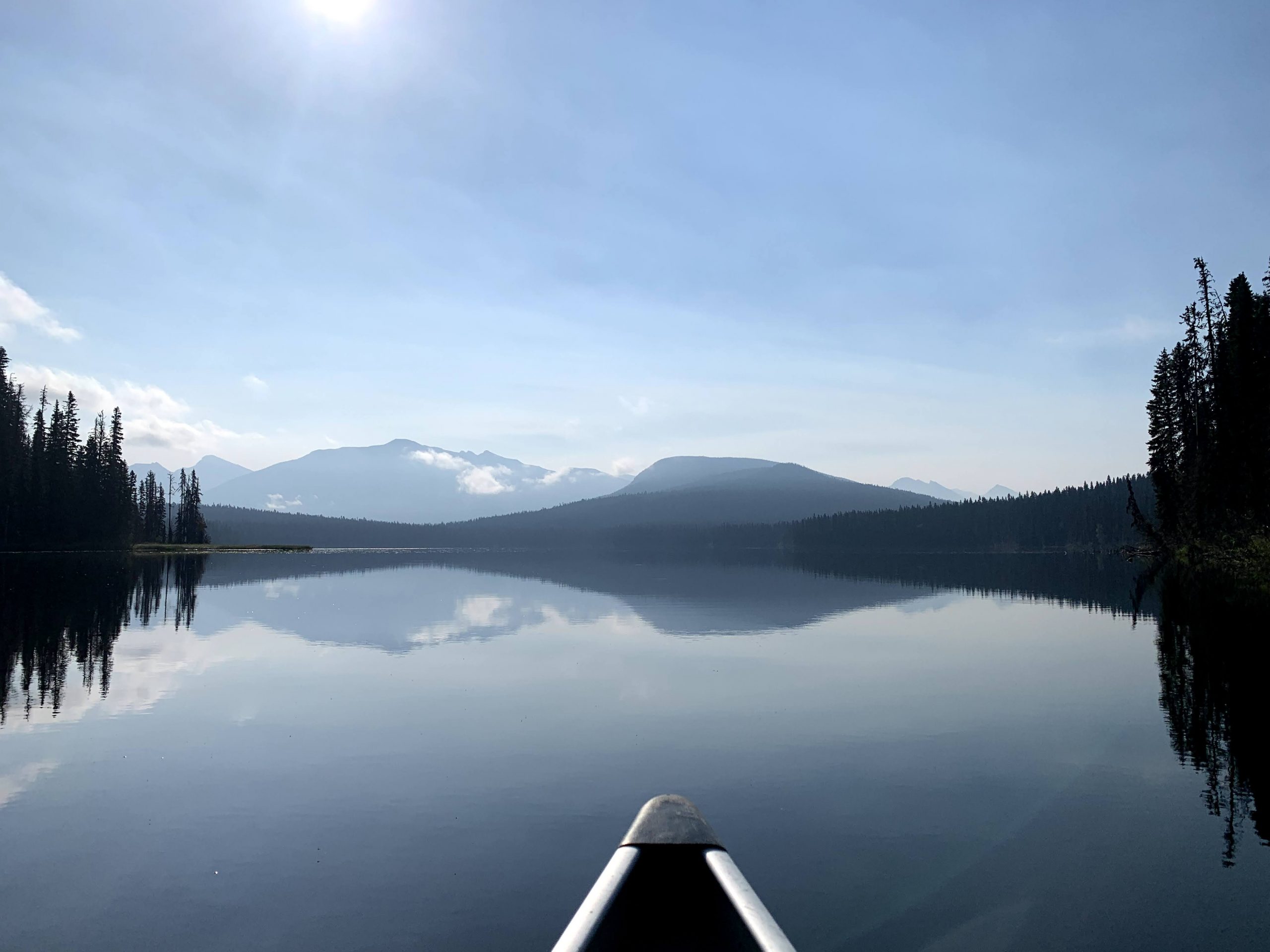 We fished for days and caught beautiful lake trout, giant rainbow and kokanee on pristine lakes. Cam loop spoons and blue/green plugs trolled very deep in Isaac Lake seemed to be the winning combination.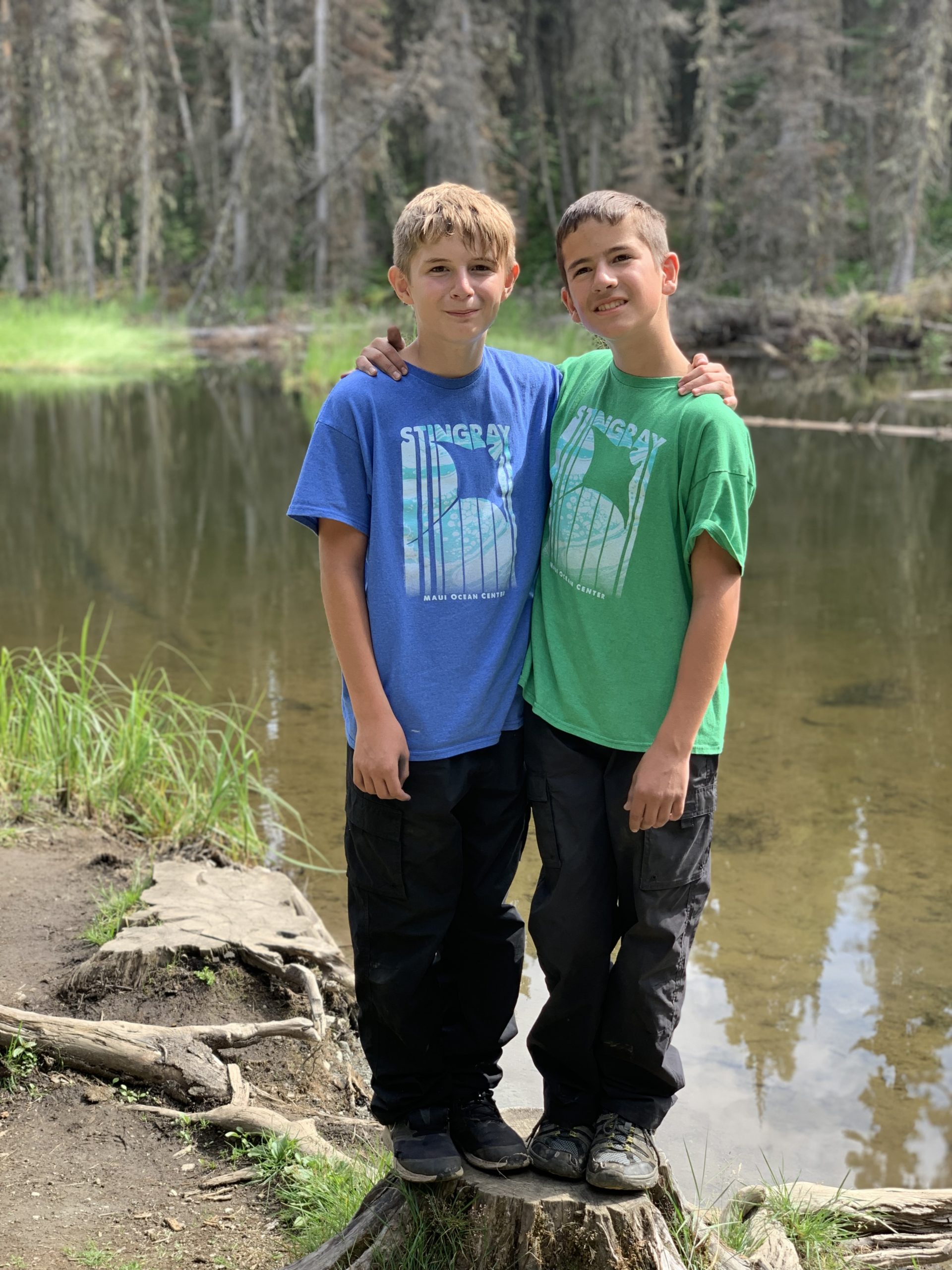 So very grateful that my boys got to experience this adventure!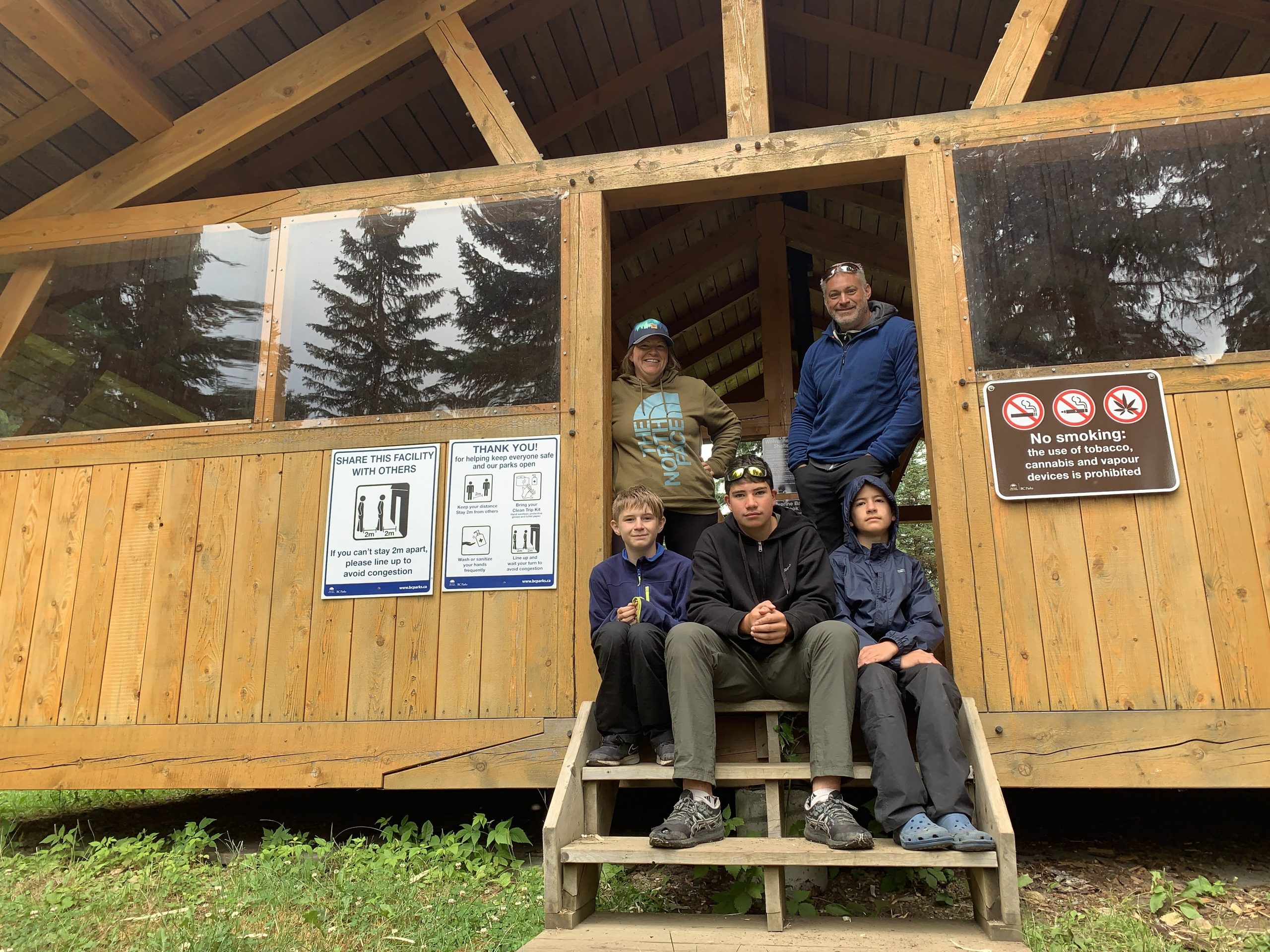 We had an amazing time spending six nights in the wilderness on the Bowron Lakes canoe circuit!
If you found this post useful, please help me share it on Facebook or Pinterest so that others can enjoy it too!