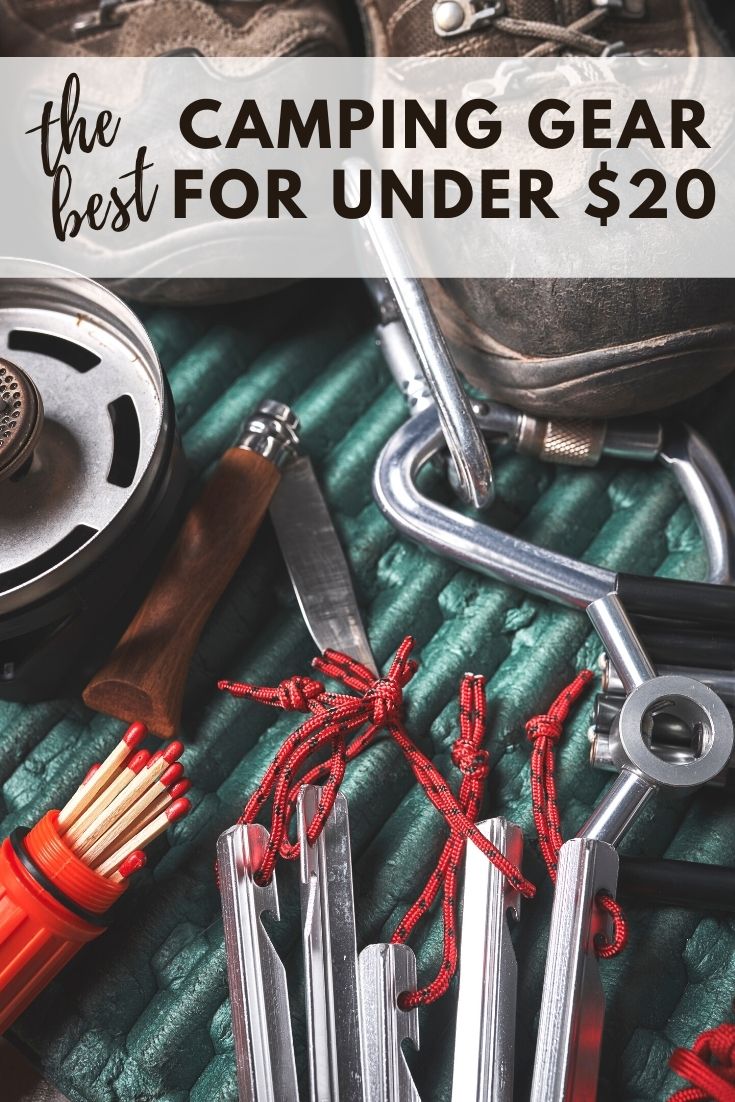 Check out our recommendations for the Best Camping Gear Under $20! These tools are things that we have with us whenever we are camping.
The Best Camping Gear for Under $20:
There is simply nothing like a grand adventure in the great outdoors, but to get the most out of your camping experience, you will need some good camping gear. Be sure to check out our Best Camping Gear for Families as well!
With so many gadgets, tools, and other useful items on the market, finding the right gear can be hard. Thankfully, you do not need to search any longer! We've rounded up some great camping tools and other gear that you can purchase at a great price.
This post contains affiliate links.
Icfun Waterproof Lighter
This waterproof lighter is perfect for camping as it allows you to start a fire in any weather conditions. Now you will never have to worry about adverse conditions getting in the way of cooking or staying warm while camping.
The sleek design of this lighter supports recharging so you do not have to worry about lighter fluid. What's more, it can even be charged on the go with power banks or in the car. Seriously, how awesome is this waterproof light?!
LifeStraw Personal Water Filter
Water is an essential need, and with this durable personal filter from LifeStraw, you never have to worry about going without again. This handy little gadget is perfect to stash in your bag or on your person in case of emergency. It can easily be a lifesaver should something happen, we pack one on all of our backpacking trips!
The LifeStraw can filter up to 1,000 gallons, or 4,000 litres, of harmful toxins and chemicals so you always have safe drinking water. The straw is incredibly durable and has no moving parts or electronic components. And at only two ounces in weight, it is incredibly easy to keep with you at all times.
More Camping Gear:
This handy little first aid kit can be a real game changer in the event of an emergency. This set features 85 pieces of first aid equipment in a light and durable hard shell.
The shell is lightweight and easy to clip onto your belt or backpack so that you always have it with you. This kit gives you everything you need to safely respond to all sorts of medical emergencies no matter where you are. We like to make sure to have one of these in our packs, tent/trailer and vehicles.
Kizen Solar Powered LED Lantern
Light is an essential need for camping, whether for cooking, tending to an emergency or just walking around in the dark. Flashlights and headlamps can be useful, but what if you need to light up a general area?
That is where this LED lantern shines, as its bright LED's allows you to quickly fill up a space with light. In addition, its collapsible design makes it easy to stow and transport to campsites.
Carabiner clips come in super handy when camping. They are useful in hanging and attaching all sorts of camping gear that use may use in your set up. We use them most often when backpacking to clip things like water bottles and hats to our packs.
Thermacell Portable Mosquito Repeller
More camp cooking gear we love:
Camping can be a fantastic experience, but it takes the right gear to stay safe and make the most out of the trip. With the items on this list you can up your camping game with some useful tools and gadgets.
If you love this camping gear post, please help me share it on Facebook and Pinterest!