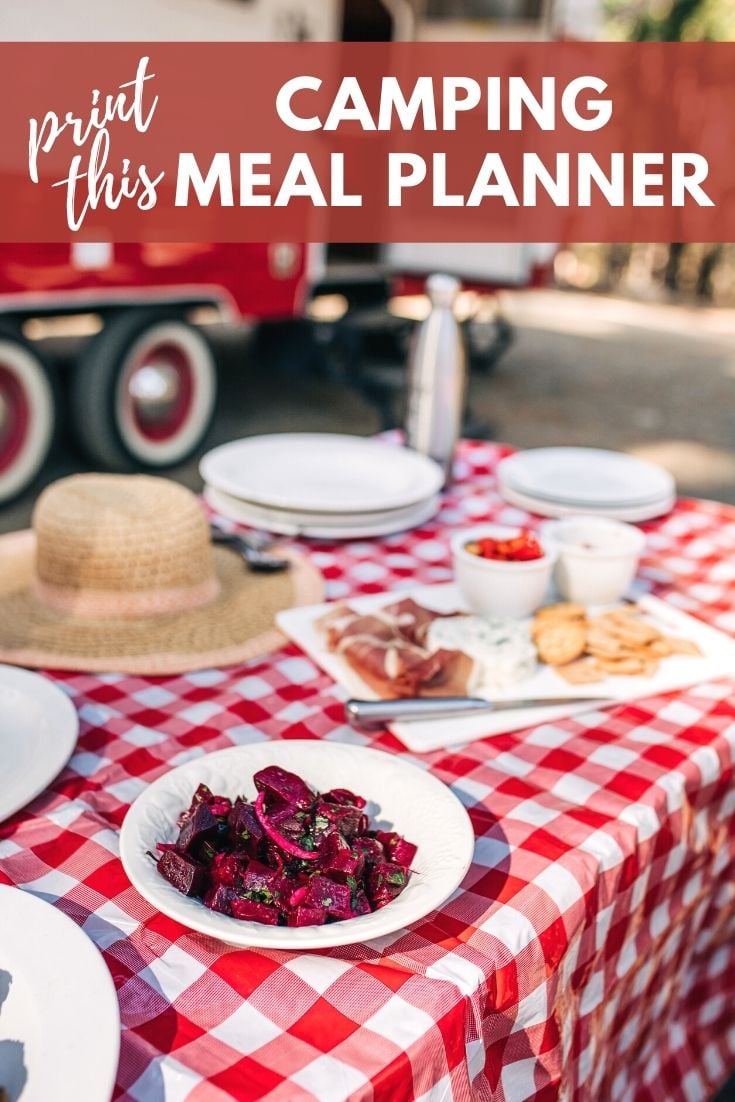 Whenever I am getting organized for a camping trip I use this camping meal planner printable to help plan my packing. Planning what we are going to eat ahead of time takes the guess work out of what to feed the family.
Doing as much of the meal preparation at home, before camping, is key. This allows you to leave most of the mess and garbage at home. Letting you to make the most of your time in the great outdoors.
We spend a lot of time in the great outdoors in the spring and summer months. Whether it be setting up a tent or hauling a travel trailer, we can most often be found as a family in nature. One of the things that I find essential to making our trips enjoyable is having a menu plan. I like to plan what we are having for breakfast, lunch and dinner ahead of time.
Camping breakfast ideas:
These Breakfast Burritos are prefect for making ahead and packaging for camping.
The kids love to make these Pie Iron Breakfast Wraps.
These Pie Iron Cinnamon Buns are a yummy addition to our morning coffee.
Camping lunch ideas:
Cheesy Campfire Dip is a must have whenever we are camping. Seriously, we make this recipe on every trip.
The whole family loves these Pie Iron Philly Cheesesteak Sandwiches.
Traditional hot dogs or cheese buns are also a lunch time staple for us.
Camping dinner ideas:
This Campfire Pizza Bake is a hit with the kids every time!
We love this Tinfoil Packet Fajita recipe and I love that it can be made low carb!
This Garbage Can Turkey recipe is a new, DELICIOUS, addition to our menu planning!
This post contains affiliate links.
Camp cooking essentials:
Menu planning for camping is something that I always do to stay organized. Grab this free Camping Meal Planner Printable to get started on your next trip.
A Pie Iron Camp Cooker makes cooking over the open fire super easy. Check out these tips for using a pie iron for more inspiration!
Foil Pie Plates make tinfoil packet meals even easier with the sturdy base that they provide.
Tips for camping meal preparation:
Prepare meals in advance at home whenever possible. Leave most of the mess at home where running water is more accessible and clean up is easier. Trust me on this one!
Create "one pot" family style meals for quick dinners that don't require a lot of thought.
Use tinfoil packets, foil pie pans or pie irons. These tools help to make clean up a breeze!
Pack ingredients in 1 gallon size ziploc bags for flexible storage in small fridges and coolers.
Plan meals that use similar ingredients to help make packing and planning easy. These Cheesy Vegetable Campfire Dip, Loaded Campfire Potatoes and Tinfoil Packet Taco Salad recipes are some of my favorites.
Download the free printable camping meal plan:
Simply right click on the image below and save it to your computer.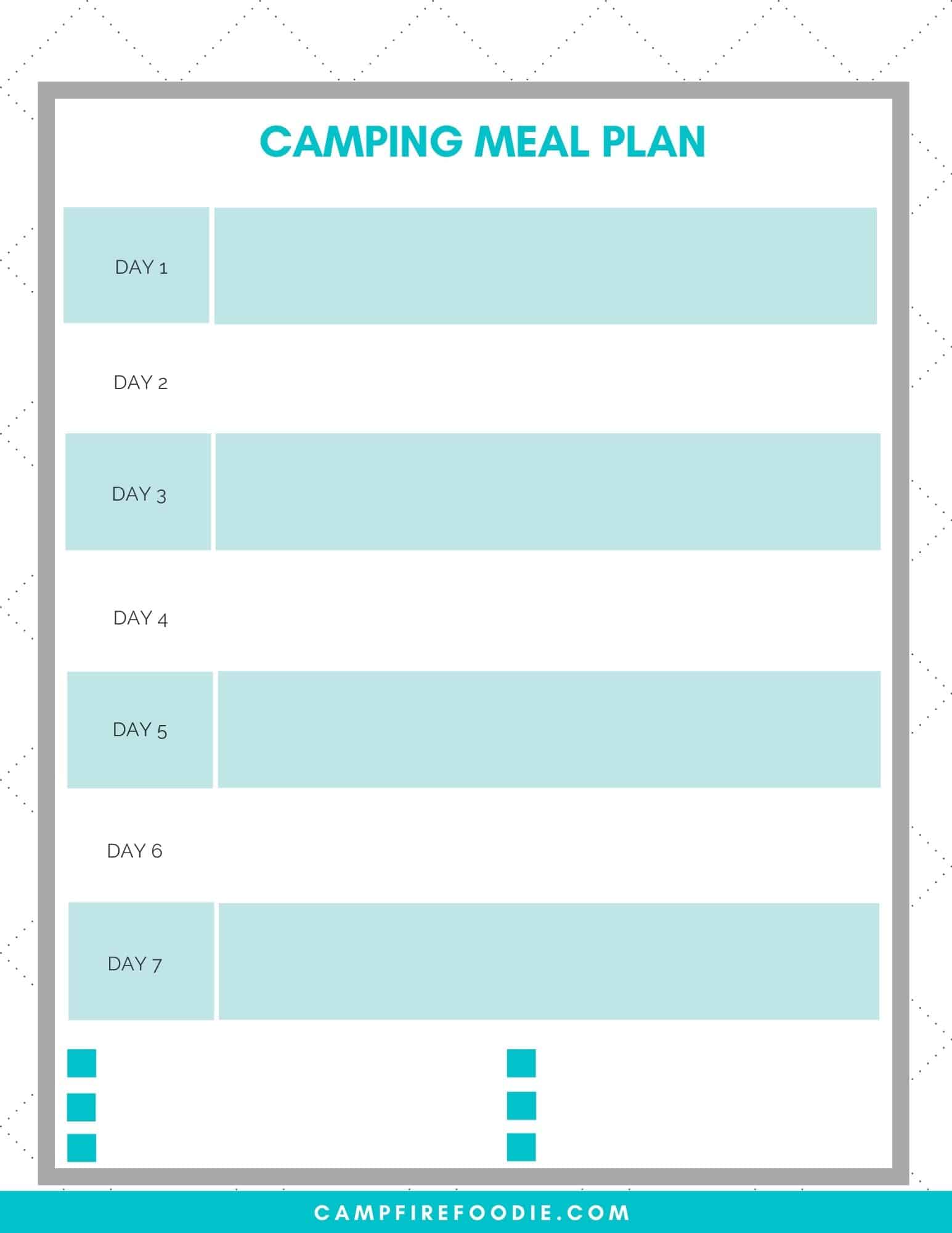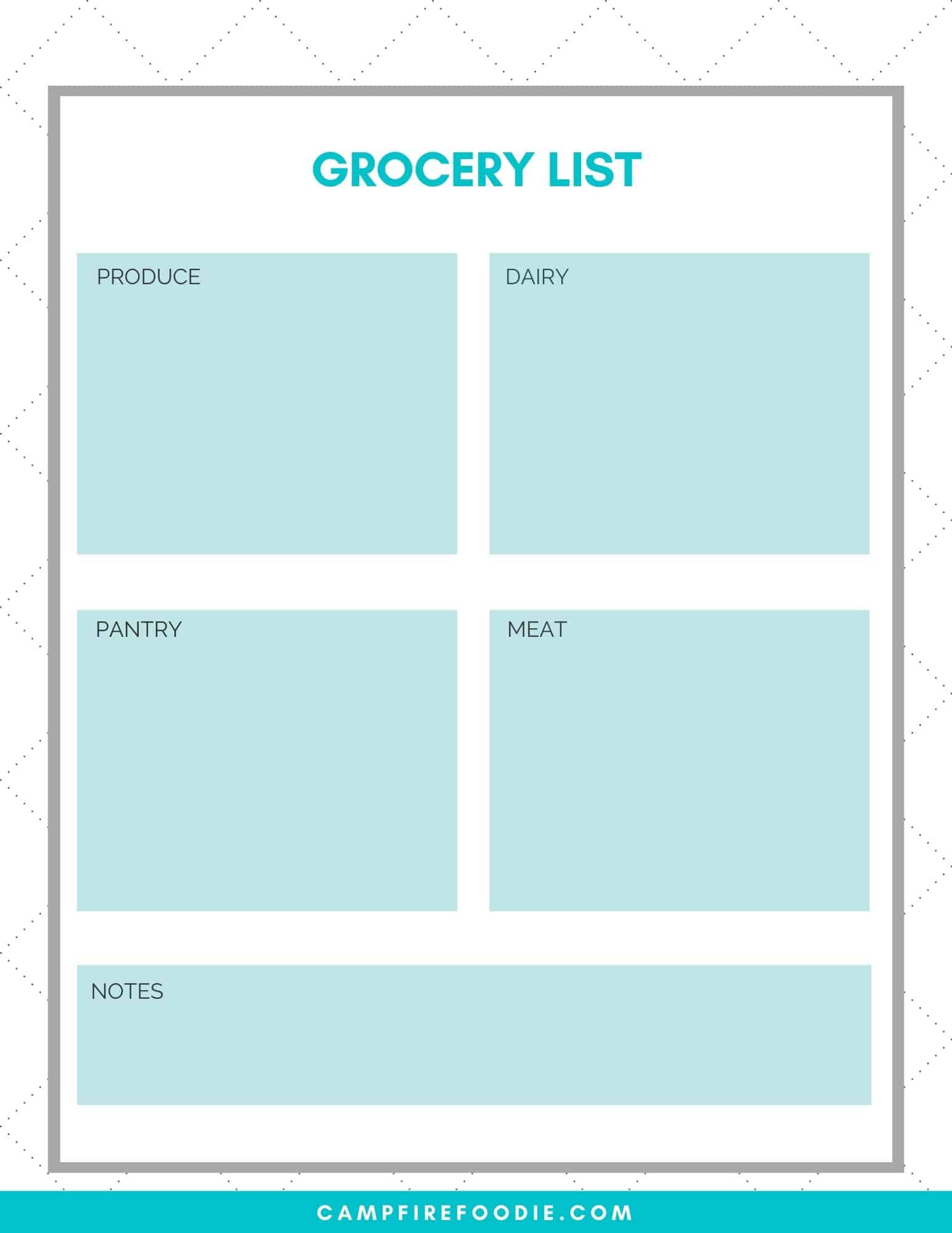 If you love this camping meal planner printable, please help me share it on Facebook and Pinterest!