These dutch oven dessert recipes are so fun to make while camping! They're totally easy to make, delicious and always a crowd pleaser.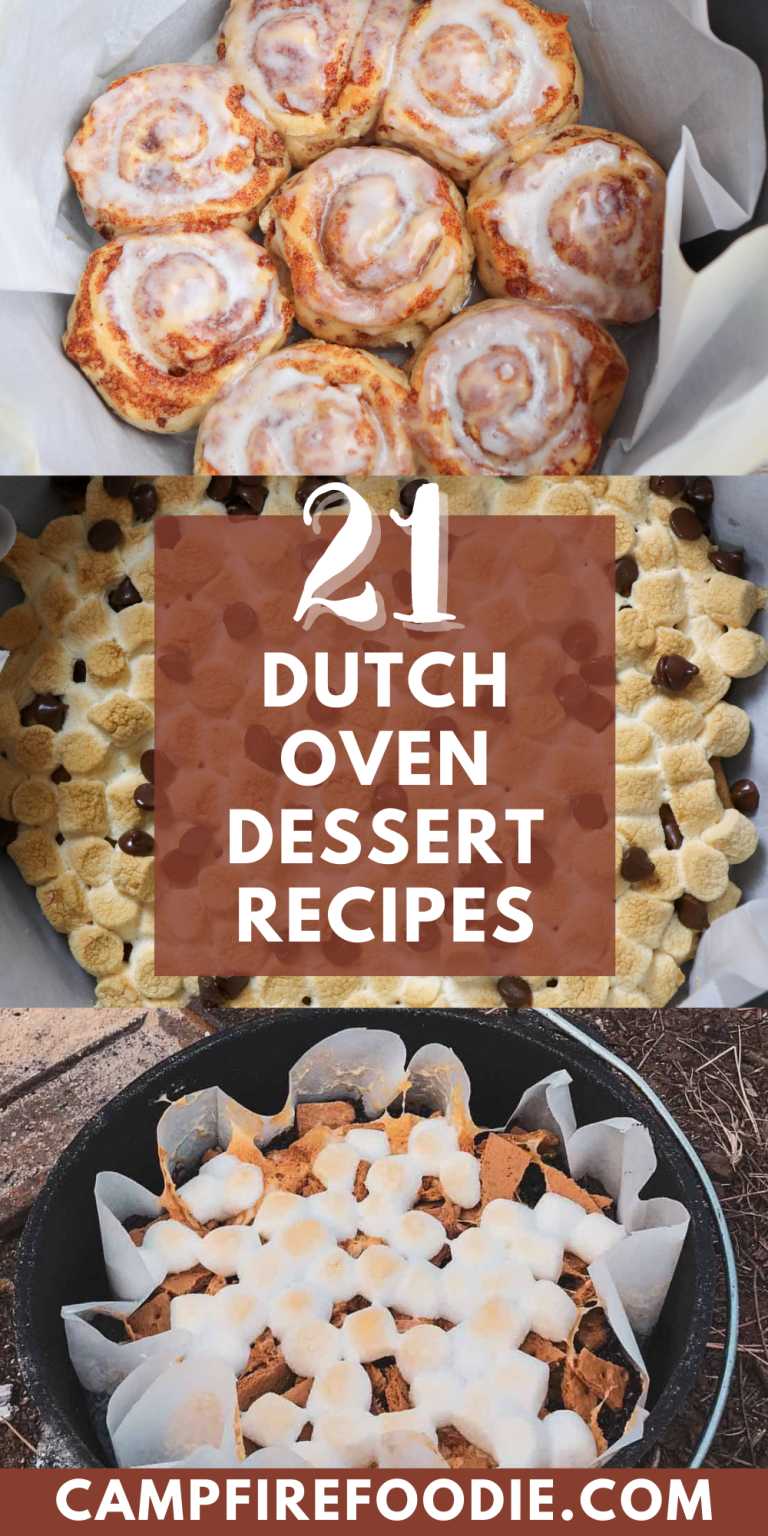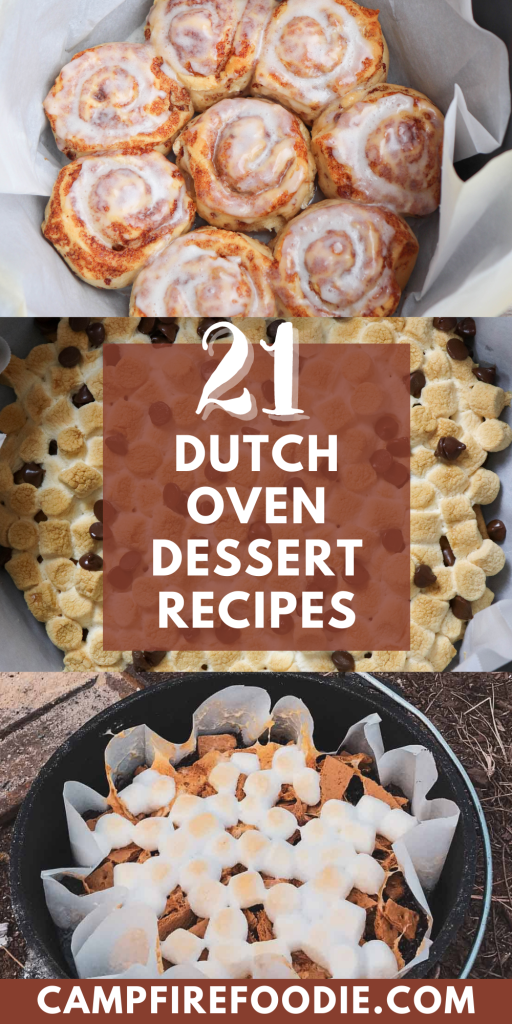 A cast iron dutch oven is a great tool to have in your camping gear. One of the best things about this versatile pot is that it can be used on the fire or camp stove, making it the perfect choice for outdoor cooking.
When we are enjoying the great outdoors, I also want us to enjoy great food. Delicious meals should always include a yummy dessert. It is the perfect way to finish off the meal.
Too busy to make this right away? Pin it for later! Pin this post to your favorite board on Pinterest and it will be there when you're ready!
To save you a little bit of time in your own search for the perfect dessert, I have gotten you started with today's list. Be sure to include these easy dutch oven dessert recipes when meal planning for your next camping trip.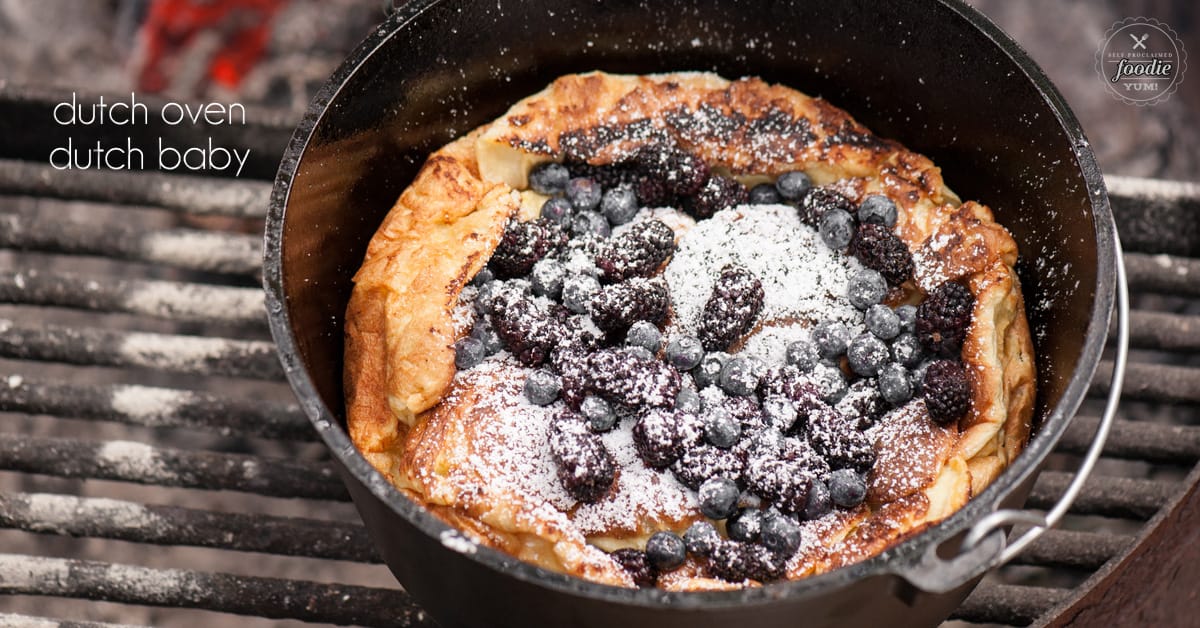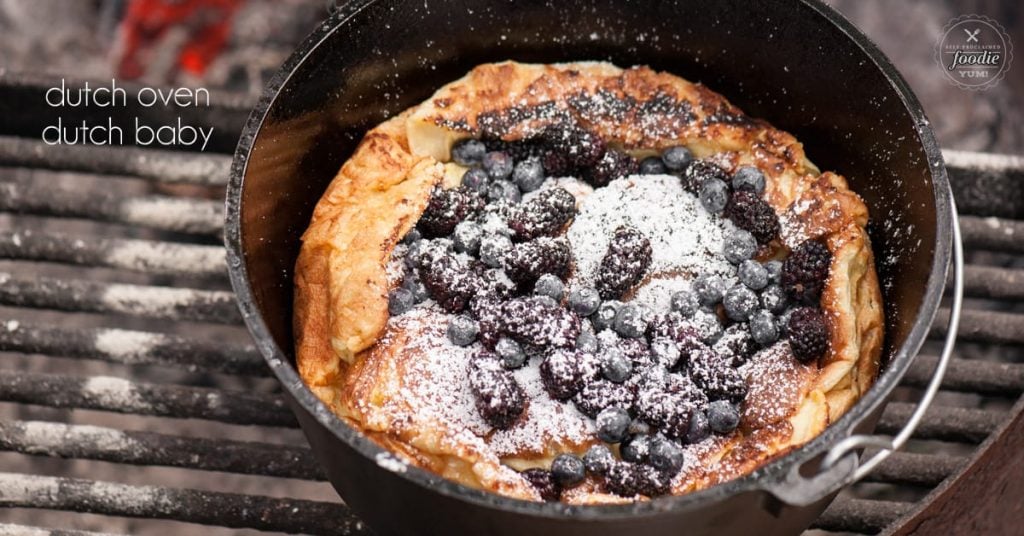 This post contains affiliate links.
Camping essentials for dutch oven recipes: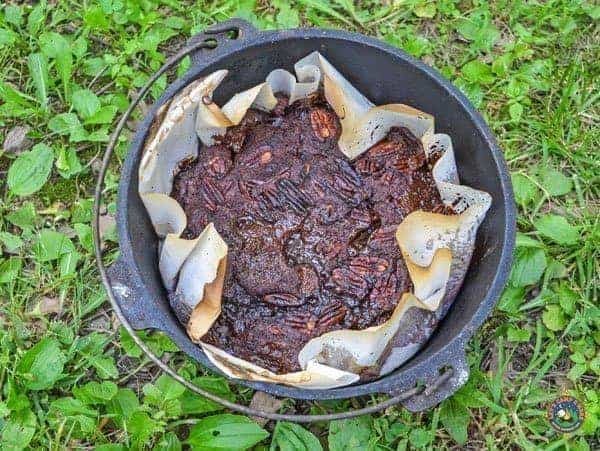 Tips and tricks:
When planning for your next trip, make a list of all the ingredients needed for all of your camping meals. This will be your packing list. It also makes it much easier to see exactly what groceries you need to buy and to make up a shopping list.
When it comes to camping meals, do as much food prep as you can at home. This is an easy way to save time and effort on cleanup when you don't have quick access to hot water.
Lining the bottom of the dutch oven with parchment paper is a great way to simplify cleanup.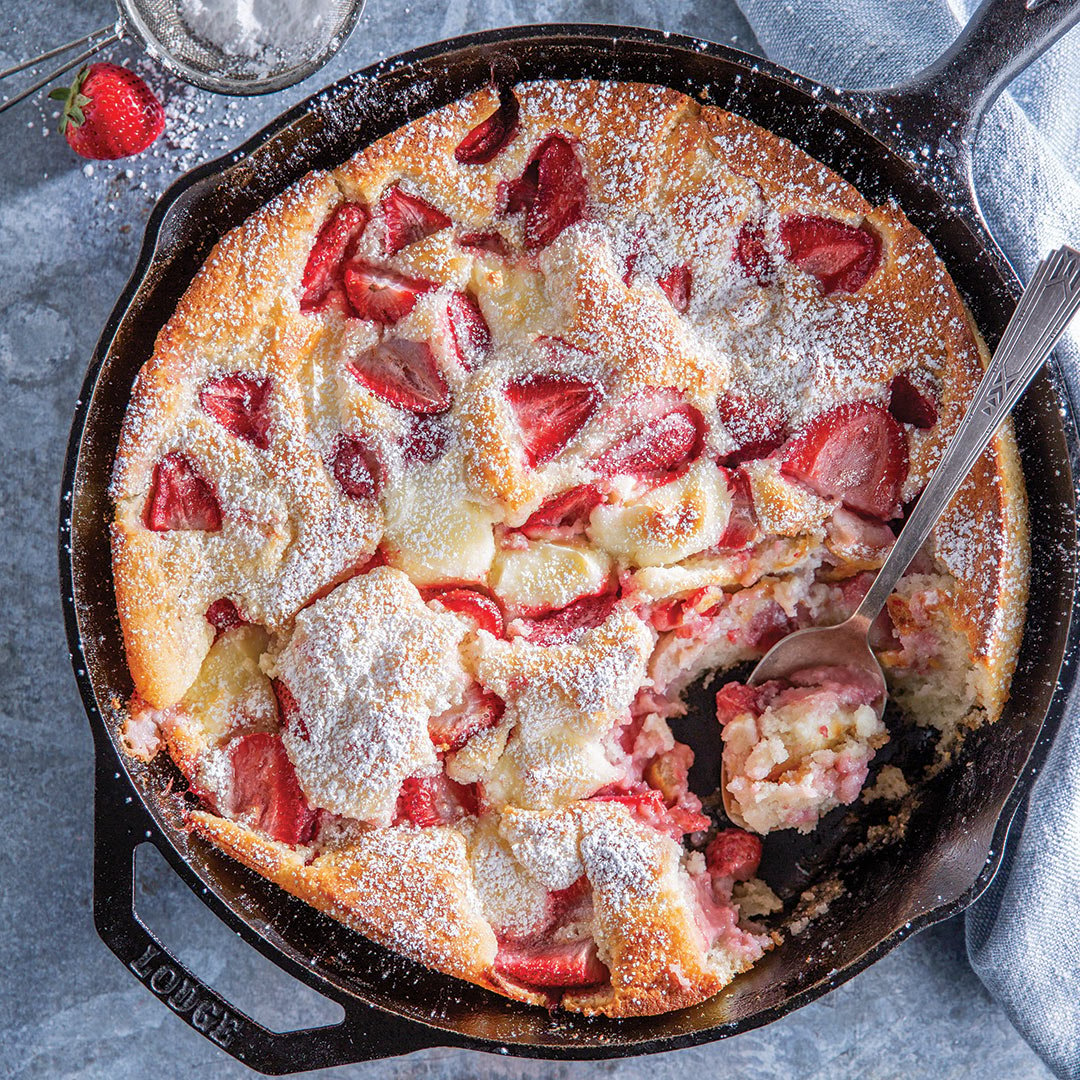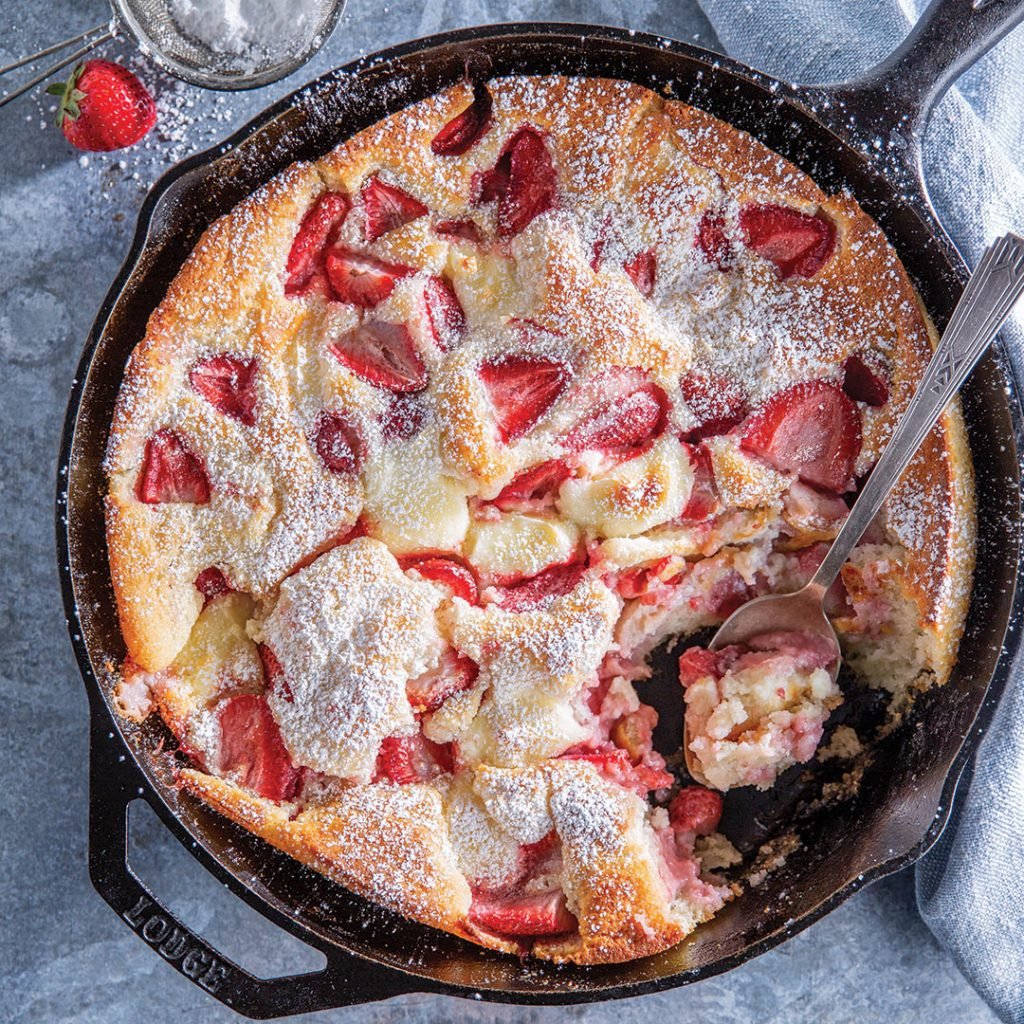 Ingredients to Have On Hand:
Refrigerated biscuits
Refrigerated cinnamon rolls
Fruit, fresh or canned
Pie filling
Cake mix
Frosting
Mini marshmallows
Brown sugar
White sugar
Butter
Cooking spray
Ice cream or whipped cream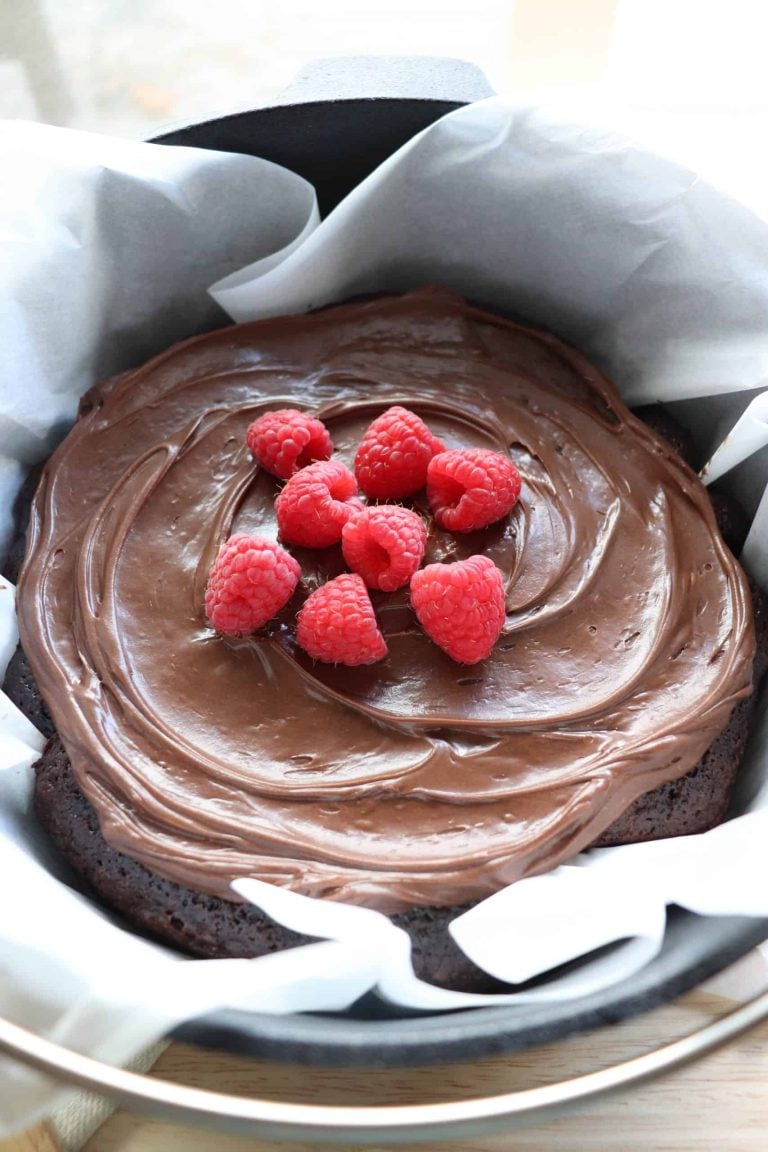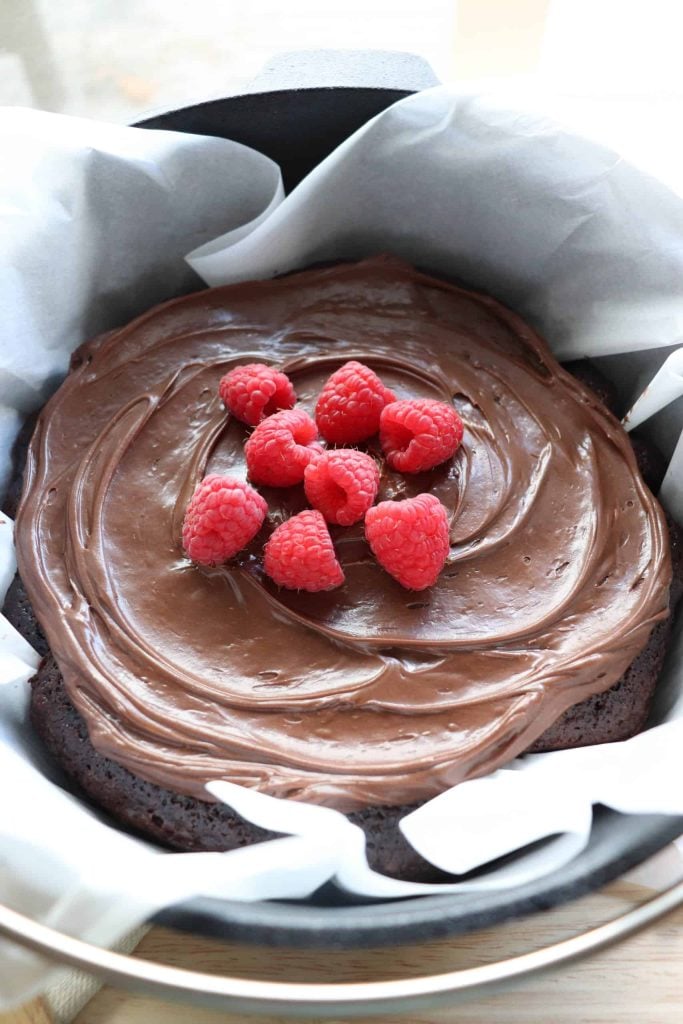 Dutch Oven Dessert Recipes:
Dutch Oven Chocolate Cake – This dutch oven chocolate cake recipe will blow your mind. Add in chocolate chips for even more richness. This easy recipe is by far the tastiest thing we've ever made in a dutch oven!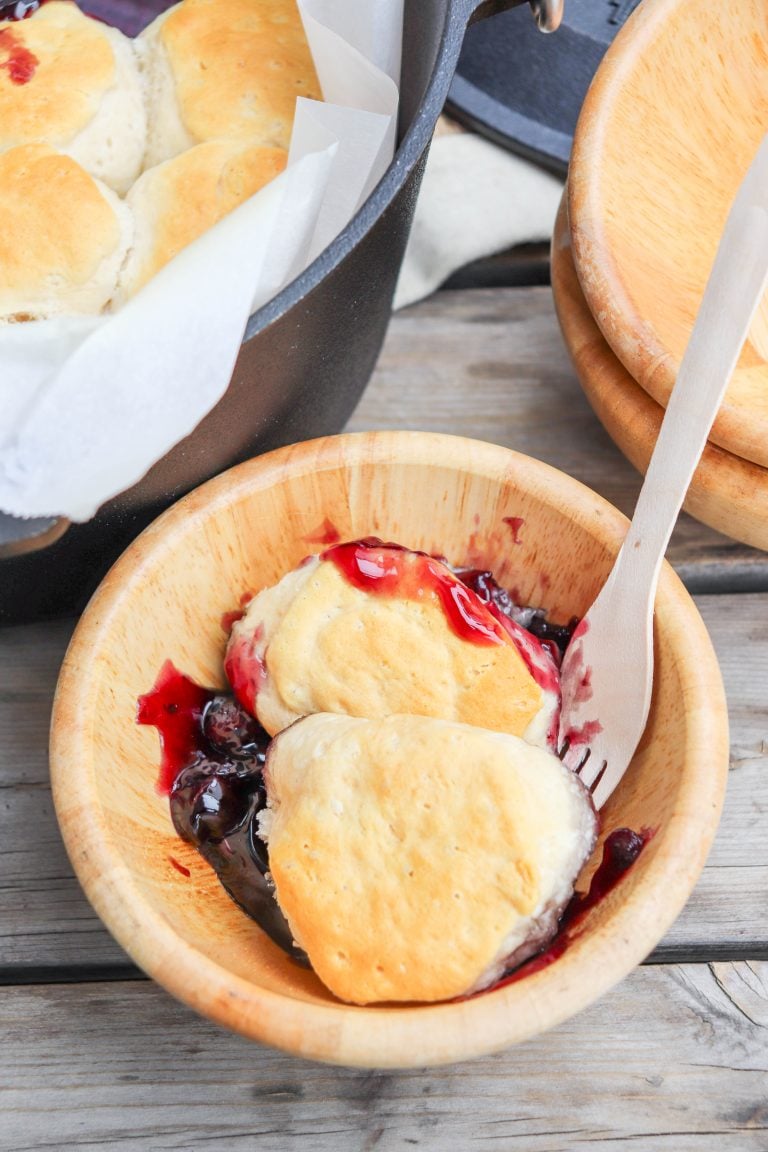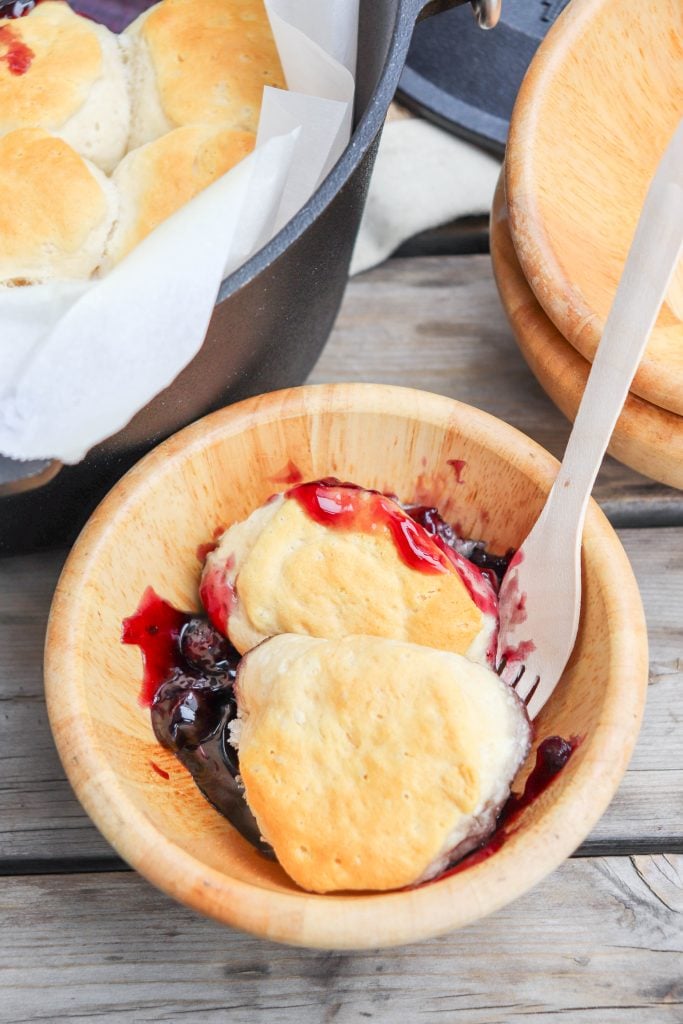 Dutch Oven Blueberry Cobbler – Easy dessert recipes are a must for camping. This campfire dutch oven blueberry cobbler fits the bill. It's the perfect end to any meal and sure to become a family favorite! Try it with cherry pie filling. Or make an apple cobbler, using apple pie filling.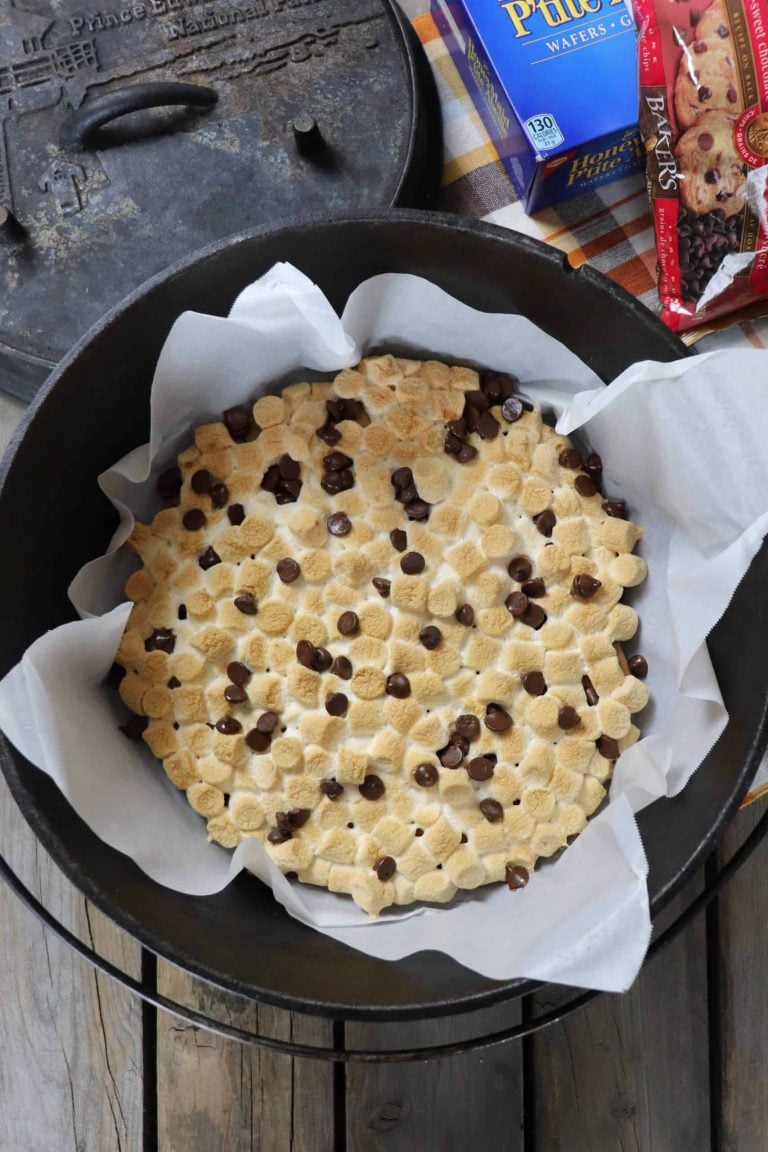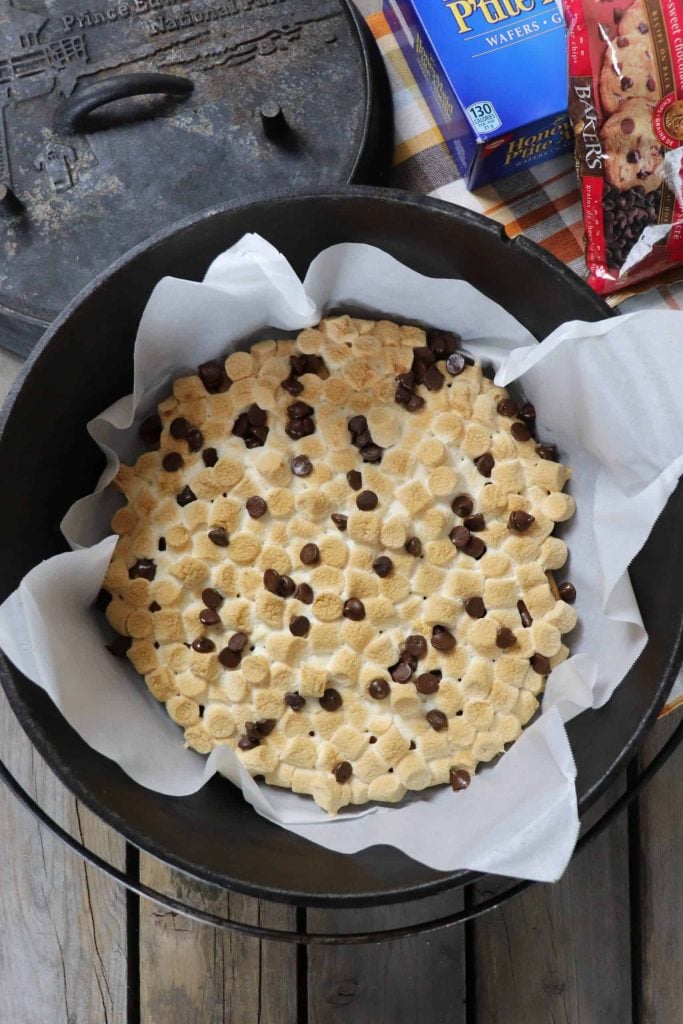 Dutch Oven S'mores Recipe – Gooey s'mores cooked over hot coals are the quintessential camp food. A classic camping crowd-pleaser gets an update with this s'mores recipe. It is absolutely delicious and feeds a crowd! The best part? No waiting for the roasting sticks to make the rounds. Just grab a spoon and dig in!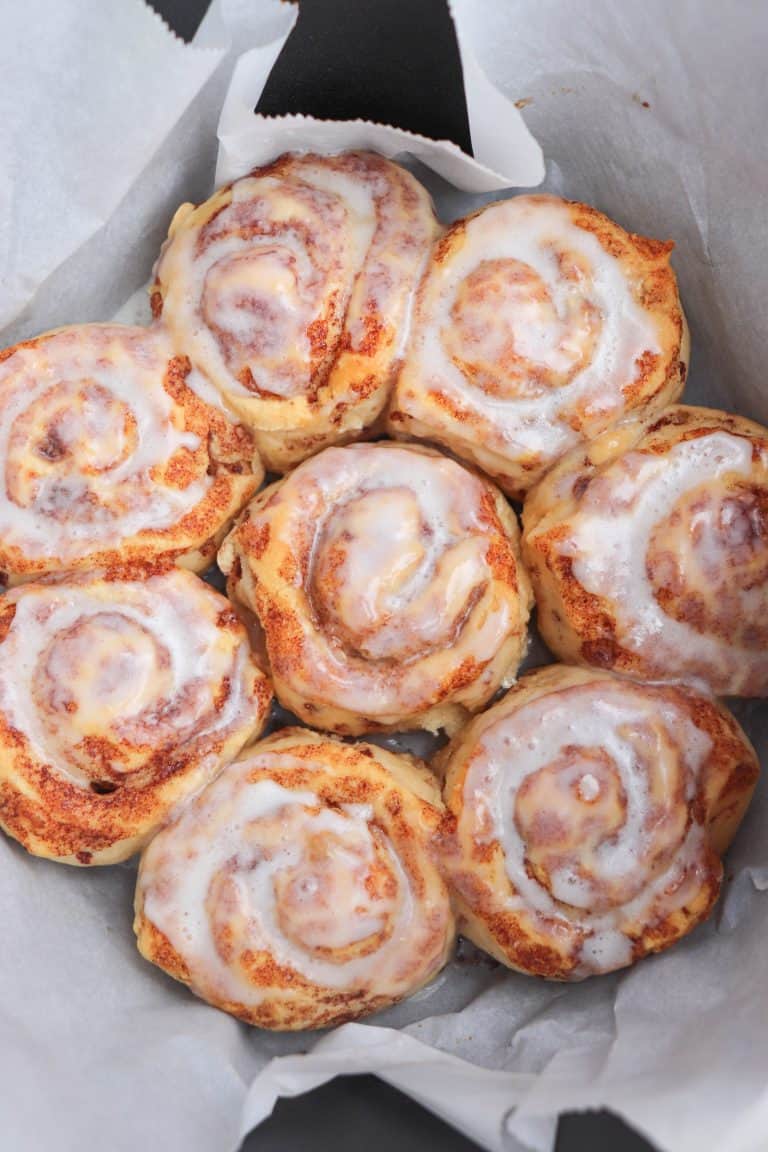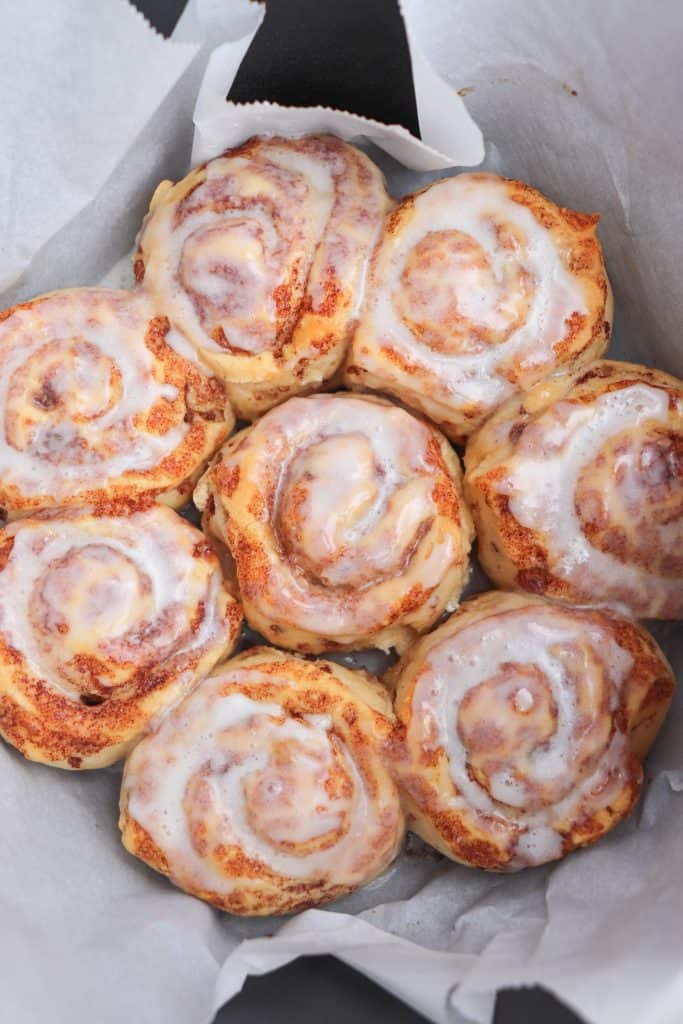 Dutch Oven Cinnamon Buns – It doesn't get much easier than this dutch oven cinnamon roll recipe! These sweet treats are beyond delicious and easy to make. This simple recipe is perfect for feeding a crowd of hungry campers! You can make them for breakfast, dessert, or just for snacking on.
Looking for more camp cooking inspiration? Check out these dutch oven breakfast recipes or dutch oven cake recipes too.
More dutch oven dessert recipes...