These chicken skillet recipes are seriously delicious and easy to make! They can be made at home or while camping.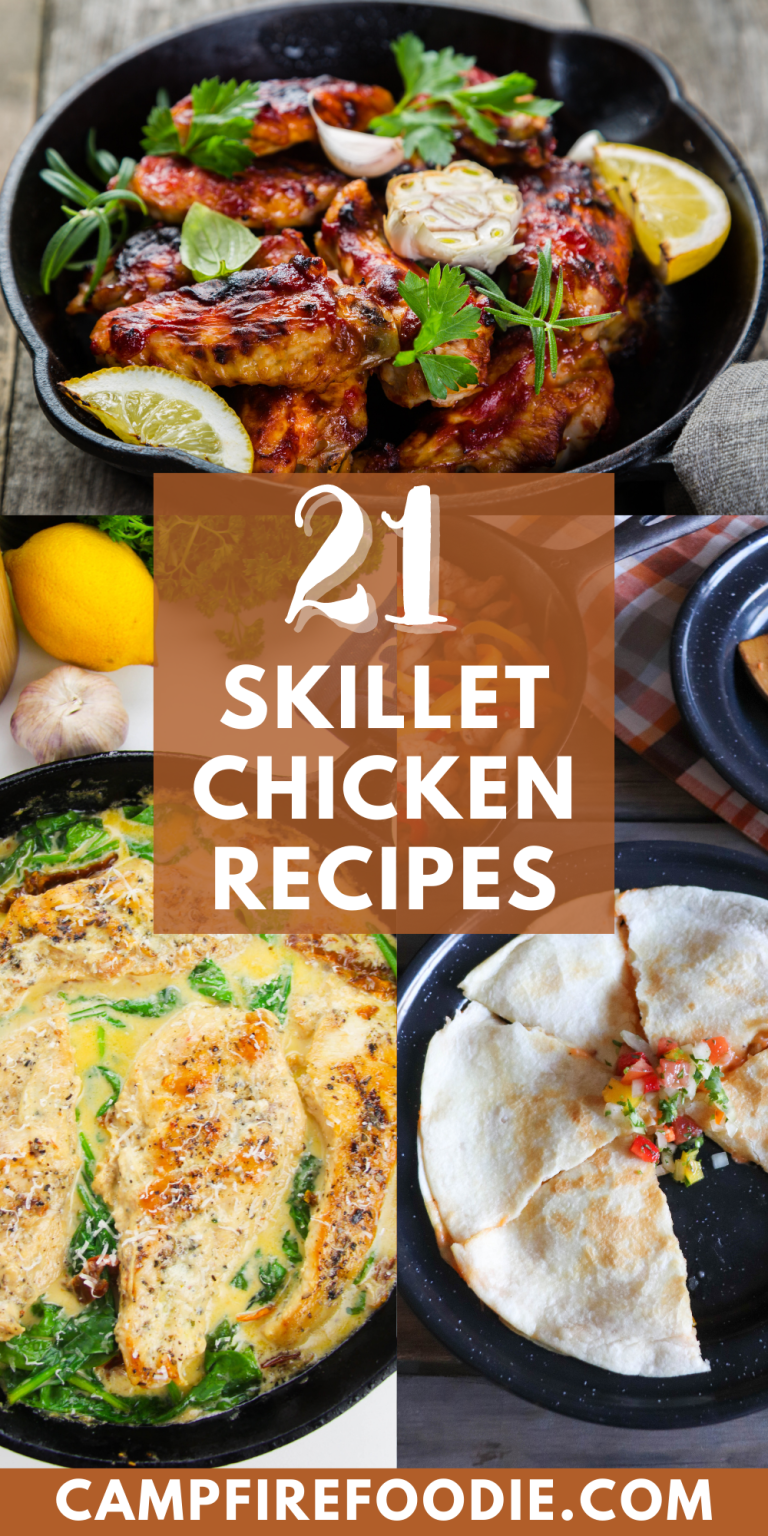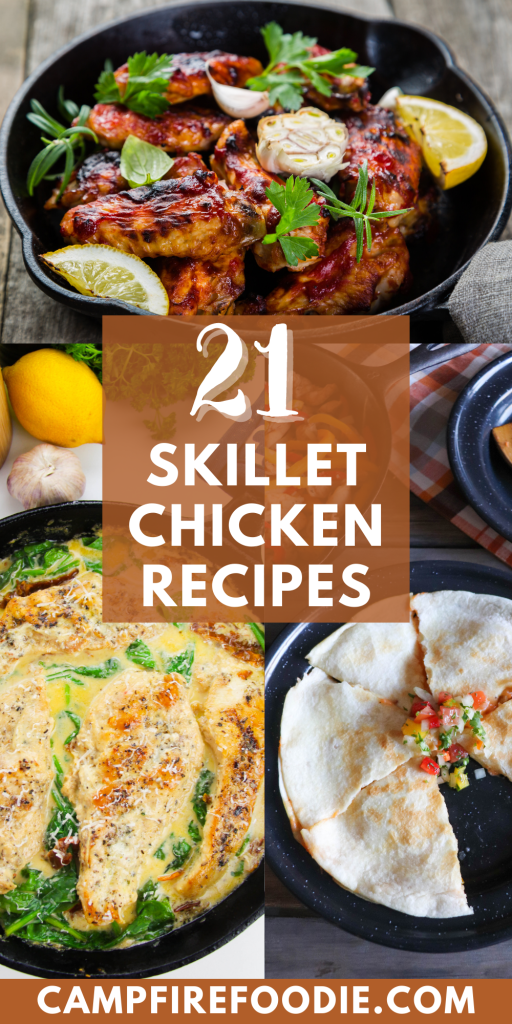 Today I want to share some of my favorite skillet chicken meals with you. Enjoy them at home or try them out on your next camping trip.
These easy recipes all use common ingredients that most people already have in their homes.
Too busy to make this right away? Pin it for later! Pin this post to your favorite board on Pinterest and it will be there when you're ready!
It's a good option to have at least one large cast iron skillet in your kitchen. They are safe to use on the stovetop, in the oven, and even on the grill.
I always get such great results using cast iron pans, whether I'm making a one pot meal or just want to cook up a few simple, deliciously juicy chicken breasts.
A cast-iron skillet is the best way to brown meat quickly with a bit of olive oil over medium heat. Topped with fresh herbs, this cooking method makes the best cast iron skillet chicken breast recipe.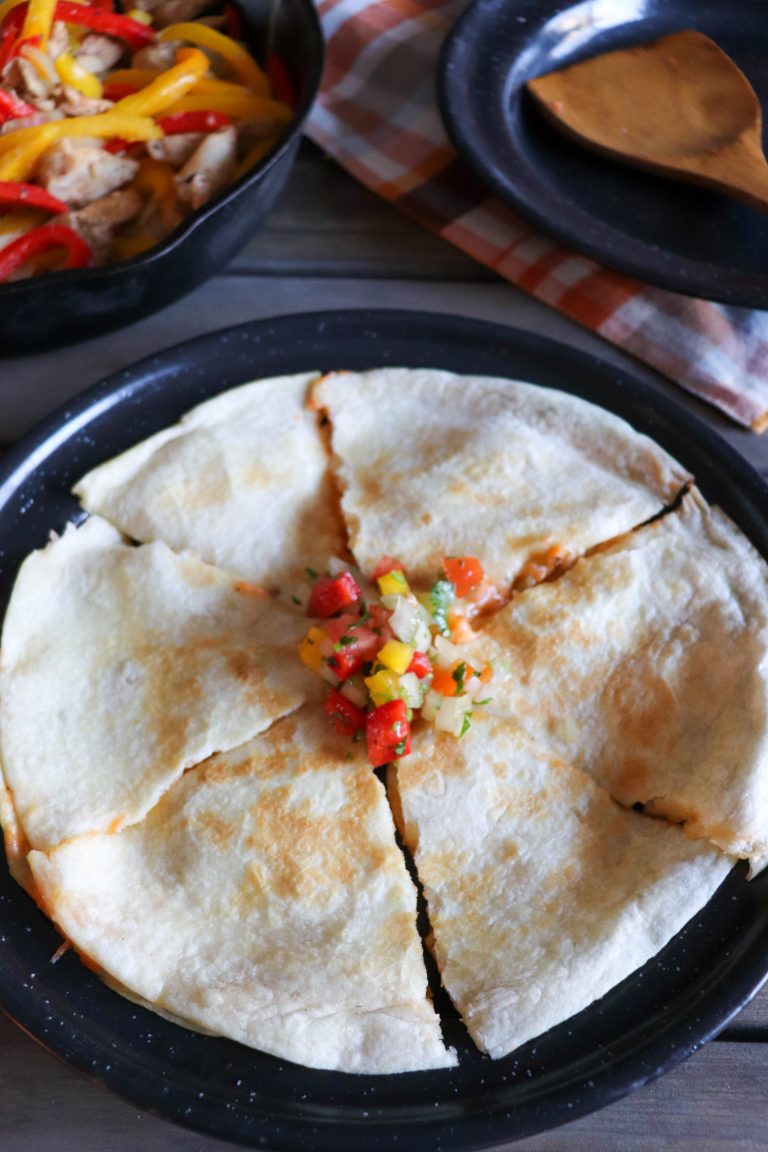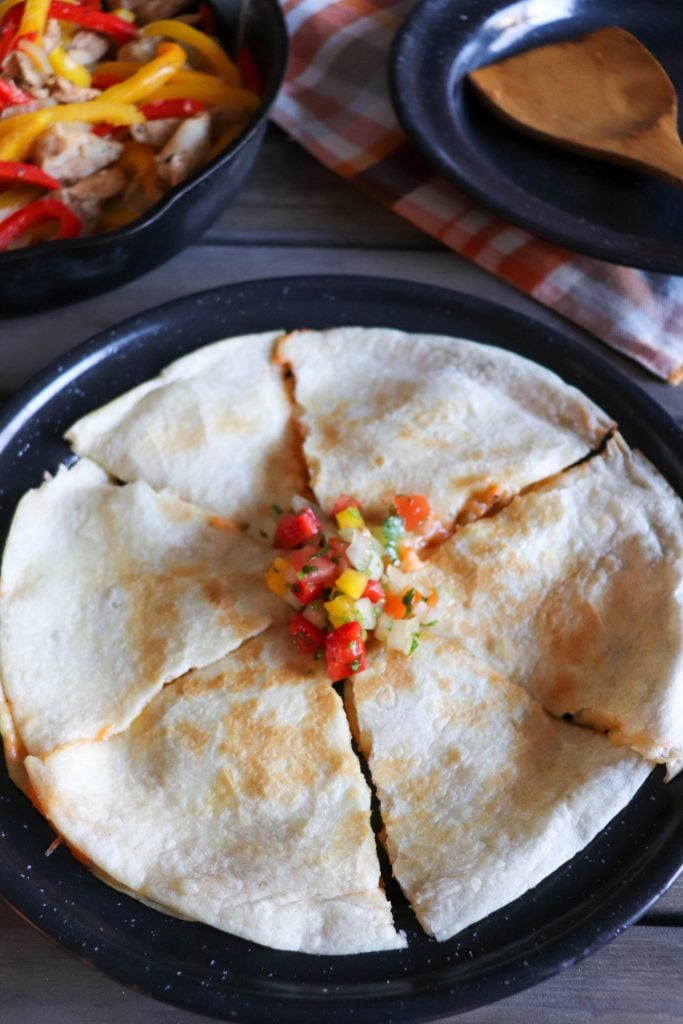 This post contains affiliate links.
Camping essentials for skillet recipes: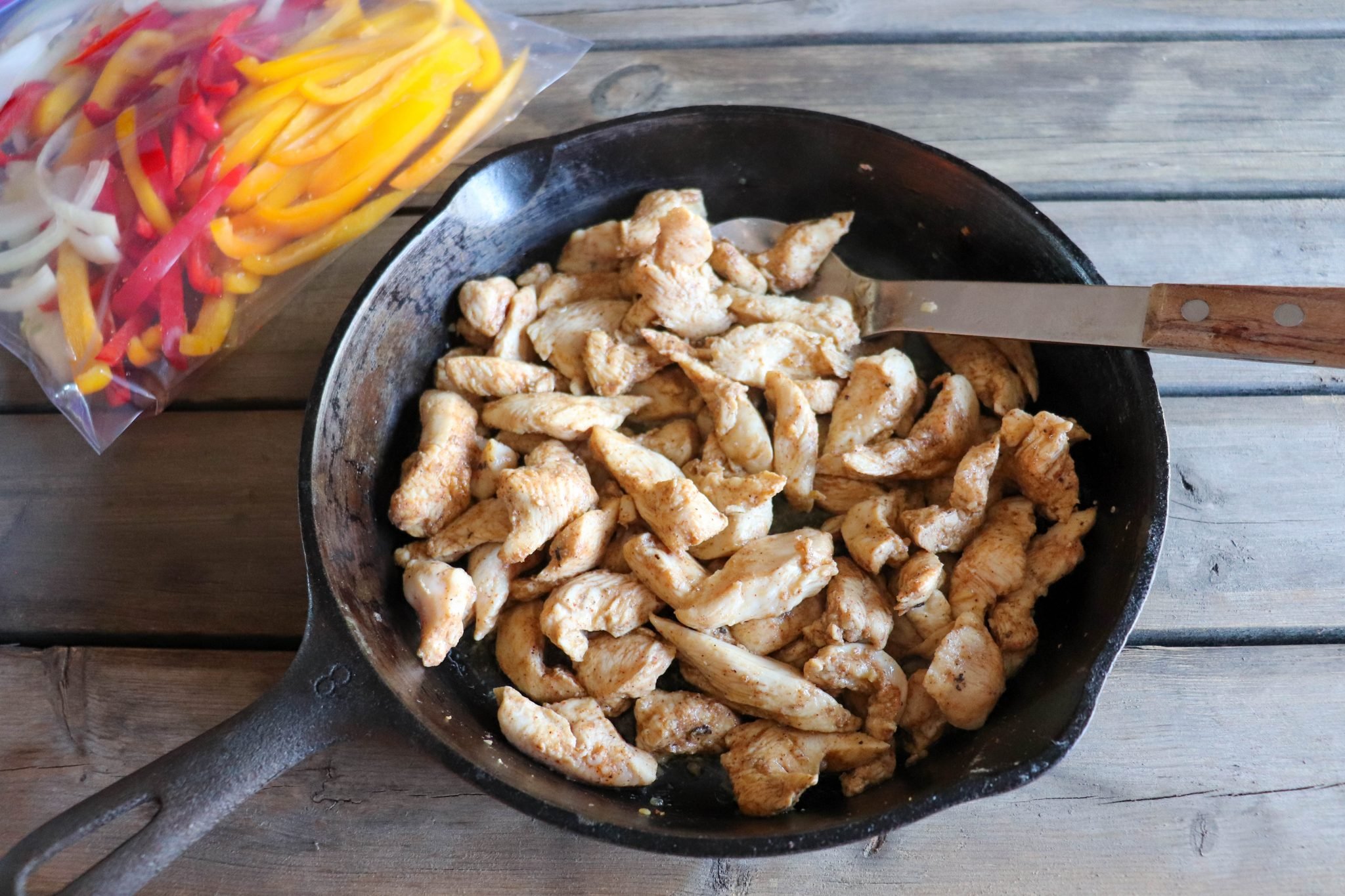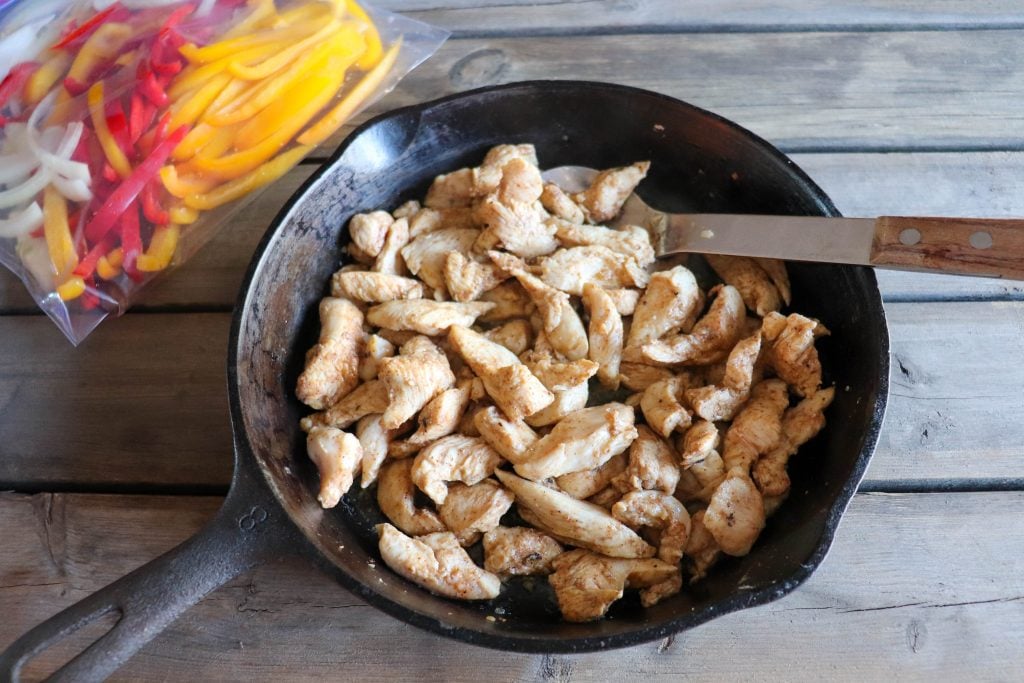 Tips for cooking with cast iron:
When cooking with cast iron, be sure to season the surface first.
Always use gloves or oven mitts while cooking, as the surface of the iron will be hot.
Cook the recipe over an open fire using hot coals, not open flames. A fire that is too hot will burn the outside of your recipe and not cook the inside.
Be sure to clean the cast iron with a rough vegetable scrubber, then rinse and dry thoroughly before storing.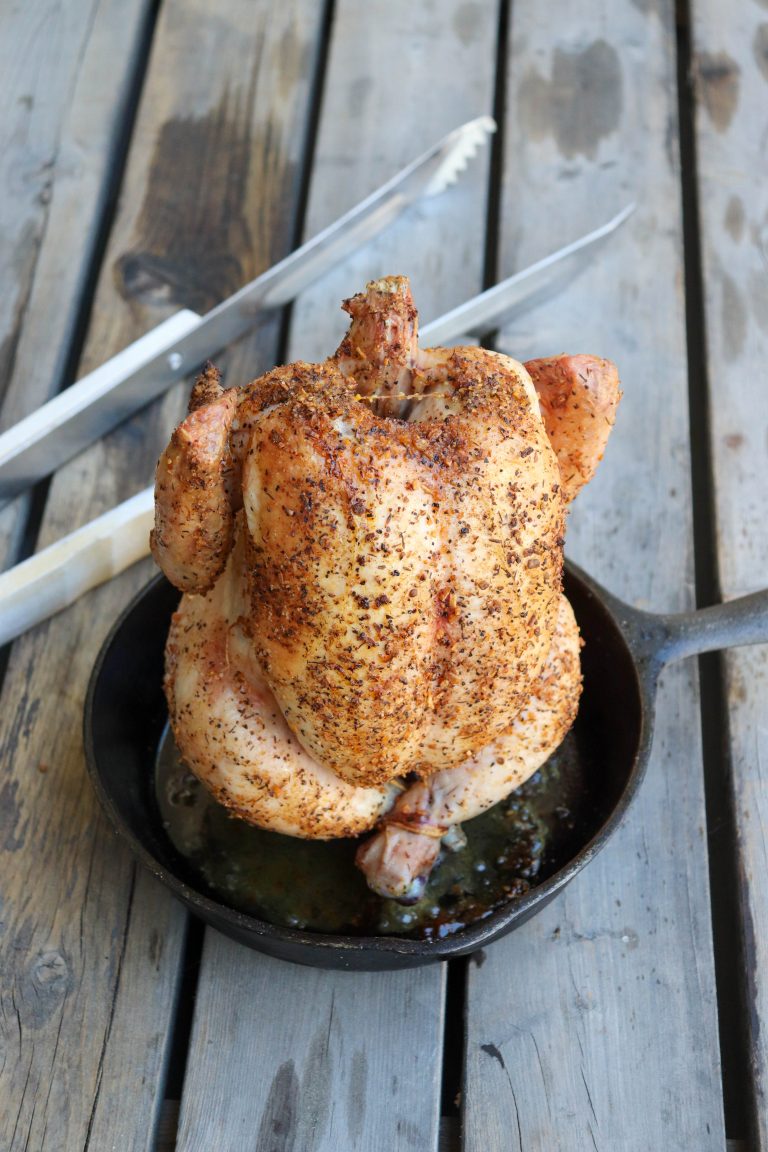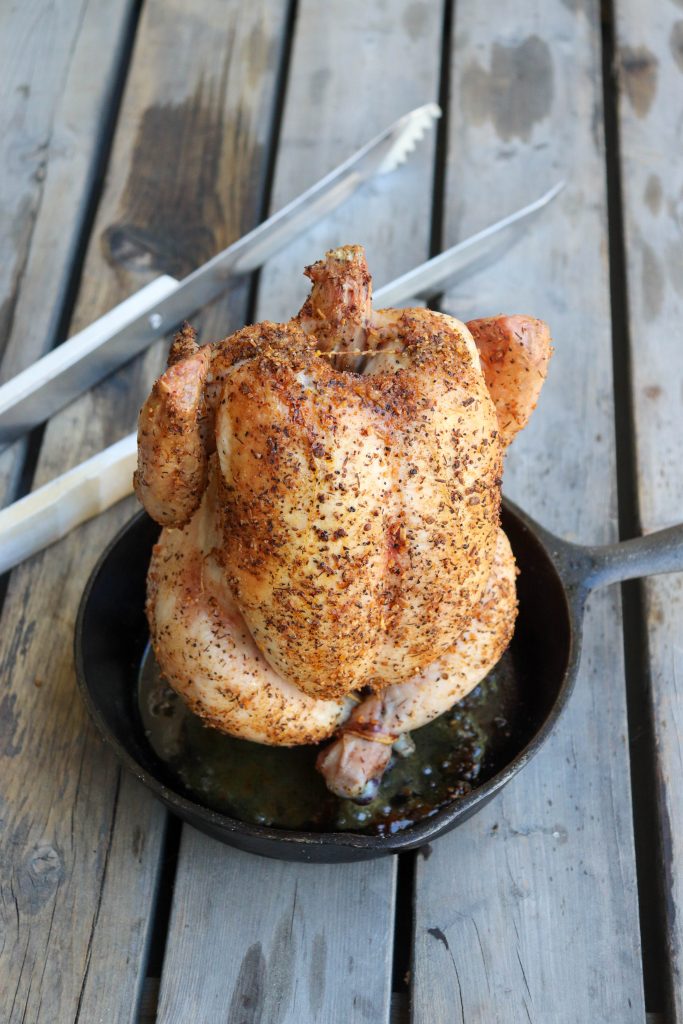 Skillet chicken recipes:
Beer Can Chicken Recipe – This easy recipe features a whole chicken and turns out perfectly every single time! It's ideal for any night of the week. And any leftovers of this tender chicken make a delicious sandwich the next day. It's also a great recipe for meal prep, saving you cooking time for day two.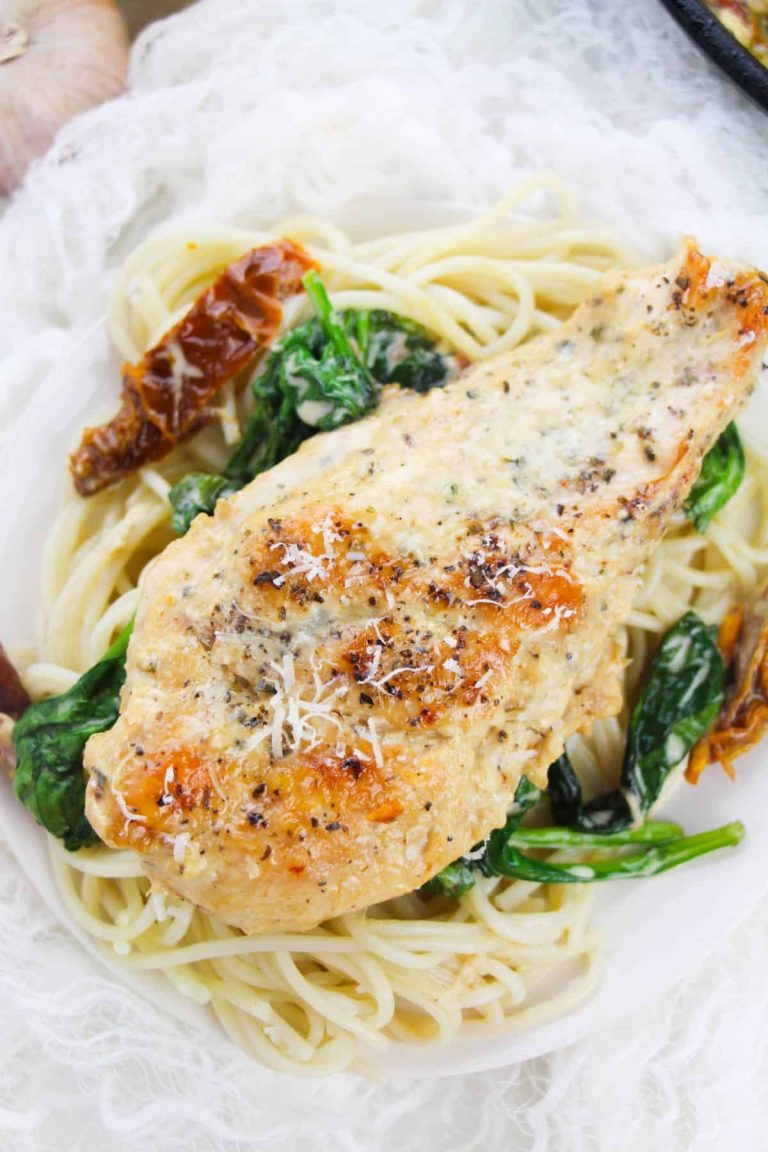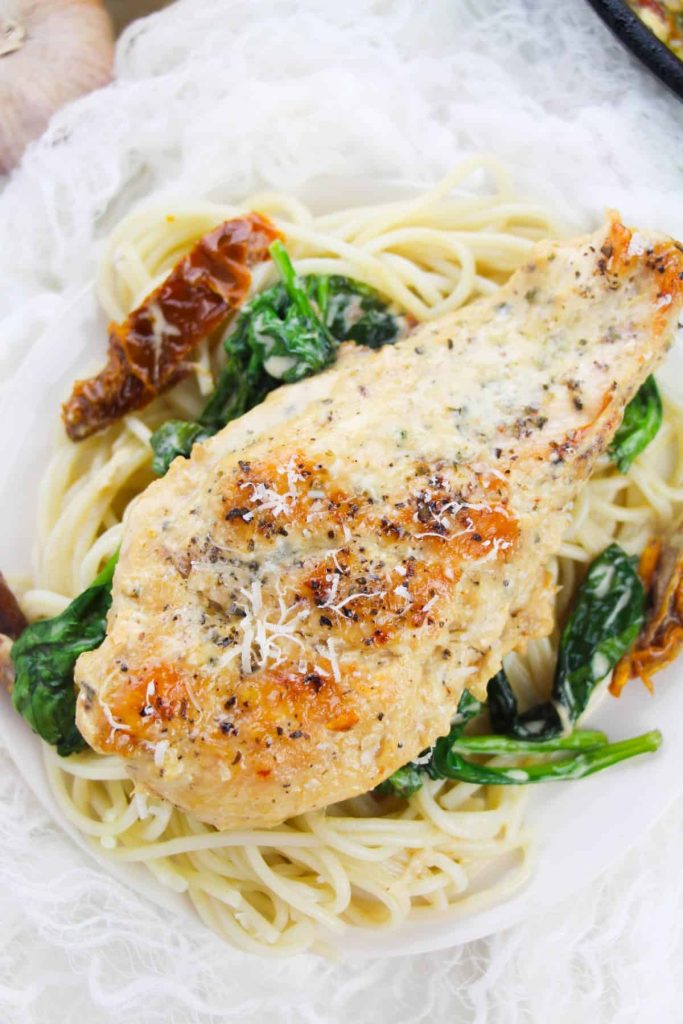 Tuscan Skillet Chicken – Boneless chicken breasts cooked in a delicious sauce with Italian seasoning, chicken broth, and cream. The sauce incorporates all those yummy bits that stick to the hot skillet, making it even more flavorful. Serve with pasta or rice and green beans for a complete meal. You really can't go wrong.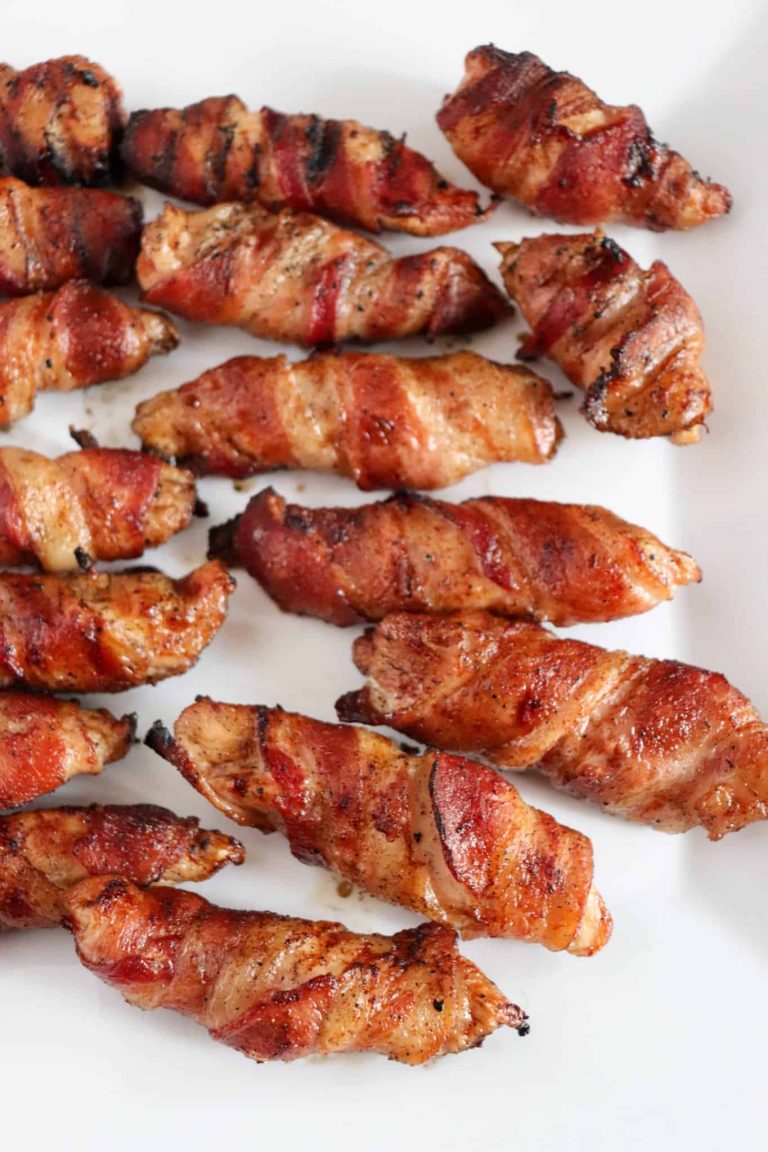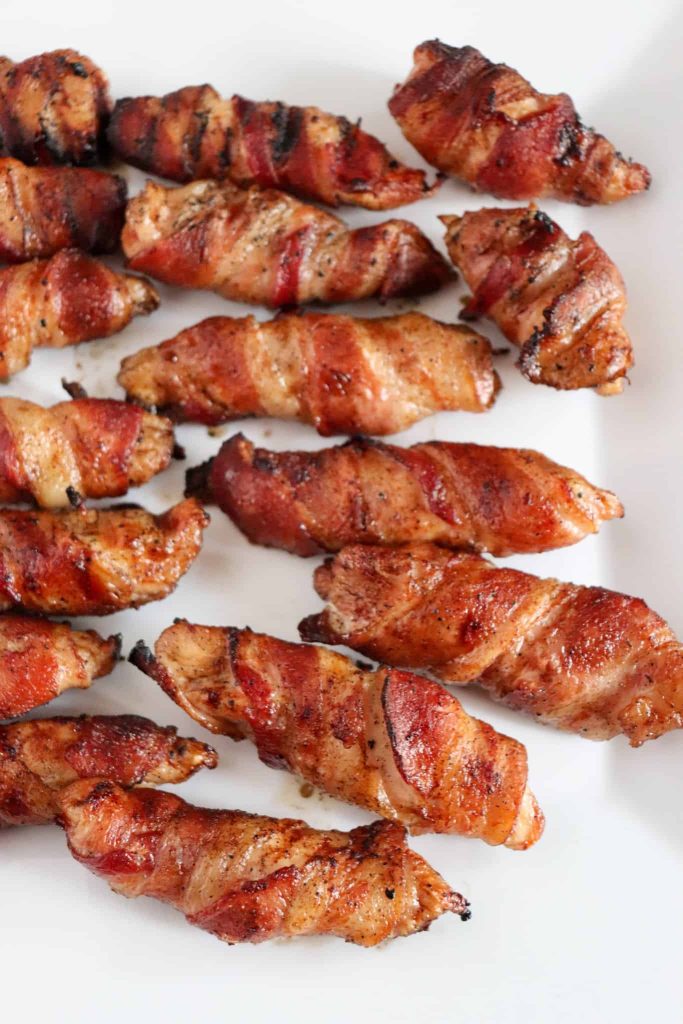 Bacon Wrapped Chicken Tenders – These flavorful chicken tenders take a bit of prep work, but they are so worth it! Add your favorite side dishes for an easy meal any day. Whip up a chicken bacon ranch salad for lunch the next day too.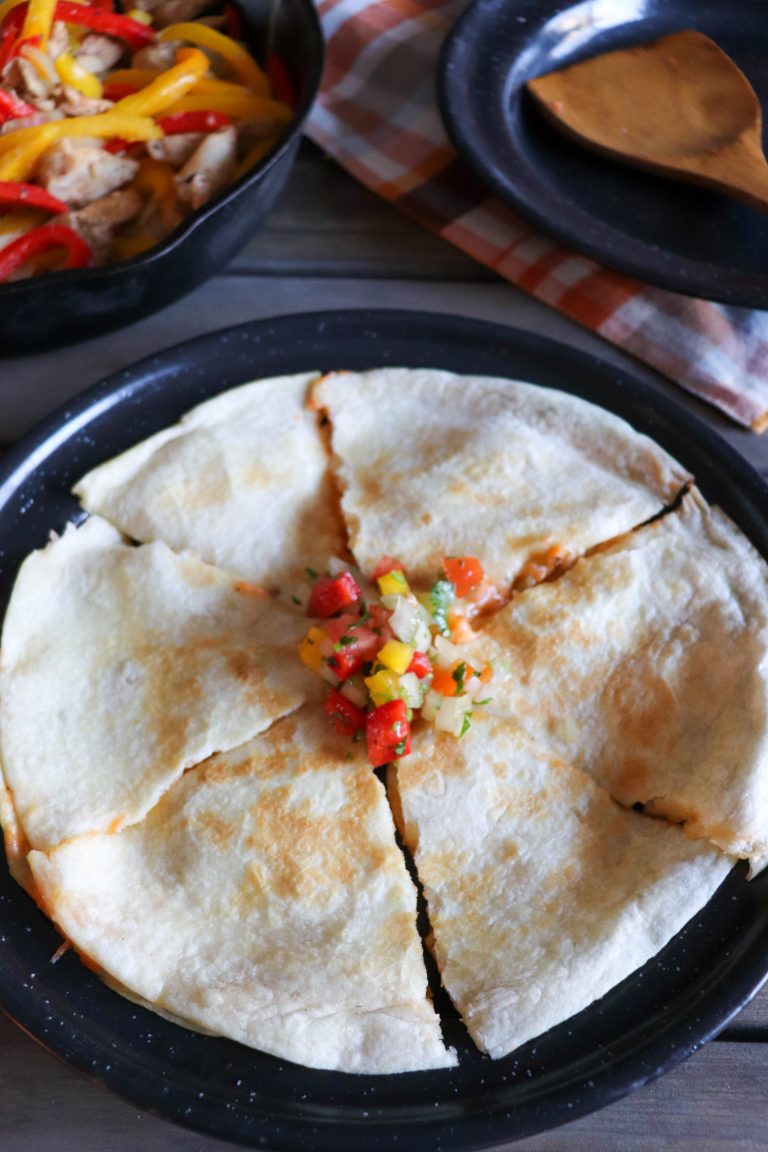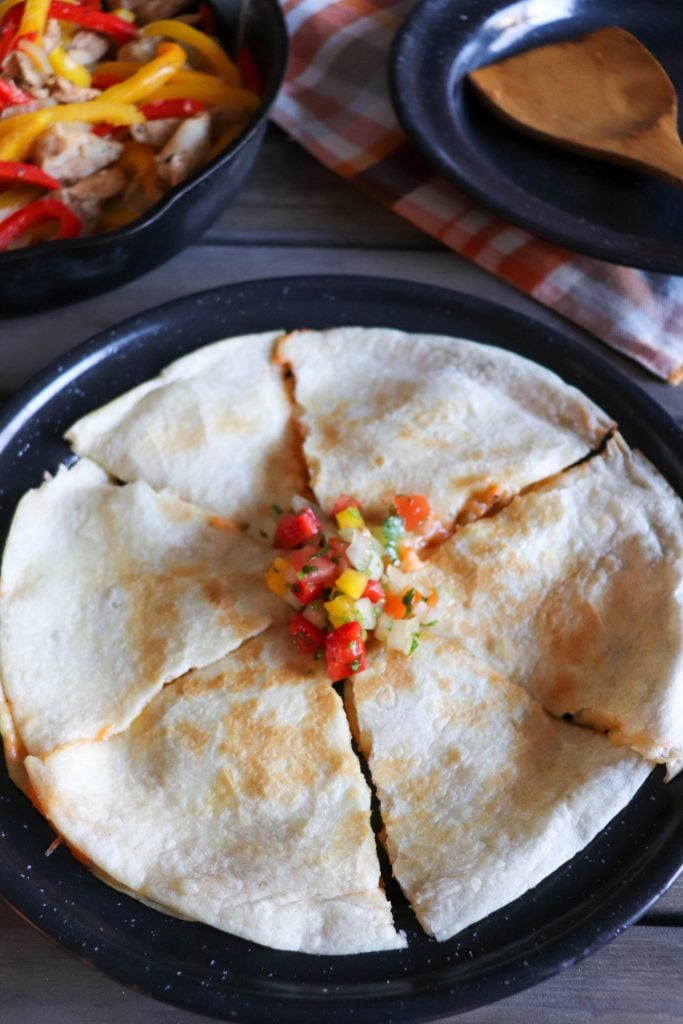 This is the best chicken skillet quesadilla recipe for camping. With just a bit of preparation you can add this yummy camping meal to your next trip.
Tips and tricks:
Raw chicken is a major health concern. A meat thermometer is an easy way to check your meat's internal temperature and ensure that your food is cooked thoroughly. You will get the most accurate reading in the thickest part of the chicken.
Before you dig in, let your chicken rest. This helps it stay nice and juicy.
If a recipe calls for boneless skinless chicken breasts, try substituting chicken thighs instead.
When the thickness of the chicken breast you are using varies quite a bit, a meat mallet does a great job of evening it out. This also allows for much more even cooking.
Looking for a way to speed up cleaning? Add parchment paper to the bottom of your cast iron pan.
If you love these chicken skillet recipes, please help us share them on Facebook and Pinterest!
More chicken skillet recipes...