This easy camping recipe makes the best skillet chocolate chip cookie. Our kids request that we make cookies over the campfire every single day that we are camping! And I'm happy to oblige!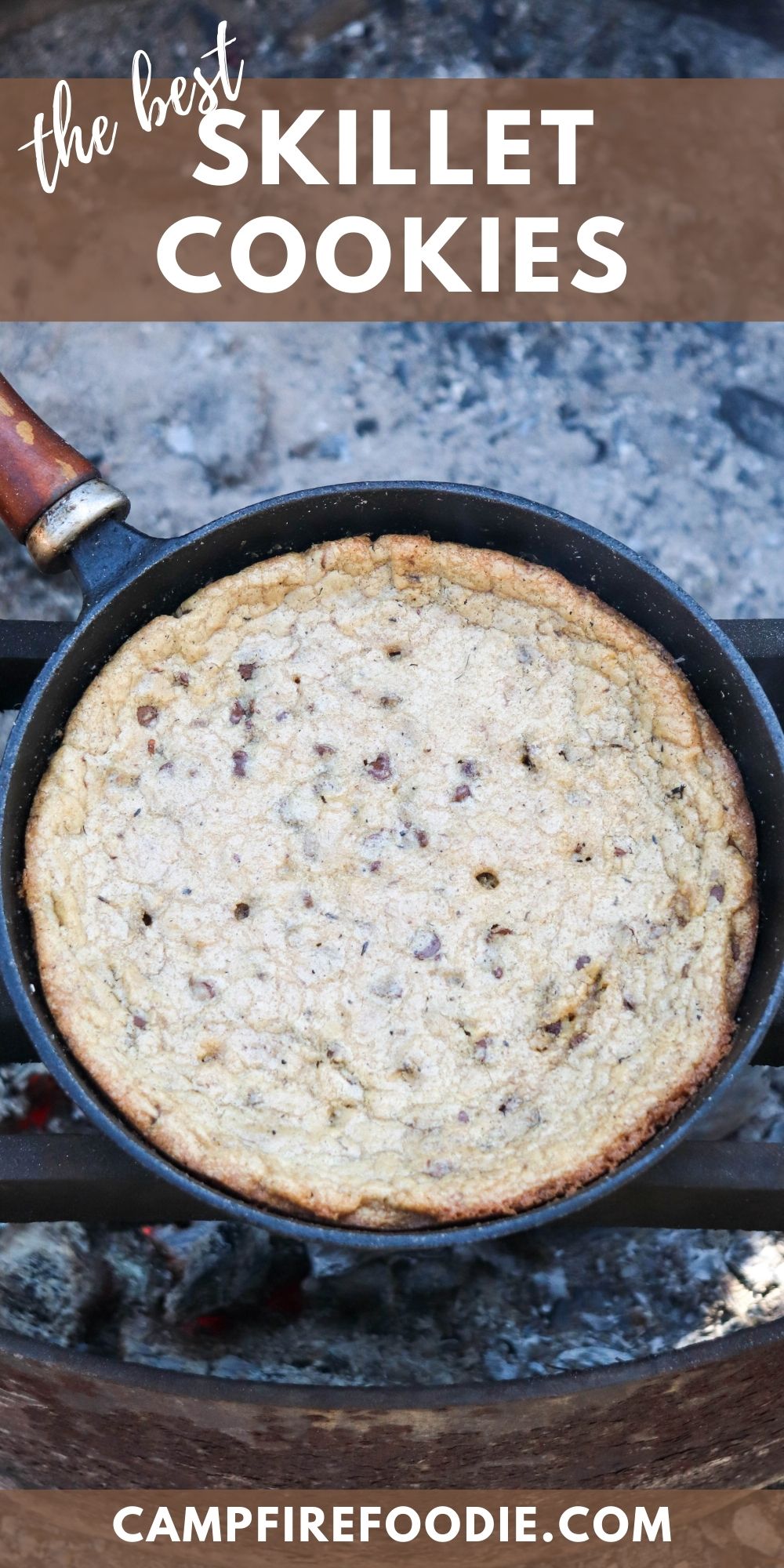 Looking for the perfect dessert that is sure to be a crowd pleaser? This giant cookie is one of the easiest desserts ever.
Too busy to make this right away?! Pin it for later!  Pin this recipe to your favorite camping board on Pinterest and it'll be waiting for you when you're ready.
The hardest part is having patience during the bake time! Check out the full recipe below.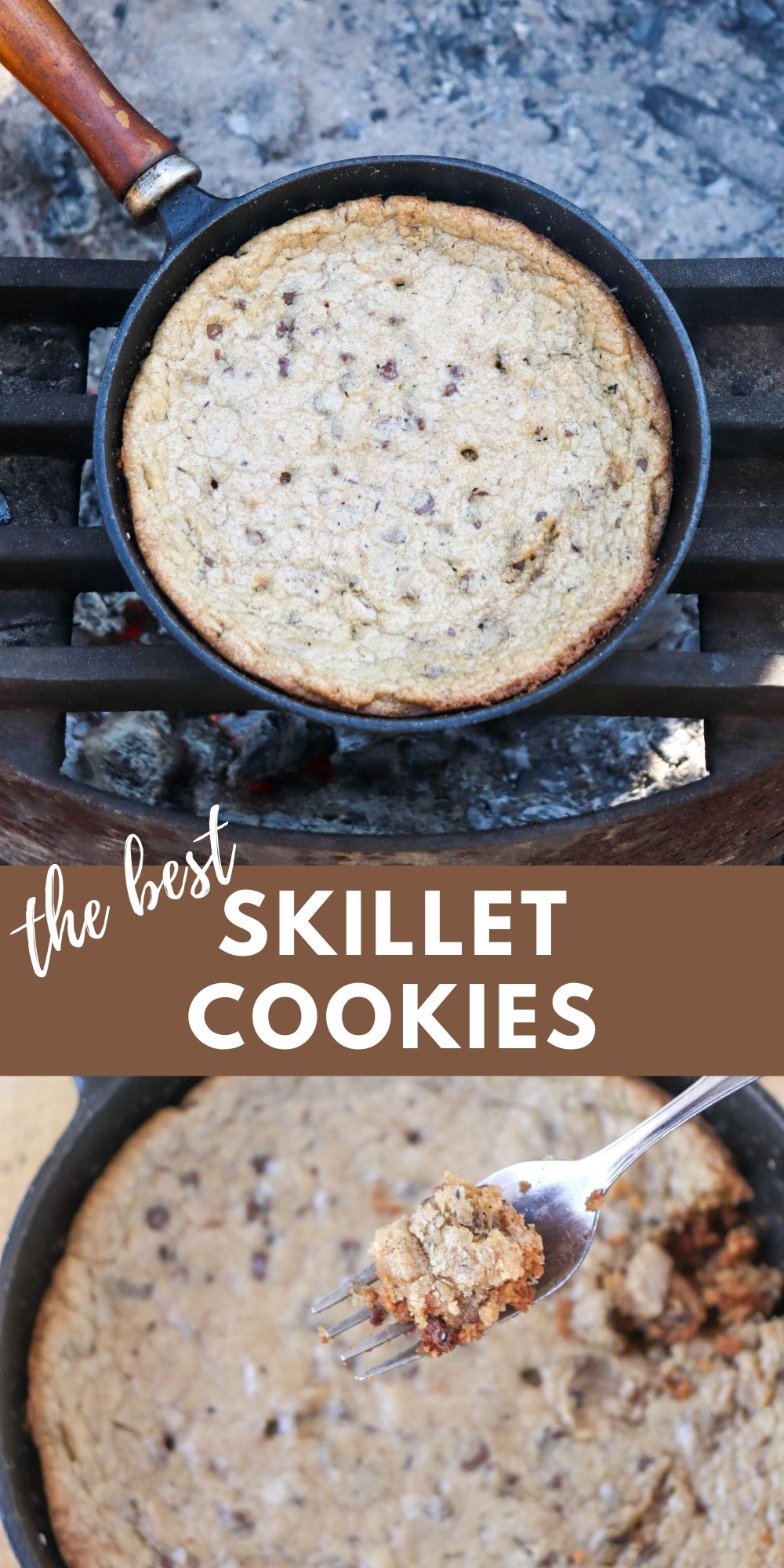 Be sure to check out my Etsy Shop where you can now find personalized camping gear or download Our Favorite Camping Recipes eBook!
How to make the best skillet cookies: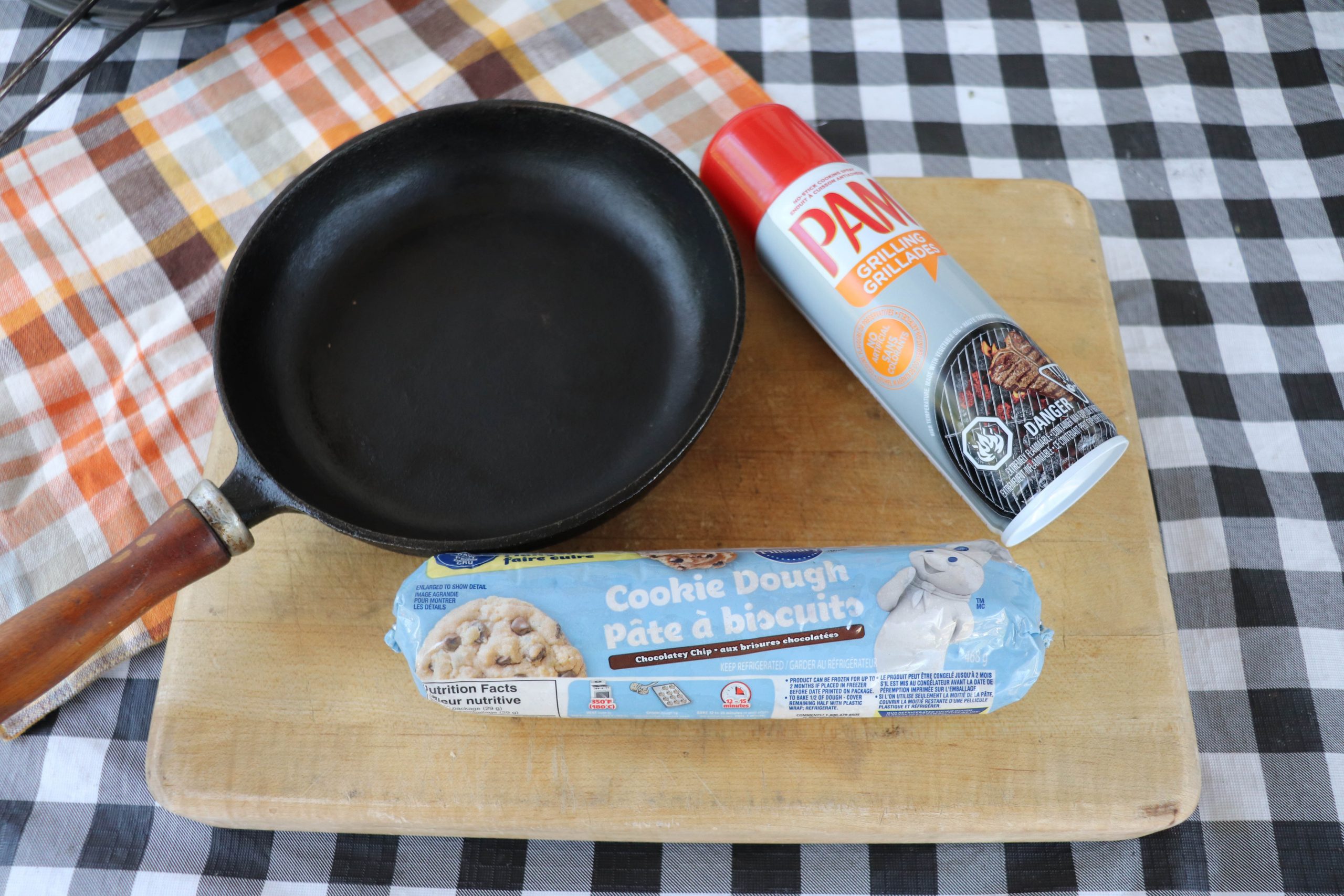 This post contains affiliate links.
Supplies needed:
Pillsbury chocolate chip cookie dough
Non stick spray or olive oil (optional)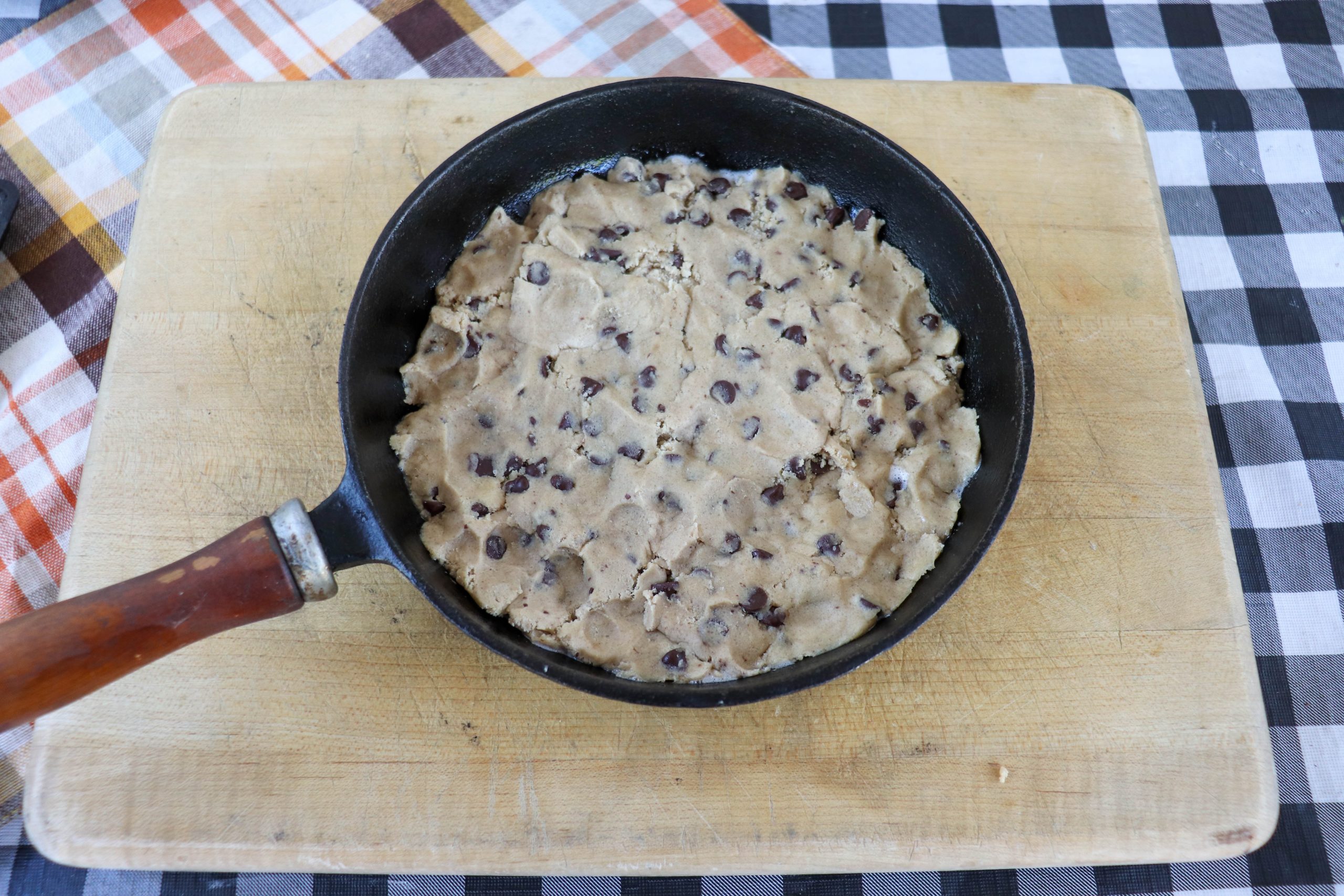 Directions:
Coat the skillet with non stick spray. A well seasoned cast iron skillet does not need this step but we do it anyway as an extra precaution.
Place half of the cookie dough in the skillet and spread it around to the edges.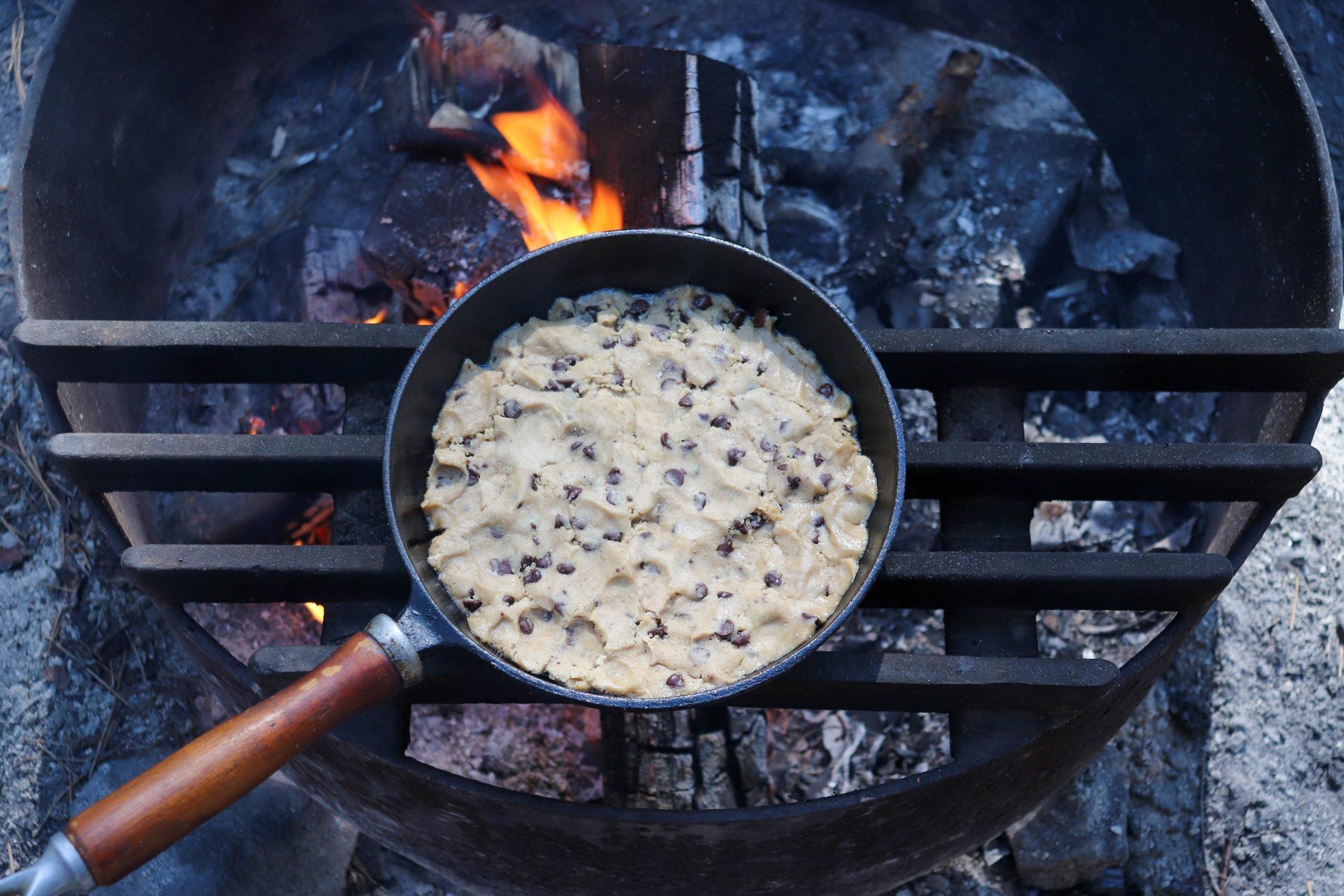 3. Cook over the campfire on low for 15-25 minutes.
The biggest mistake in cooking over the campfire is to have the flames and heat too high. This will burn the bottom of your cookie in no time. Be patient, and move the skillet away from open flames whenever possible.
Check out our "How to Build a Campfire for Cooking" post for more tips and tricks!
Other topping ideas & mix-ins:
Caramel sauce
Hot fudge or chocolate syrup
A pinch of flaky sea salt
Extra chocolate chunks
Peanut butter chips
White chocolate chips
For a giant s'mores cookie, top with a whole chocolate bar or extra semisweet chocolate chips. Let the chocolate melt. Add marshmallow fluff and graham cracker crumbs.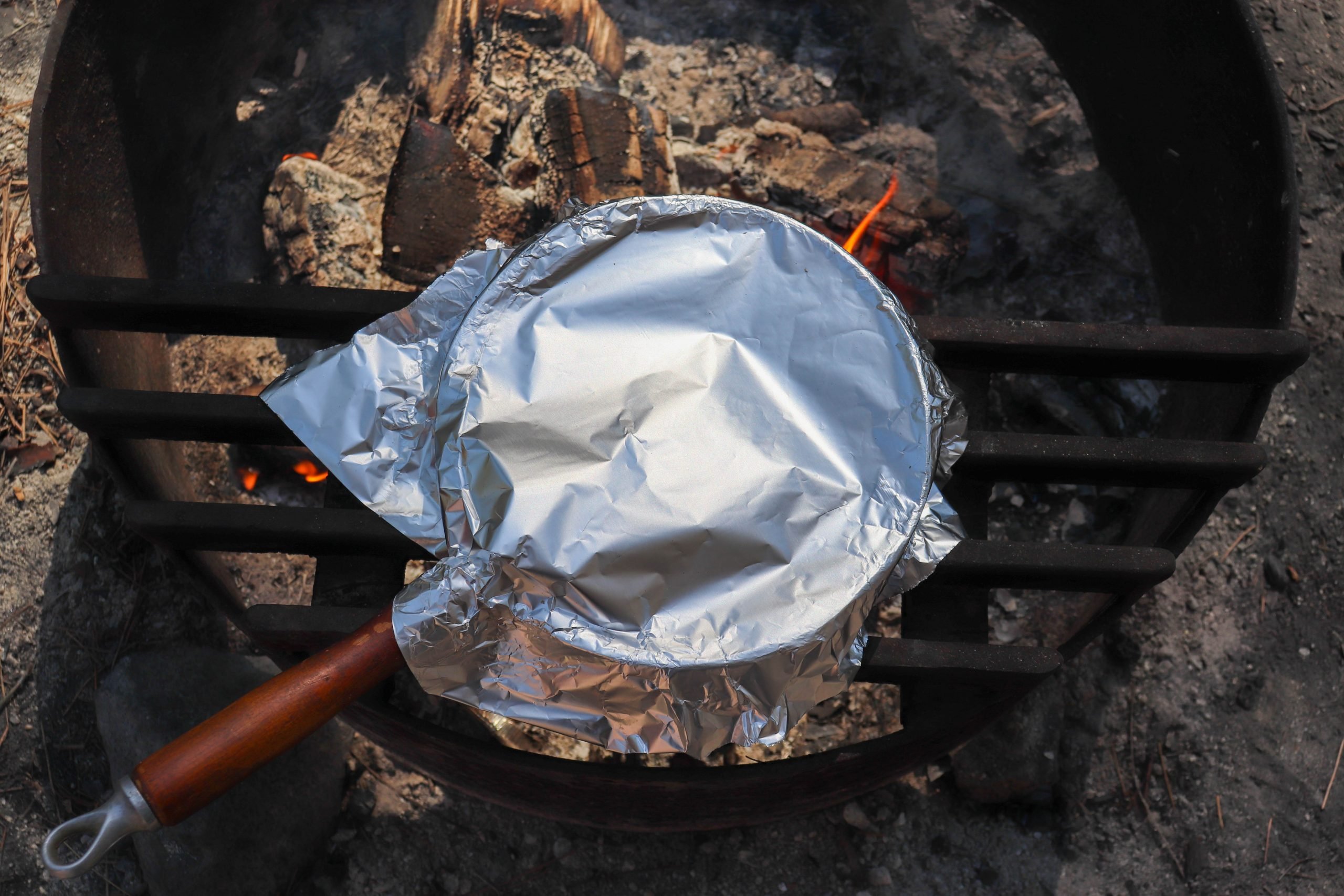 Wrapping aluminum foil over the top of the skillet can also aid in baking the cookie thoroughly but is not necessary. The biggest thing is cooking low and slow.
You can make this recipe in a camper oven or BBQ grill too! Baking times will vary so be sure to watch your skillet cookie carefully.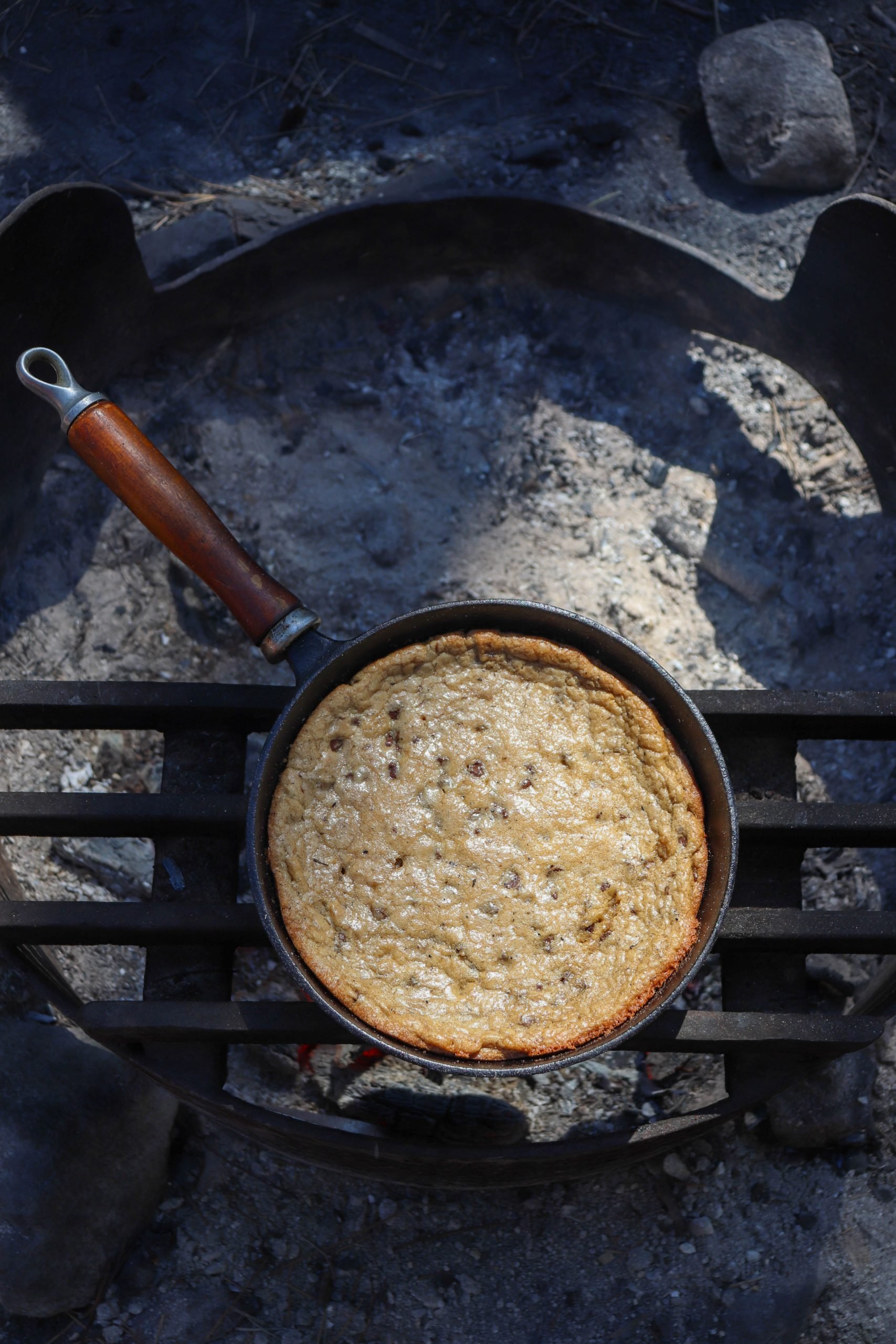 Camping essentials for skillet recipes: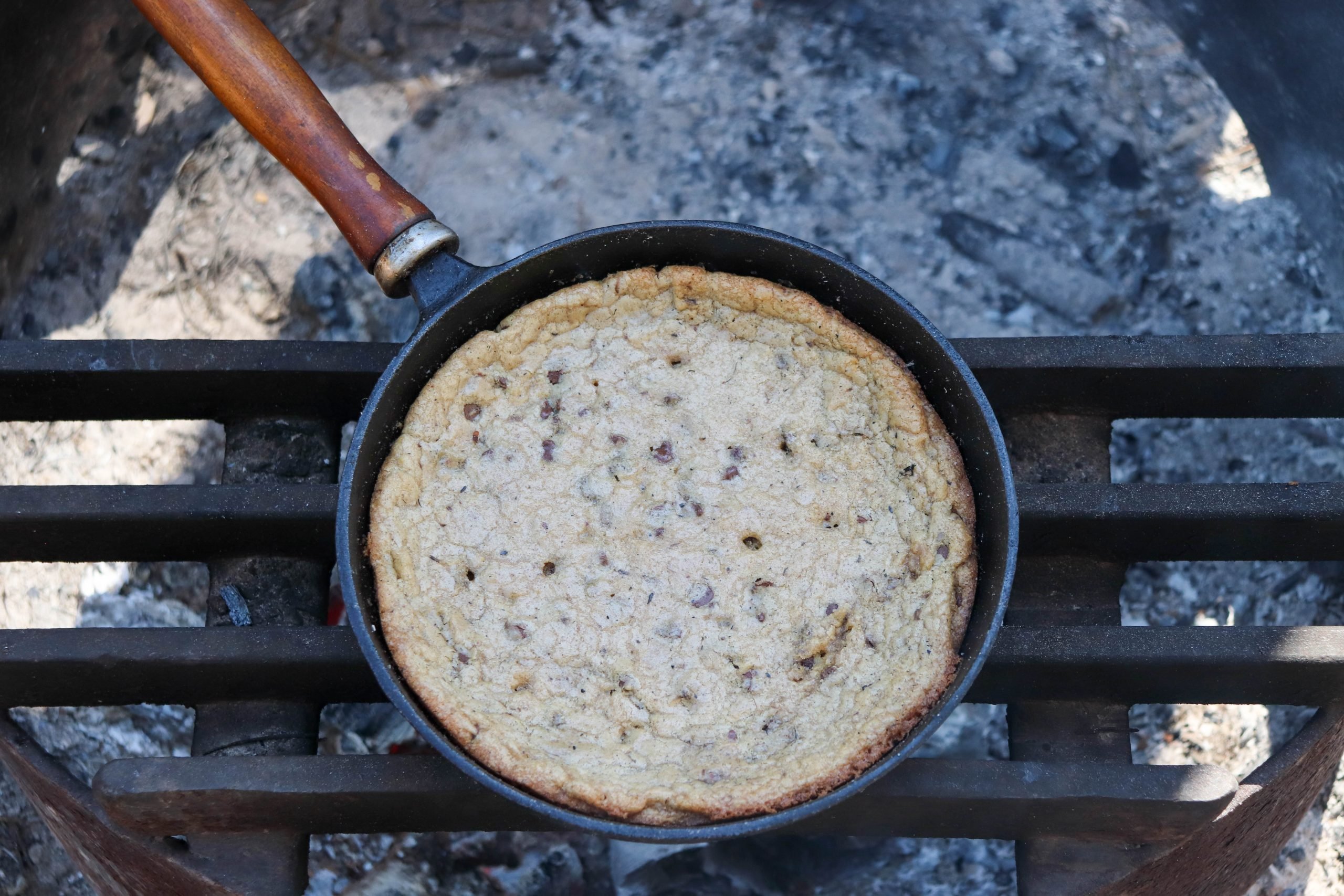 The cast iron skillet cookie in this photo has been perfectly baked over the fire. You can see it is a beautiful golden brown color, with crispy edges.
The kids like to top this camping treat with melted marshmallows or a scoop of vanilla ice cream, if we have any in the trailer freezer.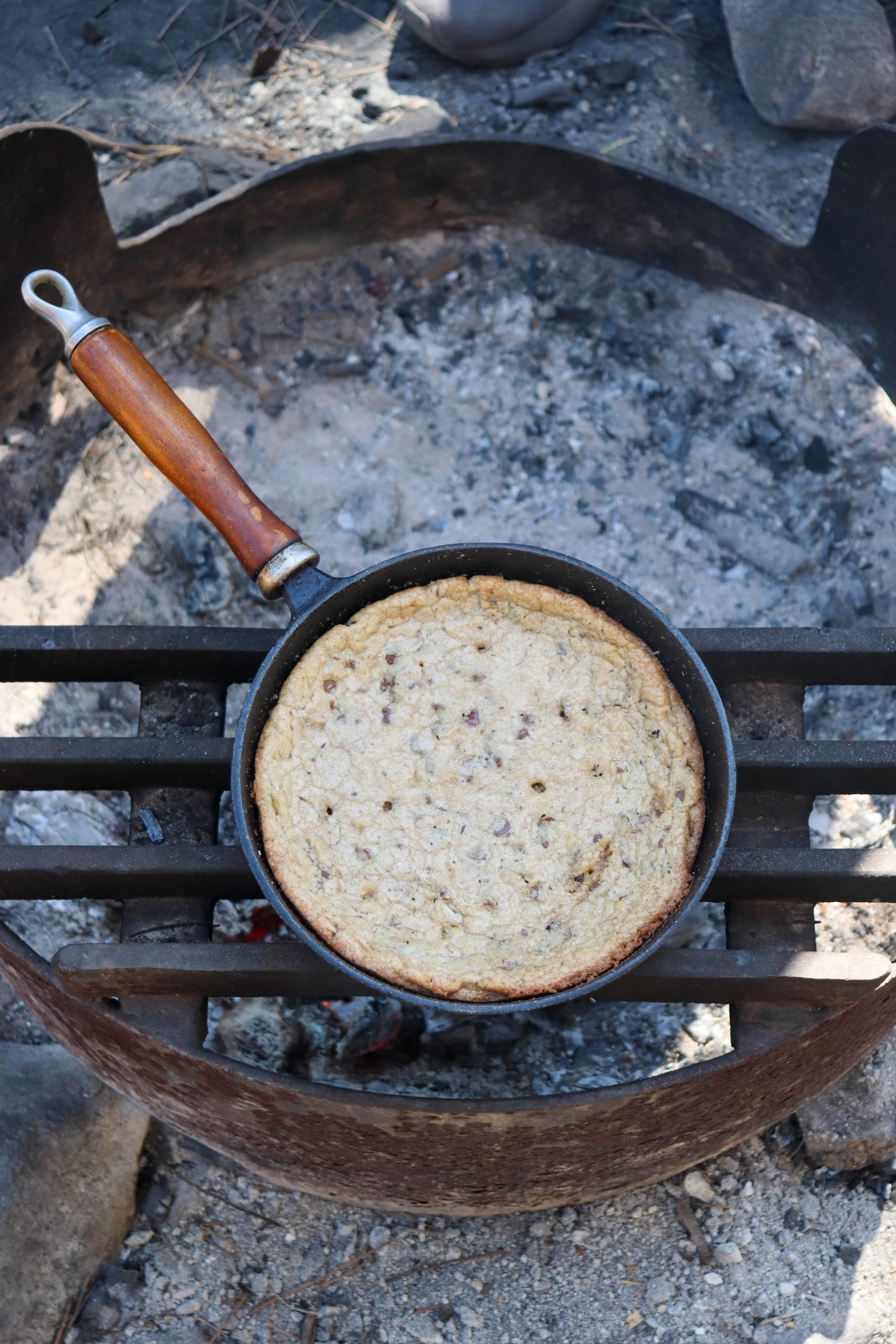 We are no strangers to cooking cookies in the great outdoors! Be sure to check out our Pie Iron Cookie Recipe too.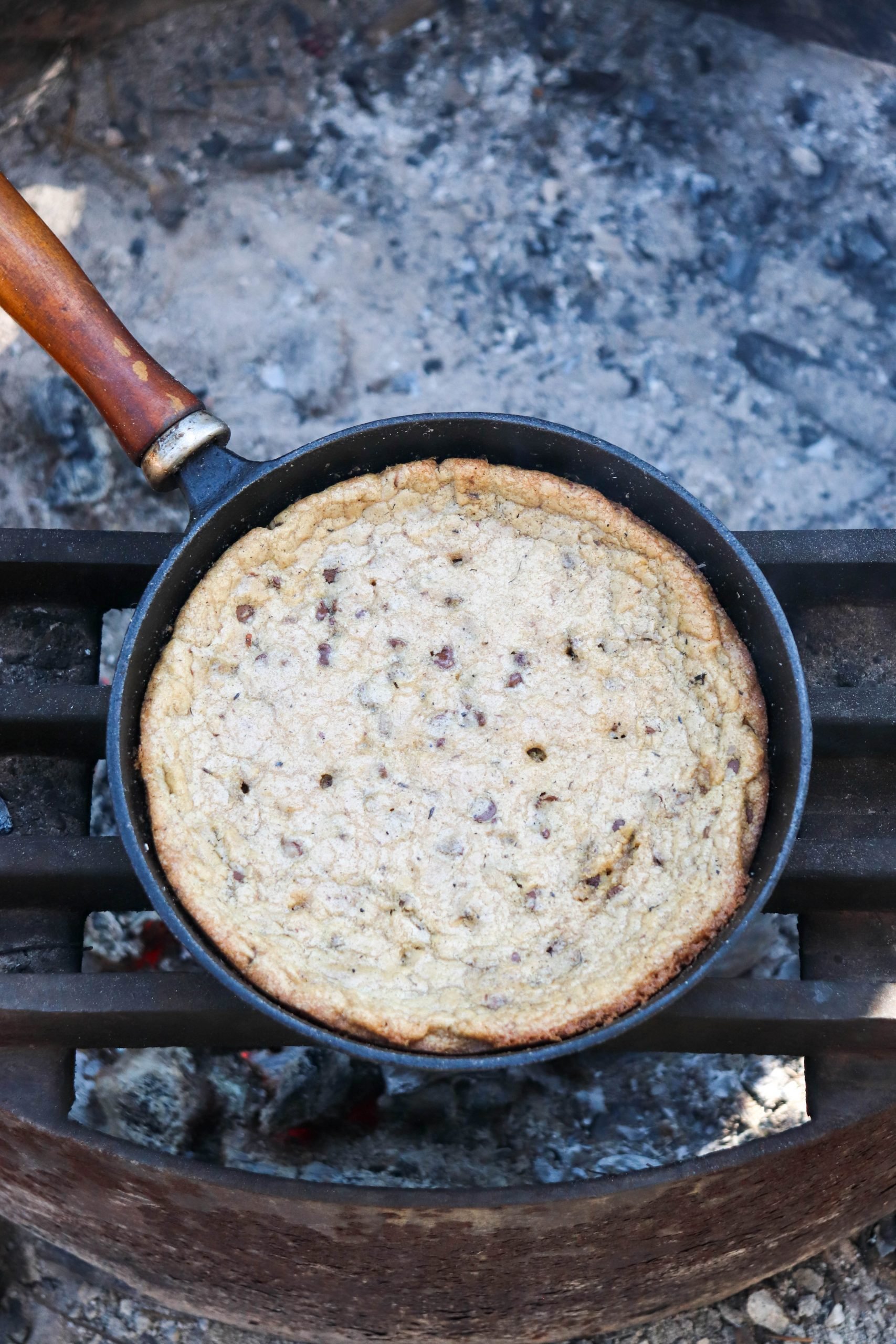 More tips & tricks:
When cooking with cast iron, be sure to season the surface first.
Always use gloves or oven mitts while cooking as the surface of the iron will be hot.
Cook the recipe over an open fire using hot coals, not open flames. A fire that is too hot will burn the outside of your recipe and not cook the inside.
Be sure to clean the cast iron with a rough vegetable scrubber, rinse and dry thoroughly before storing.
Make individual cookies, instead of one big chocolate chip cookie. Portion out single balls of dough and place them into the pan.
Another great way for everyone to make their own individual portions is to use tiny cast iron pans.
Don't want to use refrigerated cookie dough? Using your favorite gooey chocolate chip cookie dough recipe, combine all the dry ingredients together at home. Pack the wet ingredients separately and mix everything at your campsite. Don't forget to pack a large mixing bowl!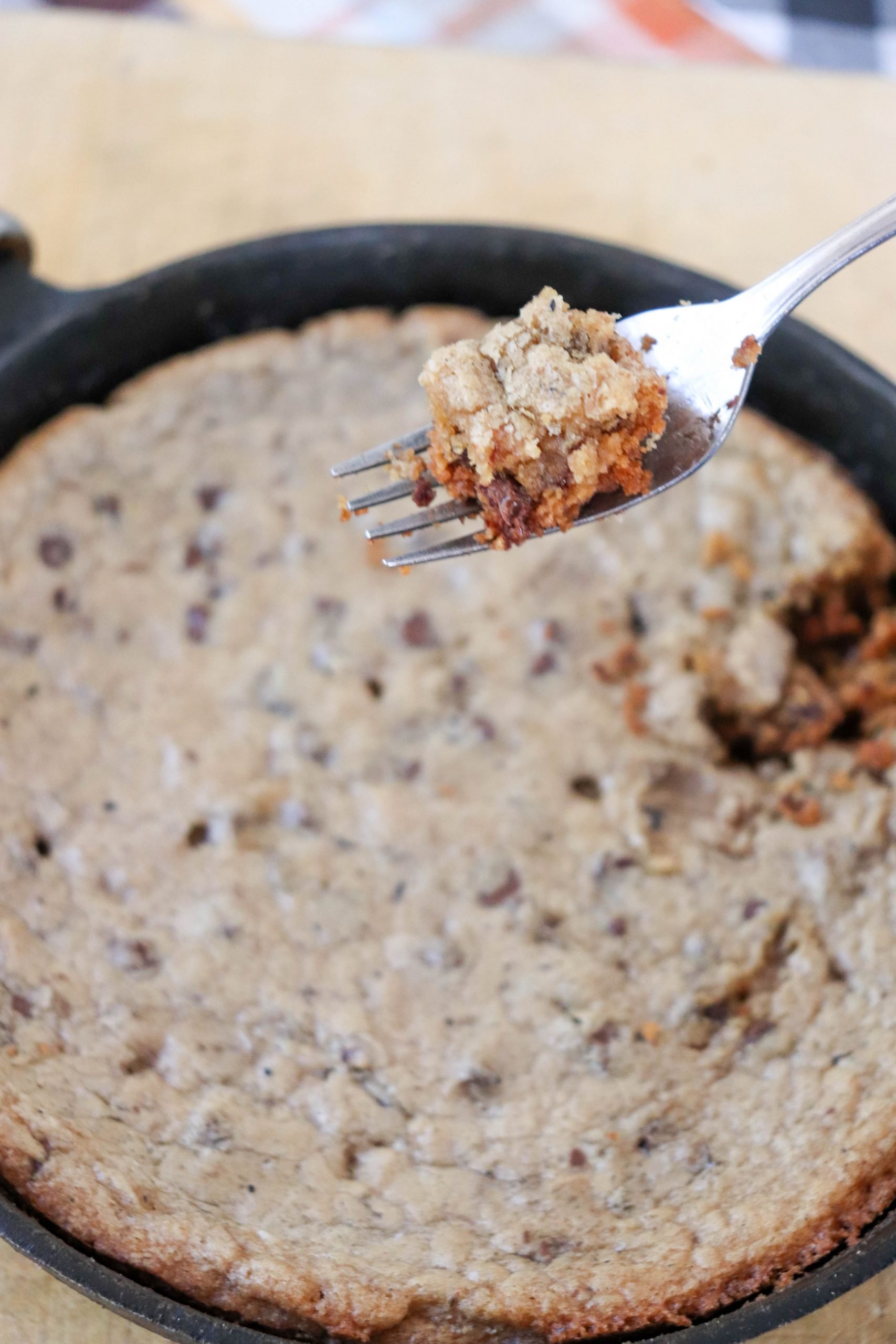 Last time that we made these skillet cookies we had a large group of boys hovering around the campsite who were all ready to dig in with their own forks! They are perfect for feeding a crowd!
If you have made theses skillet cookies, please give them a five star review and help me share them on Facebook and Pinterest!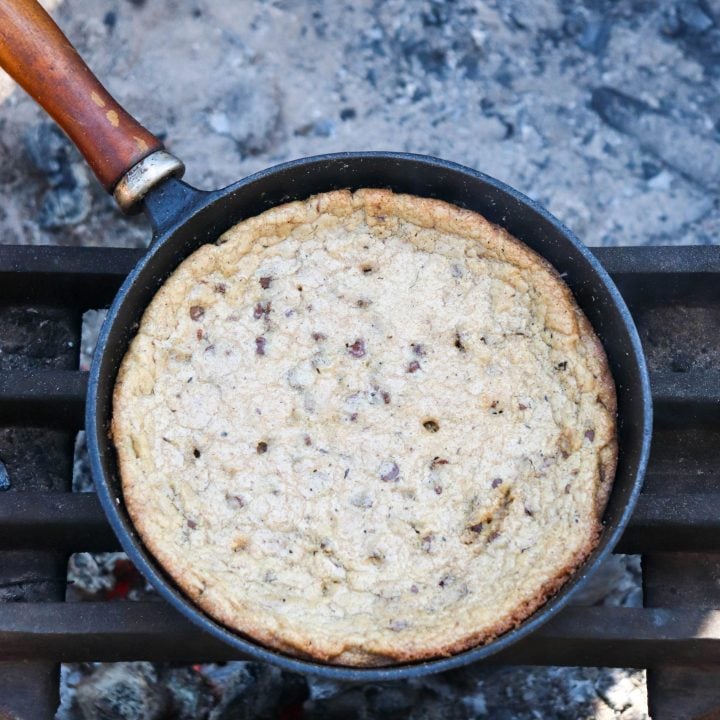 The Best Skillet Cookies
This easy camping recipe makes the best skillet cookies. Our kids request that we make cookies over the campfire every single day that we are camping!
Ingredients
Non stick spray
Pillsbury cookie dough
Instructions
Coat the skillet in non stick spray or olive oil.
Spread half of the cookie dough onto the skillet.
Cook over the campfire on low for 15 - 25 minutes.